High Cannabinoid Extract (HCE) mixed with High Terpene Extract (HTE), AKA live resin diamonds and sauce, are generally regarded as the premier dabbing concoction by many dab heads out there. While I can find something to appreciate from every type of extract consistency, nothing quite matches the power of a truly top-shelf live diamond and sauce combo. 
Now Melting Point Extracts is no stranger to the extract spotlight, but these Grape Lime Ricky dabs have excelled beyond where one typically expects MPX concentrates to be. On straight numbers alone, this dab dominates the market with 94% THCa and over 30% total terpenes!
A descendant from a cross by TGA Subcool of Purple Urkle and Jack the Ripper, Grape Lime Ricky has been earning a reputation as a heavy pain reliever and effective sleep aid for quite some time. At the top of the profile is an almost 9% myrcene concentration! This is undoubtedly where the cultivar's reputation began but interestingly, it is tempered by 6.2% terpinolene, 5.4% pinene and 4.6% ocimene – all traditional sativa-esque terpenes. Beyond that, the profile trails off into 1% and .1% little dollops of just about every other terpene (and their variants), resulting in an extraordinary amalgamation of Cannabis medicine.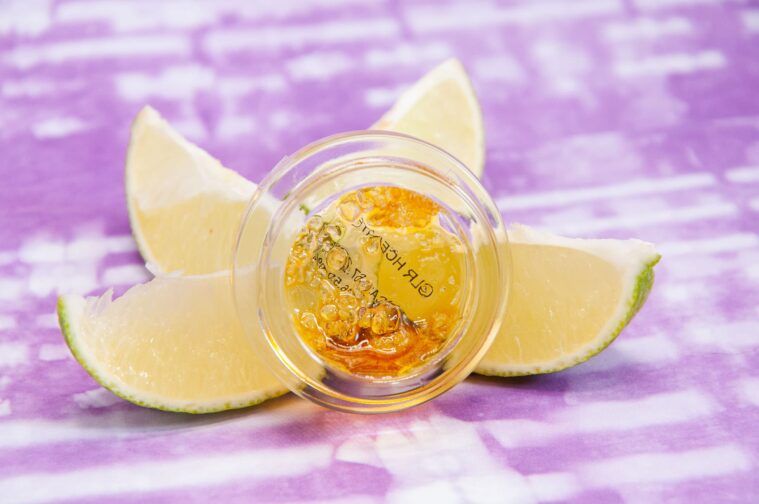 Upon dabbing, this Grape Lime Ricky seeped into every part of my body and pulled the reins back on each and every nerve – like an Olympic equestrian bringing a horse from a gallop to a walk. Everything slowed down, as I sipped what seemed like endless hits off the same bulbous diamond I chose to be my first toke. Time dilation is a noticeable effect that can come with high quality headspaces, and this Grape Lime Ricky created a true distortion in time. After five or 50 minutes, hard to say, a momentous push towards a lighter and more airy headspace emerged. What was once an instant, time-slowing, slump of a hit, quickly snowballed into an effervescent zephyr of creative and euphoric energy.
The rush of pain relief followed up by a crashing crescendo of creative energy left me feeling rejuvenated. I think that in such a concentrated form, and being a live product fresh from harvest, the depth and nuance of the concentrated terpene profile elevated the experience far beyond what one could experience from just the flower. This is an excellent example of the kinds of experiences Cannabis can offer, and it took MPX's precision work to dial in and harness such a vastly wild profile.
This article was originally published in the June 2021 issue of Maryland Leaf.
View our archive on issuu.