Adam Smith, a 34-year-old native of Brigham City, has not only returned to his roots – he's brought with him a wealth of knowledge and dedication to Utah's medical Cannabis industry. As a budtender at Beehive Farmacy, Adam's journey from his early days with True North Organics cultivation team to his experiences in the Arizona Cannabis industry, have been a remarkable adventure – one marked by resilience and an unquenchable passion for the plant.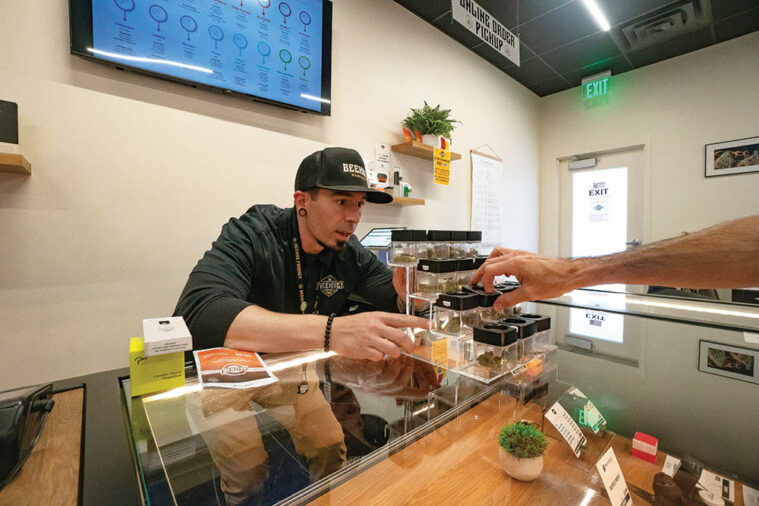 A Serendipitous Discovery
During 2020, amid the unique challenges posed by the pandemic, Adam embarked on an odyssey that would immerse him in the world of Cannabis. It all began with a simple visit to a local dispensary (once known as Perfect Earth Apothecary) in pursuit of pain relief. However, this wasn't a normal visit to his local pot shop – it was a serendipitous encounter that would ignite Adam's ardor for the plant and set the stage for a transformative chapter in his life.
As he perused the packaging of various Cannabis products, Adam was struck by a revelation – the Cannabis he held in his very own hands was cultivated right in his hometown of Brigham City. This moment of synchronicity served as a calling he couldn't ignore. Driven by his newfound fascination, he decided to seek a position at True North Organics, the very company responsible for the locally-grown Cannabis that had captivated him.
Adam's entry into True North Organics marked the commencement of his profound immersion into the Cannabis industry. Far from a mere job, this endeavor was an exploration of a world where he could cultivate not only plants, but also his profound understanding of Cannabis. Guided by his mentor Cody, he embraced every aspect of cultivation – from nurturing plants at different growth stages to meticulously overseeing the dry-cure process.
The path was far from smooth, as the team encountered its fair share of challenges. Yet, with unwavering commitment and a collective spirit to overcome obstacles, they persevered. Under Adam's stewardship the team achieved remarkable milestones, from orchestrating perfectly timed weekly harvests to consistently attaining stellar results in state testing. It was during this period that Adam's passion for the intricate nuances of Cannabis – such as the art of curing and the unique terpene profiles found in strains like Cheesecake, Mimosa and Donnie Burger – truly flourished.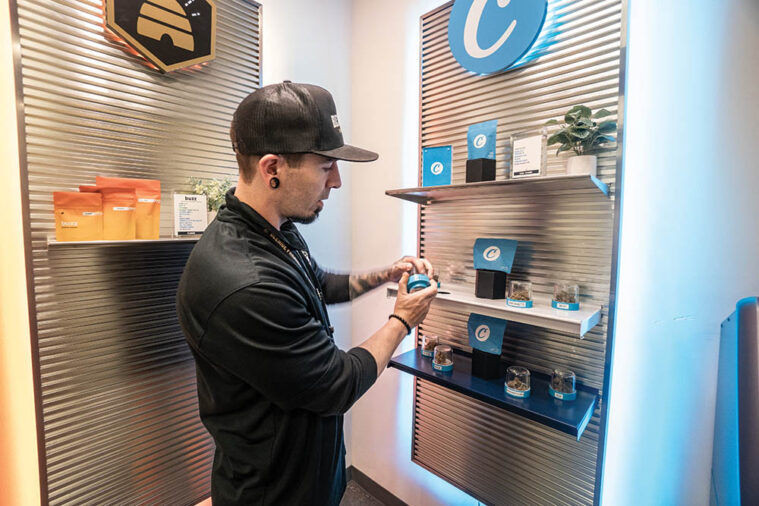 A Journey Unfolds
Adam's fervor and dedication did not go unnoticed within the Cannabis industry. Before long, he received an enticing opportunity to manage a 125,000-square-foot facility in Arizona. The prospect of a new location, though daunting to some, was an exciting challenge for Adam. Alongside a dedicated team of eight like-minded individuals and under his skilled management, the harvest production surged to new heights. Adam's recruitment efforts further strengthened the team, bringing in individuals who shared his profound enthusiasm for Cannabis.
Despite the allure of the Arizona desert, Adam's heart remained tethered to his hometown and, most importantly, to his daughter. It was this deep connection that ultimately led him back to Utah. Fate intervened once more and an opportunity at Beehive Farmacy in Brigham City materialized – thanks to a glowing recommendation from the esteemed pharmacist, Mindy Madeo, renowned in Salt Baked City magazine as the 'Green Pharmacist' over the years. For Adam, the decision to return home and join Beehive Farmacy wasn't just a career move … it was a mission to make a tangible difference in the lives of patients and the very community where his roots ran deepest.
The Healing Power of Cannabis
For Adam, Cannabis is not just a plant – it's a lifeline that helped him break free from the clutches of alcohol and find a new purpose in life. His personal journey with alcoholism and depression took a positive turn when he discovered the therapeutic benefits of medical Cannabis. The plant became the catalyst for his transformation, enabling him to become a better father to his daughter and a more compassionate member of the community.
Adam's favorite terpene, linalool, holds a special place in his heart due to its stress-reducing, anxiety-relieving and mood-enhancing properties. He fondly recalls the moment he first encountered the Lavender Jones strain, which is rich in linalool. The aroma alone had a calming effect on him, and its medicinal benefits became an integral part of his life.
As an experienced budtender, Adam is always eager to share valuable insights into the world of Cannabis products with patients seeking specific outcomes. For those in search of profound relaxation and bliss, he recommends two exceptional products: Blissed Out by Boojum and PacMan Jones from Cookies.
Blissed Out is a vape cartridge known for its high linalool terpene content and is an excellent choice for stress relief and tranquility. This Cannabis oil's linalool-rich profile offers soothing floral and lavender notes, ideal for unwinding after a long day. PacMan Jones, also loaded with linalool, provides relaxation and a gentle euphoria. Its blend of earthy, floral and citrus notes creates a delightful experience. Adam's personalized recommendations consider each patient's unique needs, ensuring a satisfying Cannabis journey. With his guidance, patients can confidently explore diverse products to discover the full range of benefits.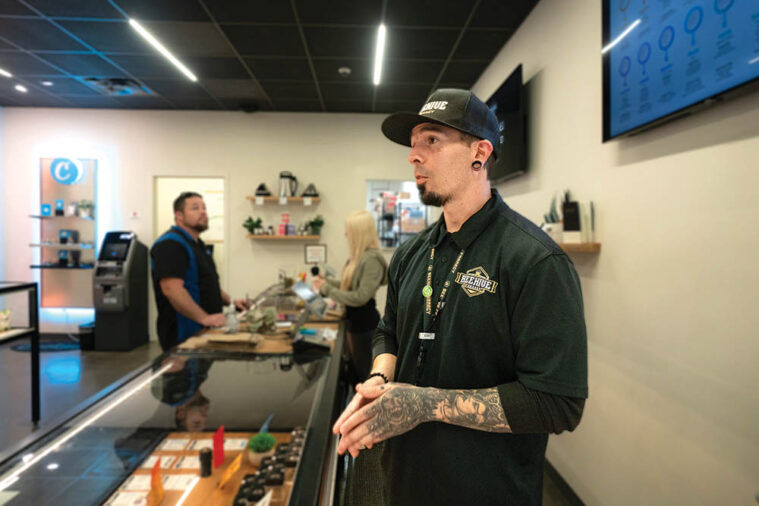 Addressing Misconceptions, Changing Perspectives
In his role as a budtender in Brigham City, Adam often encounters misconceptions about Cannabis. One such inaccuracy is that it can only be smoked – a notion he is keen to dispel. Drawing from his extensive knowledge, he takes the opportunity to educate patients about the wide range of consumption options available – highlighting the existence of non-THC cannabinoids like CBD, CBG and CBN, emphasizing their potential therapeutic benefits. These non-intoxicating cannabinoids have been gaining recognition for their role in promoting relaxation, relieving anxiety and addressing specific health concerns. By broadening patients' perspectives and informing them about the diverse product offerings, Adam ensures that individuals can make well-informed decisions based on their unique requirements and preferences.
Despite initial reservations held by some residents of Brigham City due to the town's conservative values, Adam remains undeterred in his mission to make a positive impact.
One of the most remarkable aspects of Adam's journey is his unwavering belief in the potential for the Cannabis industry to not only thrive, but also bring about positive change within the community. He recognizes that change often begins with understanding and compassion – and to achieve this, Adam has taken it upon himself to be an educator and advocate, both within the walls of Beehive Farmacy and beyond.
Within the dispensary, he patiently engages with customers, addressing their concerns and curiosities about Cannabis. He knows that it's not just about selling a product – it's about fostering a sense of trust and openness. By providing detailed information on various Cannabis strains, consumption methods and their potential benefits, Adam ensures that every customer leaves with not only a product, but also a newfound understanding.
Beyond the dispensary, Adam actively participates in community outreach programs – organizing educational workshops and seminars to demystify the Cannabis plant. His efforts have gone a long way in breaking down the barriers of misconception and stigma that often shroud the industry. In this small town, Adam is more than a budtender – he is a catalyst for change.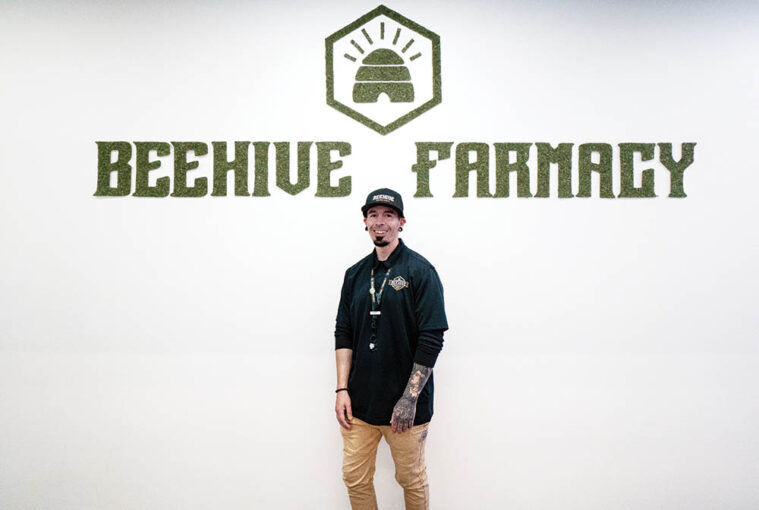 A Bright Future
As the Cannabis industry continues to evolve at a breathtaking pace, Adam finds himself at the forefront of these exciting developments. He's not only witnessing, but actively participating in advancements that have transformed the patient experience. The ease with which patients can now obtain medical cards, thanks to streamlined processes, is just one example. Moreover, there's a growing number of Qualified Medical Providers (QMPs) who are vocal proponents of the therapeutic benefits of Cannabis. This growing network of advocates is helping to destigmatize the plant in the medical community.
Adam's own journey mirrors this progress. His deep knowledge and hands-on experience with innovations like the Mobius trimmer machine, bud-sorting technologies, and state-of-the-art packaging systems from companies such as Green Vault Systems and N2 packaging, have given him a unique perspective on the industry's evolution.
For those who aspire to follow in Adam's footsteps, particularly in smaller communities like Brigham City, he offers a valuable piece of advice: Pursue your dreams relentlessly. His journey from Cannabis enthusiast to respected budtender exemplifies the possibilities that come with dedication and unwavering commitment. In Brigham City and beyond, there's a growing need for individuals who can bridge the gap between Cannabis and its potential to improve lives. By pursuing this career path, you too can become a catalyst for positive change – one patient interaction at a time.