Laganja Estranja has built a career from taking leaps of faith.
In many cases, these leaps are literal – featured as showcase moments in the high-octane, jaw-dropping choreography fans have come to expect from her videos and live performances. A contestant on the sixth season of "RuPaul's Drag Race," Estranja's reputation for delivering seismic, sickening death drops as a drag artist is as much a signature of her craft as her well-documented affinity for Cannabis.
Last year, Estranja returned to the spotlight with a celebrated appearance on the "Drag Race" spin-off series "RuPaul's Drag Race All-Stars." Prior to that performance, Estranja publicly came out as a transwoman in an interview, the combination of which has led to a breakneck year of bookings and special projects for the L.A.-based artist.
"I feel like I've really earned this," she said. "I've been jumping off crazy platforms into the splits since the beginning, so the fact that people are now beginning to fully recognize me for it, as I've started to transition – it just feels right. It feels correct. It feels like the timing is finally on my side."
A seasoned Cannabis consumer, Estranja's stage name is an ode to her medicine of choice and proof positive that she's long been vocal about her love of Cannabis. Remember: Back in 2014, when her season of "Drag Race" first aired, being so openly pro-pot was still quite the gamble. Thankfully, things have finally evolved, allowing Estranja to seize her chance to celebrate Cannabis in the form of an innovative, print-on-demand merchandise line.
Featuring several Cannabis-focused prints as well as other options like a Sailor Jerry-inspired design, Estranja says her new merch line has been a huge hit so far. In many ways, it takes its inspiration from the drag star's own fashion, which often pays homage to pot in some form.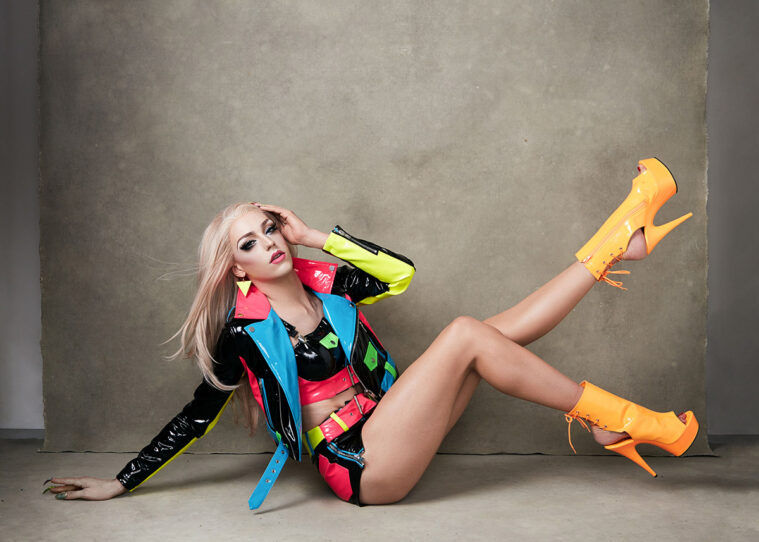 For instance, in Estranja's latest music video, "Poison Ivy," she donned an outfit equal parts Uma Therman and OG Kush.
"I wanted to create a look that was an ode to Mother Nature, to my favorite plant, and to one of my favorite comic book characters," she explained. "I specifically love Uma Thurman's version of Poison Ivy because she ends up becoming a show girl and obviously, I can relate to that. I also really wanted to have an outfit that had Cannabis on it but that was still within the Poison Ivy vibe, so I had my incredible designer, Howie B, design the look."
While you won't find Howie B originals for sale on Estranja's site, the colorful, largely weed-focused options one can purchase deliver an arguably similar blend of chic and sativa. Estranja also recently made the jump into paraphernalia, debuting a line of signature grinders she hopes to supplement soon with a larger size and rolling trays.
"My big dream is to get my merch into headshops," she added. "That's something I'm really focused on because, eventually, I want to see this become a lifestyle brand that revolves not around Laganja the drag artist but rather Laganja the brand and the name, much like how Versace does it."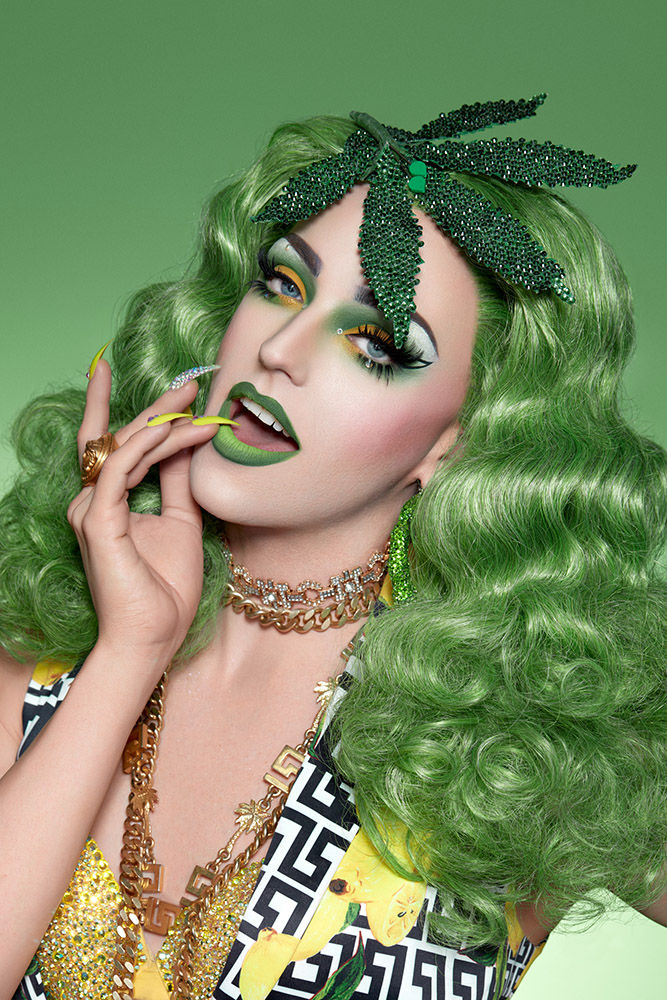 Before taking the next step in her Versace aspirations, however, Estranja plans to spend the near future focusing fully on her transition. To that end, in the coming weeks, she has decided she will begin the process of hormone therapy.
"I'm finally at a point in my life where I feel comfortable as myself and I feel ready for that next step," she explained. "But I want to take it slow. A lot of girls go straight to injections but I'm looking at going the pill route, which is a lot less potent. I just feel like there's no rush. I waited until I was 32 – which in a lot of people's minds is late – to come out, so why rush now?"
As for whether Estranja expects Cannabis to play a role in that process, she admits she isn't sure, though she certainly isn't ruling out the possibility.
"I really won't know until I start experiencing it for myself," she said. "I've talked to many of my sisters and every single person had a different experience. Truly. For some, Cannabis absolutely helps and can be integral to using hormones but for others, because the hormones are already making them feel so emotional and off the chain, Cannabis can make it worse. I don't think that will be the case for me. Cannabis has always helped me, so I have a feeling that will continue to be the case."
With dates across the planet scheduled for February, March and April, and a new EP ("Daily Basis") also on the way – Estranja won't be keeping a low profile for long. And after such a lengthy journey spent steadfastly committing to herself, who can blame her? Looking back at a year packed with big moments, it's this truth, she says, that stands above all others.
"I came back to television, and I came back as myself. Any time you can be yourself, you're going to succeed."