Green matcha and white chocolate is an easy way to celebrate Cannabis and Halloween, the creepiest day of the year. Great flavor combo, and so pretty. There are different grades of matcha – buy the best one you can afford. The warm cider is topped with a white chocolate ghost, which will melt slowly and infuse the drink with creaminess and stellar flavor. If you want a little more of a buzz, add a bit of your favorite infusion to the melting chocolate. Stir it in, that's it. White chocolate and Cannabis are perfect together – one of my favorite foods to infuse. Growing up in New York, black and white cookies were in lots of bakeries. This Halloween, go with purple and orange frosting – so pretty.
These recipes are made with coconut oil infused with the strain Durban Poison, which seemed fitting for this month. A pretty uplifting strain, providing lots of energy for your ghoulish, safely-distanced shenanigans. For dosing, I recommend 5mg per serving, unless you know otherwise.
#boo #happyhalloween #eatyourcannabis #besafe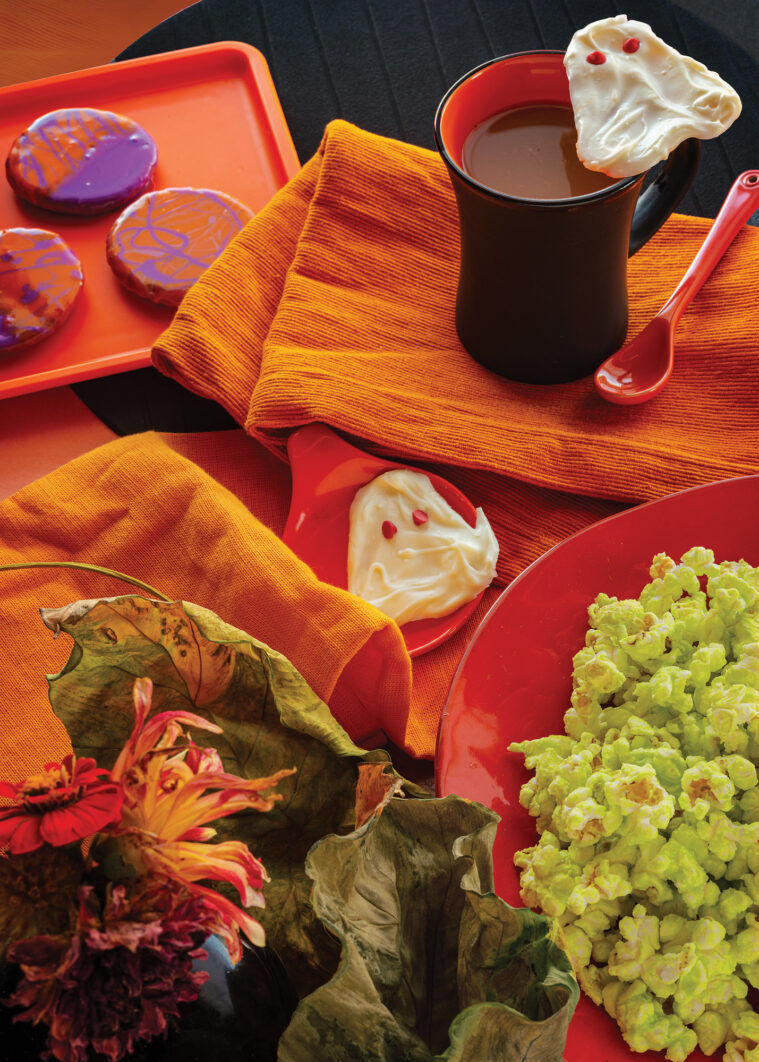 Canna Matcha Popcorn, matcha gotcha canna-corn
Makes 8 cups of popcorn
4 ounces white chocolate, chopped
1-2 tablespoons canna-oil, or equivalent dose of your preferred infusion
3/4 teaspoon matcha green tea powder
8 cups popped popcorn
1. In a microwave-safe bowl, melt the chocolate in 10-second intervals. Stir between each interval. When almost fully melted, add the matcha and the oil. Stir and process for another 10 to 20 seconds.
2. Place the popcorn in a serving bowl and drizzle with the white chocolate. Toss well and allow to set for 30 minutes. Totally yummy.
Drink Me Cider/Cider Sensation
4 servings
1/3 cup brown sugar
1/4 cup heavy cream
4 teaspoons canna-oil
4 cups apple cider
1 cinnamon stick
3 whole cloves
2 ounces white chocolate
mini chips
1. In a saucepan, heat the sugar, cream, and canna oil for 2-3 minutes, over low heat. Stir to mix well. Add the cider and the cinnamon stick and heat, stirring for 2 additional minutes.
2. In a small microwave-safe bowl, melt the chocolate in 10-second intervals. When melted, place the chocolate on parchment paper, forming it into simple ghost shapes. It's easy, you really can't go wrong. Dot the eyes with the chips and allow to harden.
Cookie Monsters
makes 1 dozen cookies
1/3 cup butter, softened
2 tablespoons canna-butter, softened
1/2 cup sugar
1 teaspoon vanilla extract
1 cup flour
1/2 teaspoon baking powder
pinch salt
1 cup powdered sugar
3-4 teaspoons any milk or cream
1 teaspoon almond extract
food coloring, gel preferred
1. Heat oven to 340. In a medium bowl cream together the butters, sugar, and extract. 
2. Add in the dry ingredients, mixing until crumbly. Gather into a ball. Divide the dough into 12 pieces. Place each ball gently on a greased cookie sheet.
3. Bake until golden brown, about 11-15 minutes. Cool thoroughly.
4. In a small bowl, stir together the sugar, milk, and extract. Remove all lumps. Divide into two, add orange food coloring to one, purple to the other. Drizzle or dip the cookies into the frosting. You be the artist, Happy Halloween!