Long before Harold and Kumar, Jay and Silent Bob or Beavis and Butt-Head … before "Friday" or "How High," "Half Baked" or "Pineapple Express" – there were the founding fathers of Cannabis comedy: Cheech and Chong.
In a series of irreverent films throughout the 1970s and early '80s, they portrayed a pair of silly, stereotypical stoners who perfectly captured the spirit of the '70s and established them as cultural icons that have stood the test of time.
In this exclusive interview with the Leaf, the legendary comedy duo reflect back on how their partnership has evolved over their heady and hilarious, half-century-long careers.
WHEN CHEECH MET CHONG
A Mexican-American from Los Angeles, Richard Marin (nicknamed "Cheech" as a baby by his uncle, who remarked that he looked like a little "chicharron" aka fried pork rind), grew up the son of an LAPD officer in East L.A. An anti-war activist in college, he moved to Canada after graduation to avoid being drafted, where he spent about a year working odd jobs: making pottery, delivering carpets and freelance writing.
"I was writing for a rock and roll magazine up there called Poppin, and the publisher said to me, 'I got this guy you should meet – he's doing some weird stuff,'" Marin recalls.
"That guy" was a half-Chinese, half-Scotch-Irish musician from Calgary named Thomas Chong. Throughout the 1960s, Chong made a living managing nightclubs around Vancouver while trying to make it big as the guitarist in a band called Bobby Taylor & the Vancouvers. The group signed with Motown in 1965, released an album and a hit single (which Chong co-wrote), and even played with top acts like the Jackson Five and Jimi Hendrix. In 1967, while on tour in Chicago, he happened onto the Second City comedy club and was "mesmerized" by his first exposure to improv. So when he was fired from the band after being late to a gig (because he didn't have a green card), Chong switched gears: In 1969, he took over the back room of his brother Stan's strip club, The Shanghai Junk, and launched his own improv group called City Works.
Then, one fateful day, after delivering a carpet next door, Cheech walked into the club and introduced himself to Tommy. As Marin's publisher predicted, the two immediately hit it off.
"He was running this improvisational theater troupe in Vancouver's first topless club, and he invited me to join," says Marin. "I started out writing for the group but eventually started doing all the parts. Eventually, when the troupe fell apart, Tommy and I stayed together."
When asked what inspired him to become a comedian, Marin jokes: "The strippers!" then adds sarcastically, "It was either that or go into politics."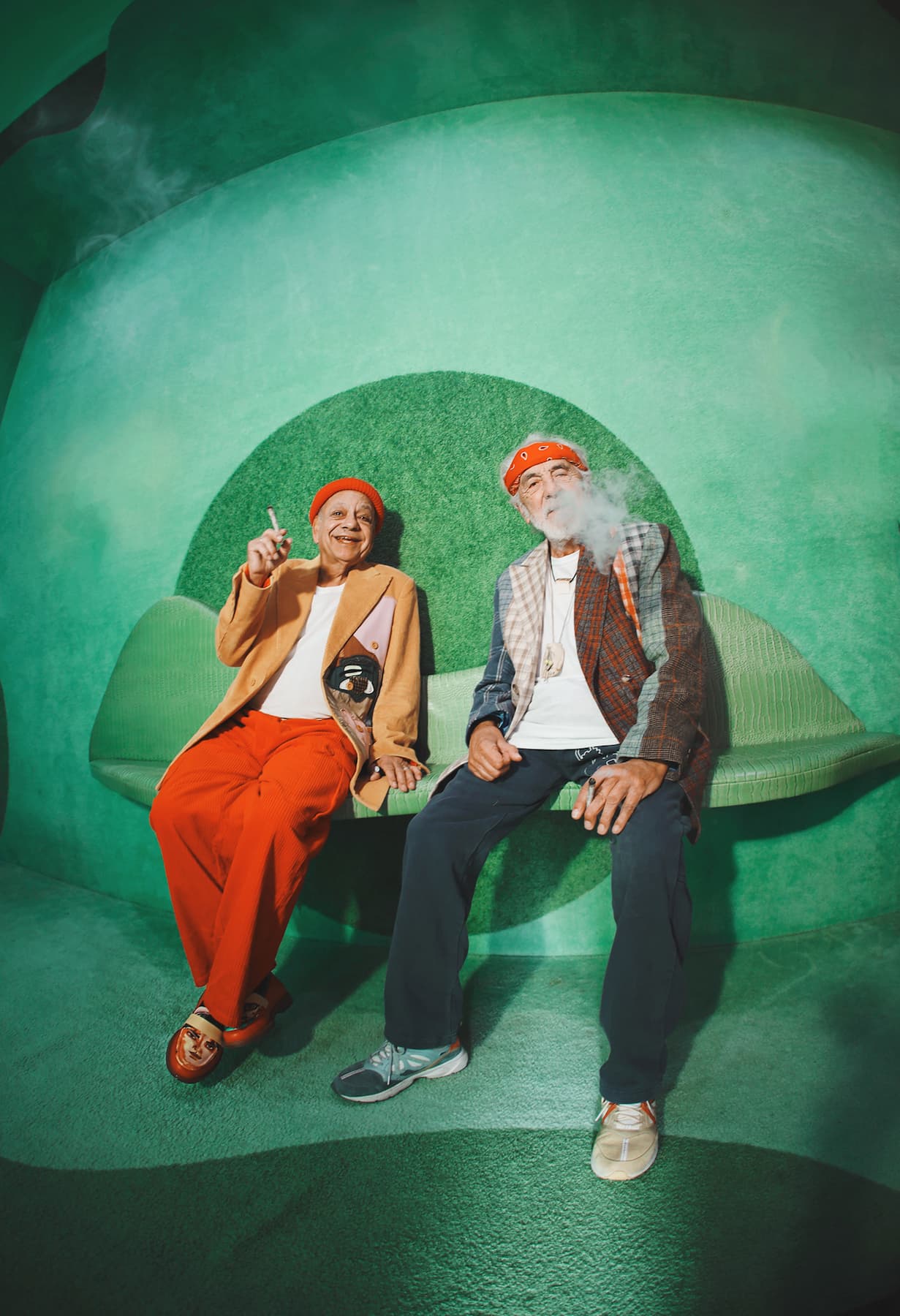 POTHEAD PERSONAS
It was while doing sketch comedy at Shanghai Junk that the two aspiring comics began developing the stoner characters that would become their trademarks: Cheech, the Chicano vato "Pedro," and Chong, the burnout known only as "Man" – a character he based mainly on a homeless hippie named Strawberry (a name they later appropriated for Cheech's shell-shocked cousin in their first film) that he sometimes let sleep in the lighting booth at the club. Though neither of them smoked as much as the bumbling burnouts they played on stage, they'd both loved Mary Jane since their first dance with her in their late teens.
"I was 19, in my first year at college," Marin recalls of his first time getting high. "I was a straight arrow: altar boy, choir boy, straight-A student … and then one time at a party in my apartment, my roommate passed this cigarette to me. 'What is this?' 'It's weed, man.' 'Oh, OK – how do you do it?' He showed me how to do it, and after I took my first hit, the music sounded better, and I said to myself, 'OK – so what else have they been lying about?'"
It was a similar circumstance for Chong.
"I was 17 years old, still trying to get through high school," he recounts. "I used to hang out at this jazz club because even though I didn't play jazz, I could get in free if I brought my guitar. One night, the owner of the club – a Chinese bass player named Raymond Ma – handed me a Lenny Bruce record and a joint. I put the joint right in my pocket, so he said, 'Oh, OK' and lit up another one, and we got high. I remember the music I was listening to when it hit me was "Lonely Woman" by Ornette Coleman. I'd never heard music like that. I could even see the woman in the window waiting for her lover. After I got home, I listened to the Lenny Bruce record, and the next day, I quit school."
The duo spent a little over a year honing their material, and after City Works disbanded in February 1971, they toured down the West Coast back to Los Angeles – where their pothead personas were better received than in Vancouver.
"The audience back in L.A. liked those characters right away because we reminded them of people in their neighborhood," says Chong. "You know, because they didn't have Chicanos in Canada."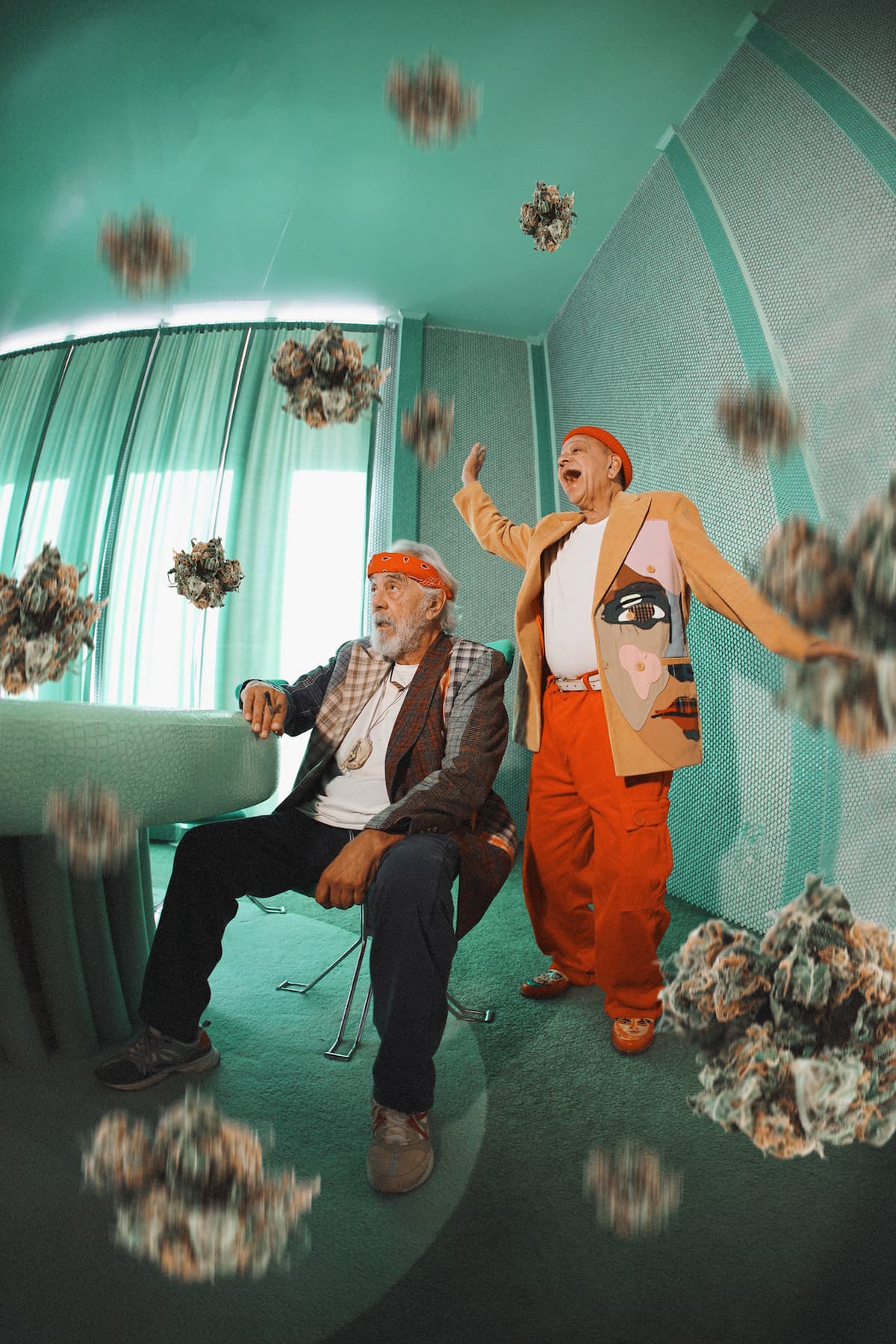 FLYING HIGH
Later that year, they signed a record deal with famed producer Lou Adler's Ode Records and recorded eight albums over the next several years – most of which went gold and were nominated for Grammys – including 1972's "Big Bambu" (designed to look like a giant pack of rolling papers) and 1973's "Los Cochinos," which won them their first and only Grammy.
In 1978, Adler directed the duo's first feature film: the now classic "Up in Smoke." Much like their live act and albums, most of the movie's dialogue was improvised – reportedly using only a yellow legal pad with what Chong once described as a "loose roadmap" written on it as their guide. Though not well received by critics, the film was wildly popular with hip, young audiences and became a huge financial success.
In the decade to come, the duo went on to release seven more films, including "Nice Dreams" (1981), which featured cameos by Paul "Pee-wee Herman" Ruebens and LSD guru Timothy Leary, and "Still Smokin" (1983) – a combination of sketches and live performances shot mainly in Amsterdam.
"I wanted to do a Cheech and Chong film festival, but Paramount wanted us to do a live concert," Chong explains. "Eddie Murphy had just done "Raw," so they wanted us to kind of copy that."
"So we did both instead," Cheech chimes in.
Of all of their films, Chong admits that "Still Smokin" was his favorite one to make.
"I think 'Still Smokin' was the most fun because we did quite a few classic bits, like 'The Invisible Wrestler' that we had only done live, and I knew we'd never do again," he explains. "I figured, this is our one chance to see our live act on screen, so we did – we got 'em on screen."
"And it was in Amsterdam," Cheech chuckles, "so we had a great time."
Though all the weed shown and smoked in their films was fake (tobacco or other herbs), they were undoubtedly firing up the real deal after shooting was done for the day. In fact, they claim that there were almost as many high-jinks going on off-camera as there were on. One such illicit escapade occurred at the end of filming "Still Smokin," when Chong managed to sneak a bag full of herb gifted to him in Holland over the border into France.
"I was given so much dope – I had like a huge suitcase full of it," he recalls. "I was living in Paris at the time, and I had three cars – a Ferrari, a Rolls Royce and a Dukhavo. And so I hid the dope in the Dukhavo and had my daughter Rae Dawn, who was there at the time, arrange for these Sufis to drive my car back. And so they drove it, having no idea that it was full of dope! Then later, when Rae Dawn was going to borrow the suitcase, she almost died when she saw how much dope was in there!"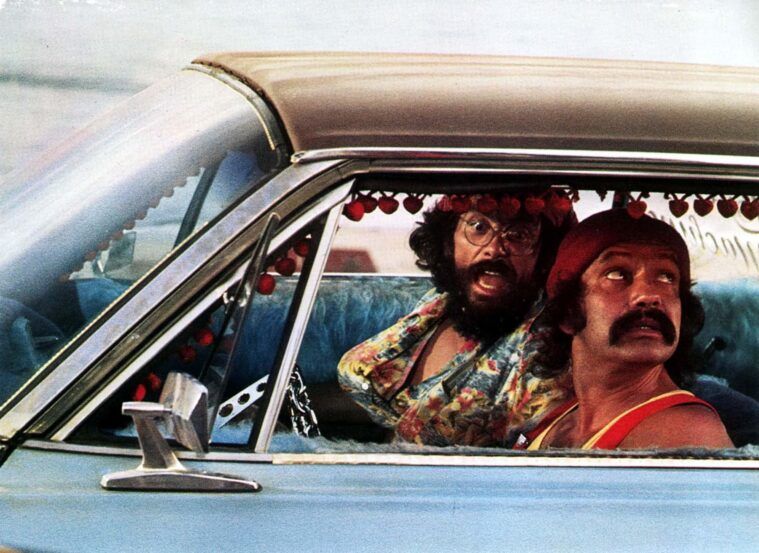 BREAKUP & REUNION
Despite their fun times during filming, tensions had been rising between them for some time. Their sixth film, "The Corsican Brothers" (1984) – in which they played 18th-century French swashbucklers instead of their usual stoner characters – flopped. And Chong, who had directed four of their six films, was reportedly exerting ever more control over the team's creative direction. Sadly, in 1985, things came to a head – and Cheech and Chong decided to split up.
For the next two decades, each pursued their own solo career: Appearing in dozens of films and television shows, as well as countless cameos and voiceover roles (including several animated Disney characters). And though their friendship had severely soured during that period, it managed to endure.
"We'd talk, but it was intermittent because there were a lot of bad feelings on both our parts," Cheech says. "But I always knew that we'd eventually get back together in some form, because the connection was just too strong, and the people wanted it so much."
It took over 20 years (and a generous offer from Live Nation), but that reunion finally happened in 2008, when they put their differences aside and agreed to embark on a new standup tour, "Light Up America."
"It was a nice way to get back with Tommy in a format that we didn't argue about," says Marin, who joyously recounts the first time they shared a stage again. "He said, 'I'm doing this gig with my wife Shelby at The Comedy Store down in San Diego … why don't you just show up and come out of the audience as a special guest,' and that's what I did. It was amazing – we had no rehearsal whatsoever, but it's such a part of our DNA that after all those years being apart, I walked up on stage and it was like we had performed the day before."
The "Light Up America" tour was followed by the "Get it Legal" tour, a concert film and an animated movie. There was even talk of them doing a new feature film together – something like a stoner version of "Grumpy Old Men" – but that project never materialized, thanks to some of the same creative differences that first drove them apart.
Despite their past issues, though, both men feel that the dynamics of their relationship have improved significantly since then.
"I think our partnership is better today than it ever was," Marin says confidently.
"I think everything changed when we got our own accountants," jokes Chong, then adds more seriously, "No, but we … we grew up."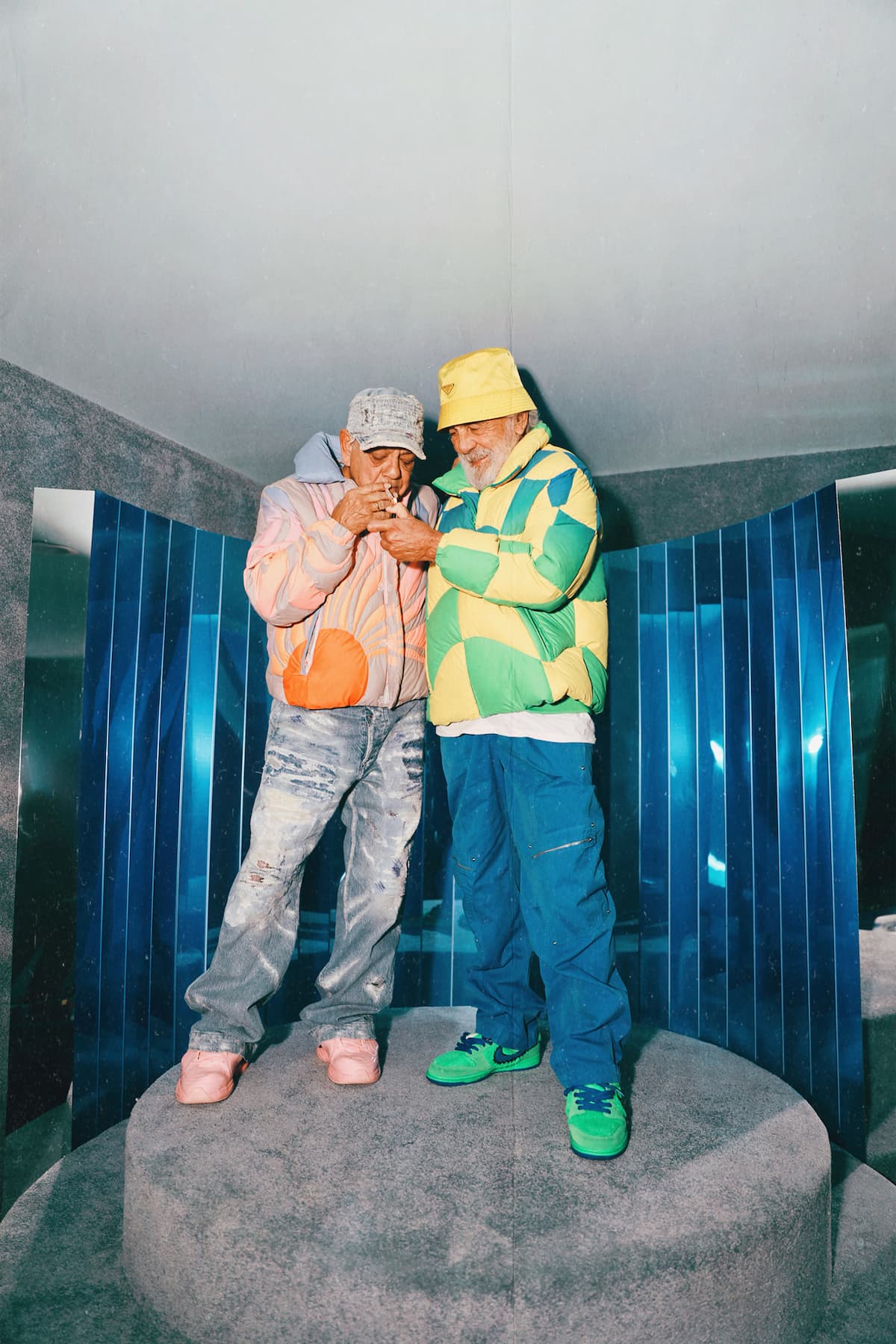 HEADY HORIZONS
Their reconciliation has paved the way for three exciting new projects. The first is their new Cheech and Chong's Cannabis Company launched in California in August of last year – which not only brings their individual, existing weed brands (Cheech's Stash and Tommy Chong's Cannabis) under one banner, but introduces several new "joint" product lines named after aspects of their films, including Love Machine, Low Rider, StaDank-Ohh, and their most popular release, Cruise Chews.
The second project is an upcoming documentary about their careers that's recently wrapped filming after decades of work. .
And the third? That long-awaited new feature film, which they say is already written and set to begin filming within the next few months. When asked what it's about or whether they'll be reprising their classic stoner characters in it, the duo is uncharacteristically tight-lipped.
"We can't talk too much about it because we don't want to give anything away," says Chong. "All we can tell you is that it's going to be incredible. We got some surprises, man."
Although they haven't made a film together in decades, they're confident that they'll be able to connect with today's younger audience — particularly Chong, who's portrayal of Leo in "That '70s Show" introduced his classic character to a whole new generation (a role he's about to reprise in the upcoming sequel, "That '90s Show").
"The zoomer generation, they love the old Woodstock, peace and love mindset … and when you go back to the 'oldies but goodies' types, we're at the top of the list," says Chong. "Because when you think about it, really what we were doing was young guys playing like old guys. And so now, we're old guys playing young guys."
"We have a unique brand of humor that's simultaneously really dumb and really smart in the same thing," Marin offers. "It appeals to everybody on the intellectual spectrum at the same time."
"Yeah – we're kinda like Charlie Chaplin," Chong adds. "He was a clown who became the lowest common denominator in American culture, and as a result, everybody could look down on him. But he could hobnob with the richest or the poorest – it didn't matter. And I think that's what's happened with Cheech and Chong. When we first did it, it was shocking – but eventually, we showed the world how a Chicano and Hippie could be very lovable, and that connected everybody to us."
So if you happen to be one of those rare stoners who have never actually seen a Cheech and Chong movie, do yourself a favor – go get as high as possible and watch "Up in Smoke." You'll be glad you did.
cheechandchong.com | @cheechandchong