The Cannabis industry is stepping up its game with hot, new tech. We've rounded up some of our favorites to help you become the cool guy at your next stoner event.
---
G Pen Hyer
gethyer.com | @letsgethyer
Review by Matt Jackson @actionmattjackson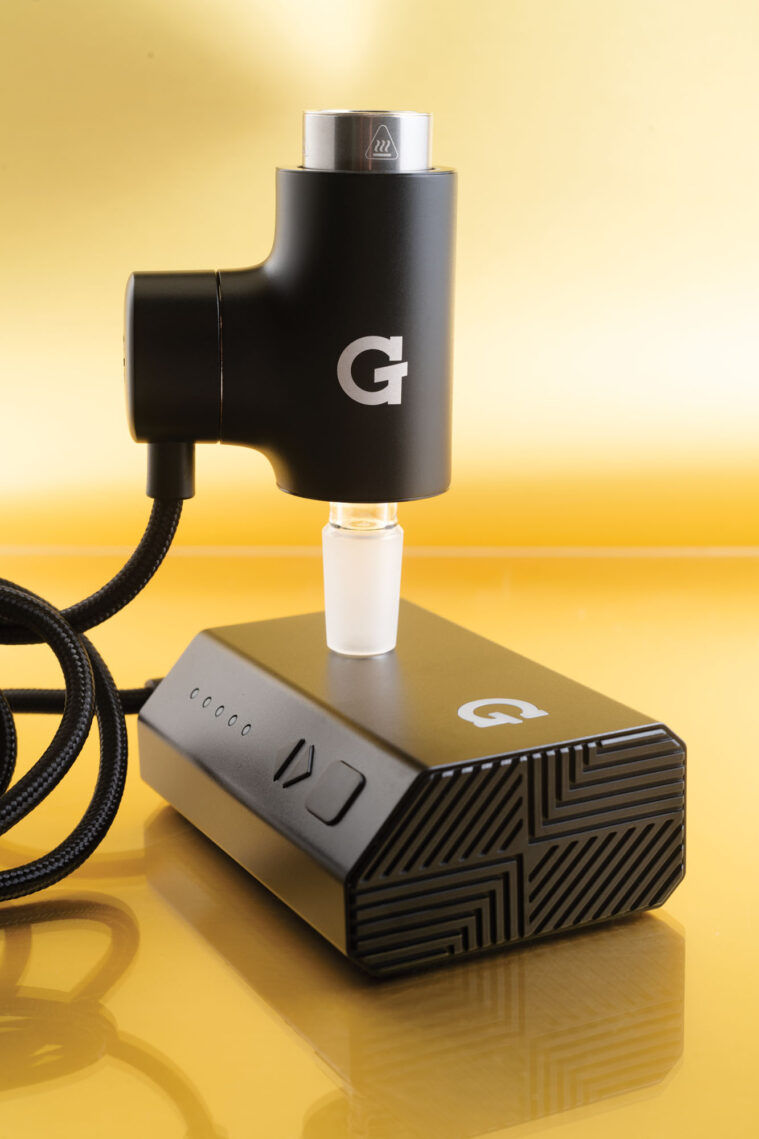 Turn your bongs and bubblers into lung-busting dab machines with the newest product from G Pen. Improving upon the success of the Connect, Hyer contains seven times the battery power with a 1,500mAh rechargeable battery, five session settings, and five variable heat settings ranging from 407°F-803°F. Hyer is a tethered-style unit, connecting the battery and concentrate tank with a magnetic cable. Most of the pieces on the Hyer are magnetic and the included dab tool even screws into the cap – making it easy to keep together when not in the included hemp carrying case. Hyer performs well on all concentrates, but exceptionally well with resins and shatters.
---
DABX Mark.1 TERPHOGZ Edition
dabx.com | @dabxusa
Review by Matt Jackson @actionmattjackson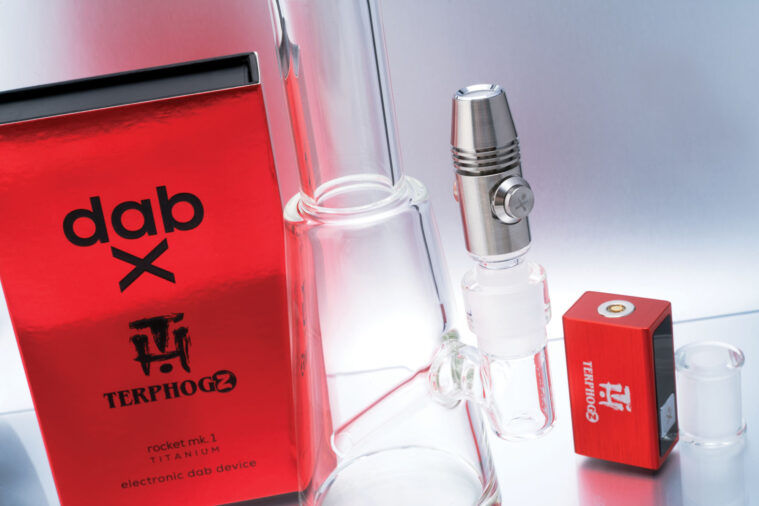 Perhaps the most natural feeling of all the bong-into-rig attachments. Sliding into your home glass pieces, DabX is a titanium device with some interesting differences. A double-click begins the warming of the unit before triggering a 12-second heat burst, according to four different temperature curves. The device doesn't go above 470°F, so it's less about heat and more about the device you're going to fill. There's a carb button, making the included cap just for travel. Instead of trapping in the smoke with a cap, the heat source in the chamber draws the concentrate down into the center, which means no more swabbing between hits.
---
BEED Rolling Machine
beed.co | @beed_co
Review by Matt Jackson @actionmattjackson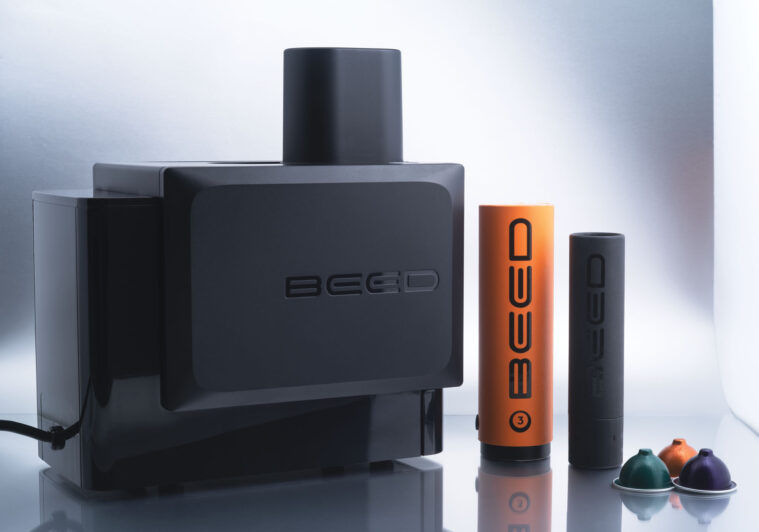 Meet the "Nespresso of Cannabis." These countertop machines launched in 2022 are capable of automatically filling an empty cone with prepackaged half-gram pods of ground Cannabis, delivering a pre-roll to your waiting hand in around 20 seconds. For anyone who has mobility issues in their hands or just doesn't know how to roll, Beed offers easy access and consistency. There are five strain-specific varieties available, and all of the pods are recyclable. With this amazing new device, consumption bars can offer people a simple way to roll up some weed – similar to the way self-pouring technology has revolutionized the bar experience.
---
Puffco Proxy
puffco.com | @puffco
Review by Matt Jackson @actionmattjackson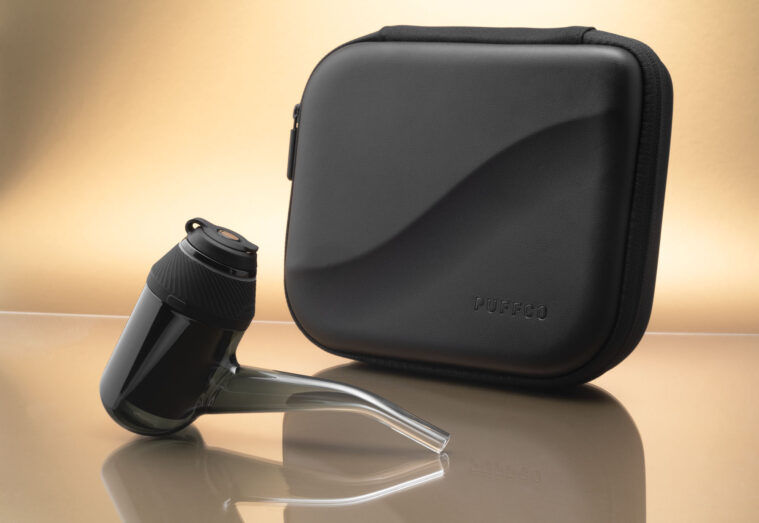 The breakout hit of 2022 is an electronic hash pipe that makes smoking concentrates as instinctive as humanly possible – bringing versatility as its greatest superpower. With a flick of the wrist, you can drop this miniature marvel into an endless array of pipe or bubbler attachments, glass bangers, and even a disco ball. Proxy offers tasty hits, all in a package that's discreet yet instantly identifiable. Like the basic Peak model, this has four variable heat settings (505°F -560°F) and haptic feedback, but makes use of the same 3D chamber as the upgraded Peak Pro. New accessories include the travel pack and flower-smoking attachments.
---
Ispire Daab
getispire.com | @getispire
Review by Matt Jackson @actionmattjackson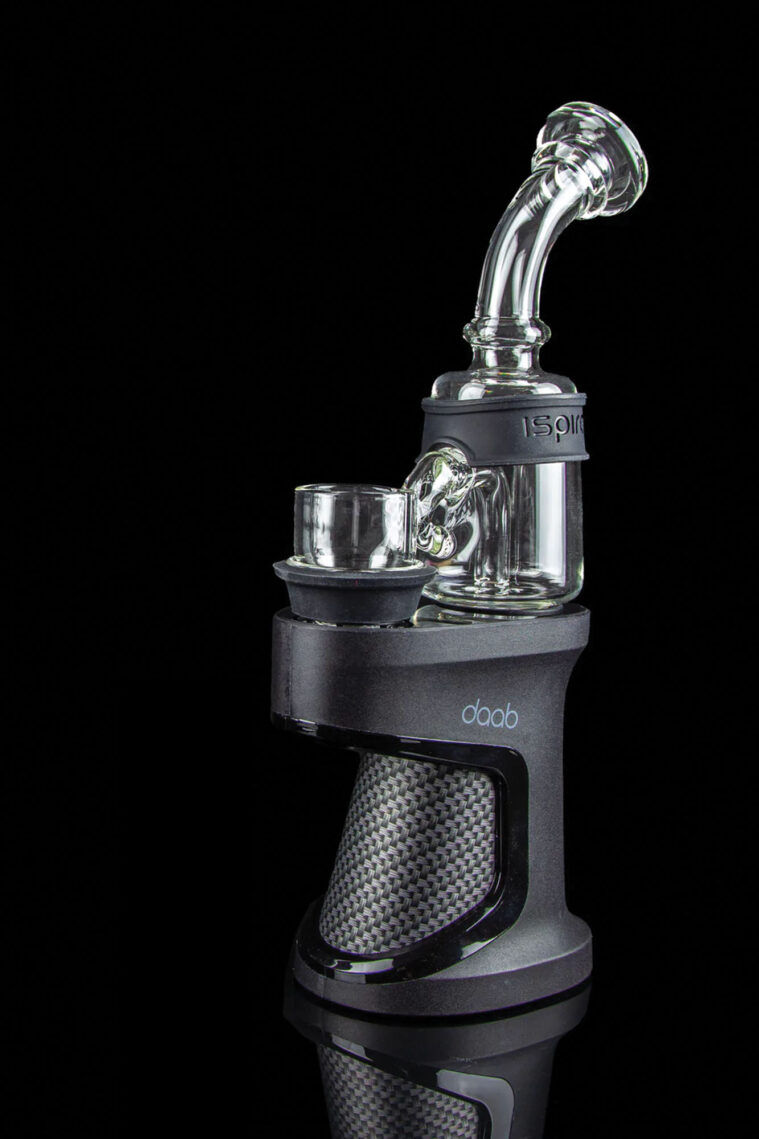 The newest device from Ispire does away with ceramic heating elements and instead opts for a more natural, induction heating. The unit looks like the Dewalt of dabs, fitting in your hand as easily as a drill. Load your concentrate into a small glass bucket and a metal ring encased therein is heated up within the glass chamber, bringing it up to temperature and vaporizing your concentrate in a way that feels closer to a traditional dab. A sturdy desktop piece, the daab adjusts in five-degree increments from 250°F-800°F, comes with its own hardshell case for traveling, and is able to go around 29 dabs on a full charge.
---
Hitoki Trident
hitoki.com | @hitokilaser
Review by Matt Jackson @actionmattjackson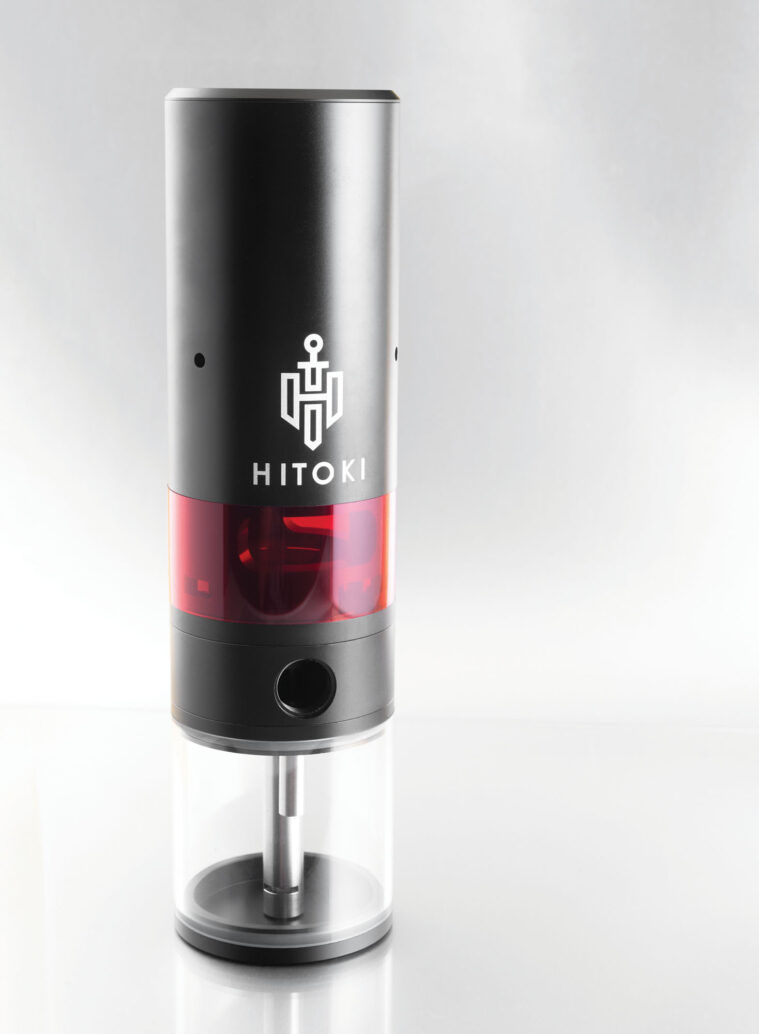 Be honest, who doesn't want to see their weed lit up by a laser beam? Every time you activate the Trident, a beam of light ignites your ground-up weed from behind a tinted, vision-safe chamber. This feels like you're using something from a Sharper Image catalog. There are three temperature settings and even though the Trident is a combustion device, it does leave you with a pile of spent herb. Trident has a silicon mouthpiece or hookah-style hose that's perfect for passing around, if you can manage to look away from its hypnotic light long enough.
---
710 Terp Cooler
710labs.com | @710labs
Review by Matt Jackson @actionmattjackson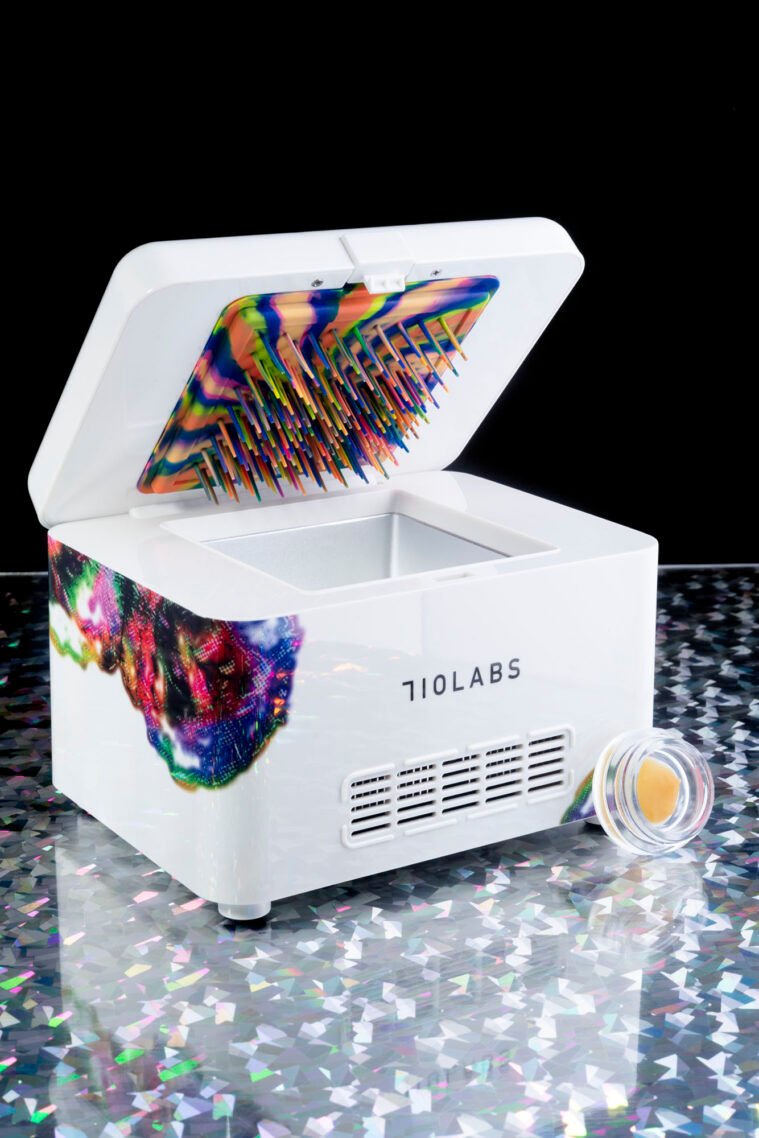 Preserving terps is a full-time job. That's why concentrate conservationists 710 Labs created a travel-friendly way of keeping hash and rosin at the perfect temperature. With an average battery life of eight hours, this lunchbox-shaped cooler holds around five standard-sized jars comfortably. The device works like a soda can fridge, cooling down the metal plate inside to bring the contents to your preferred settings. The carrying case is netted in all the right spots to allow proper ventilation and includes chargers for the home, car and USB. This little droid is the perfect option for road trips, hotel stays and consumption events.
---
Terpometer
theterpometer.com | @theterpometer
Review by Matt Jackson @actionmattjackson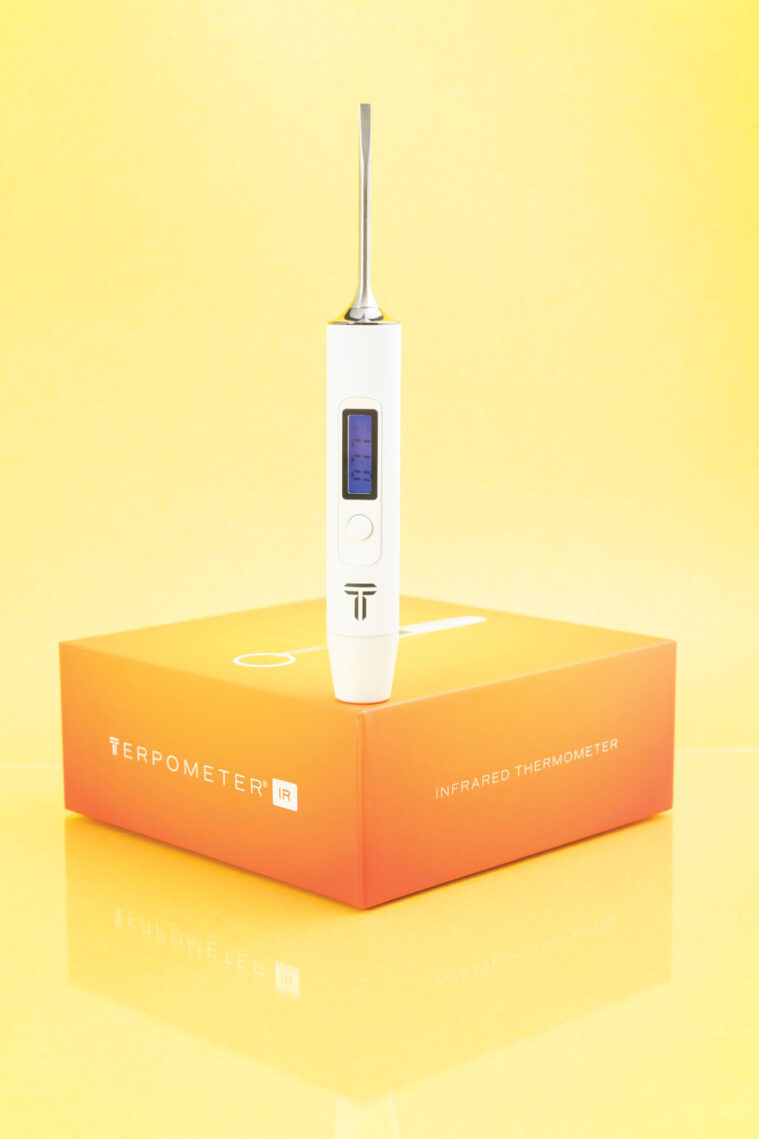 Now timing the perfect dab is as easy as opening the automatic garage door. This handy, keychain device contains a heat sensor that measures the temperature of whatever surface you hold it a half inch from, displaying it on a small LCD screen. When it registers between 500°F-550°F, the screen turns green to let you know it's time to dab. Thermometer IR produces accurate results, switches easily from Fahrenheit to Celsius, has a screw-on dab tool attachment, and you can even set it to buzz at you when you've hit the part of its range that you prefer. No more timers, or trying to line up a troublesome laser beam to get results.
---
The Flower Mill
flowermillusa.com | @flowermillusa
Review by Nate Williams @natew415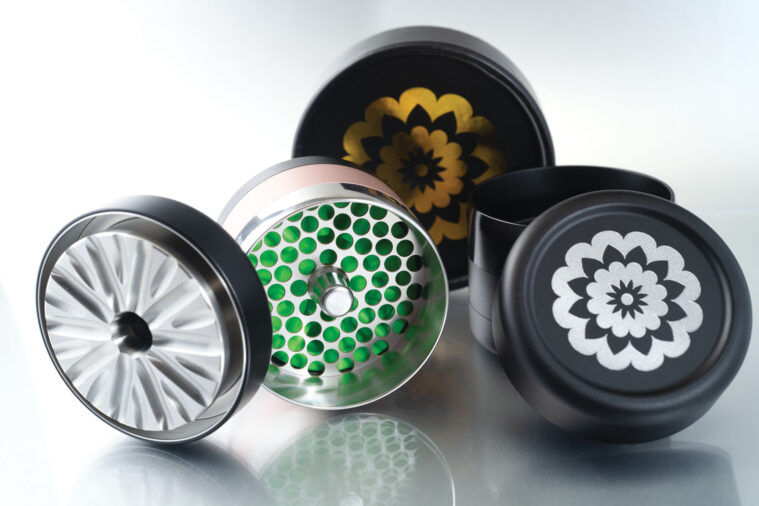 The Flower Mill is not a grinder. Rather, it achieves its function by utilizing an entirely different mechanism – milling. By definition, to grind is to reduce something to small particles by crushing it. On the other hand, to mill is to cut or shape into pieces. The bottom line is this: Your flower is going to be in much exponentially better condition after being milled versus being ground. After a thorough test run and side-by-side comparison, there is no doubt the grinders are going on the shelf and the mill will stay … ahem … in rotation.
---
Alchemy Jars
alchemyjars.com | @alchemyjars
Review by Nate Williams @natew415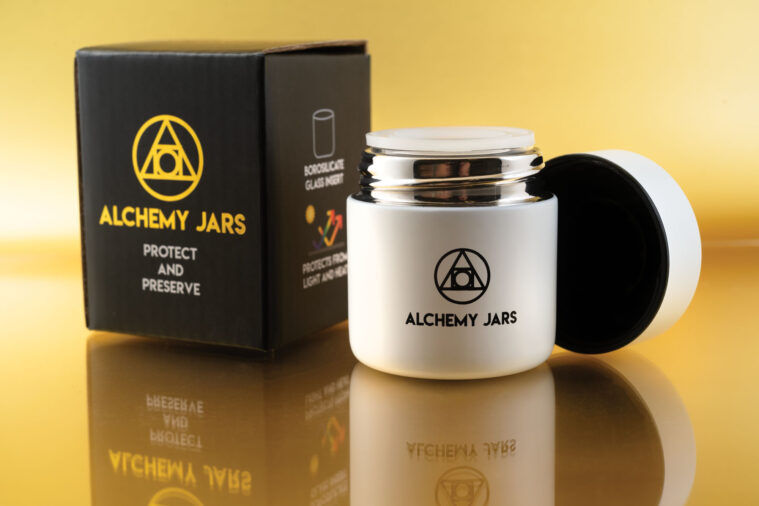 The next level of hash storage is here. Alchemy Jars was founded by glassblower Patrick Lee, better known as @purpskurp710 on Instagram. Sick of dried out, crumbly jars of rosin, Lee decided to solve the problem himself and drew from existing tech to create a solution and offer it to the masses. Alchemy Jars utilize double-walled, vacuum-sealing technology and work the same way high-end water bottles do to insulate and protect their contents from the environment surrounding the container. The jars work great and function as advertised, keeping your rosin fresh and full of terps – just how it was meant to be.
---
Rip Tip by Gordo Scientific
gordosci.com | @gordoscientific
MSRP from $40
Review by Katherine Wolf @katadellic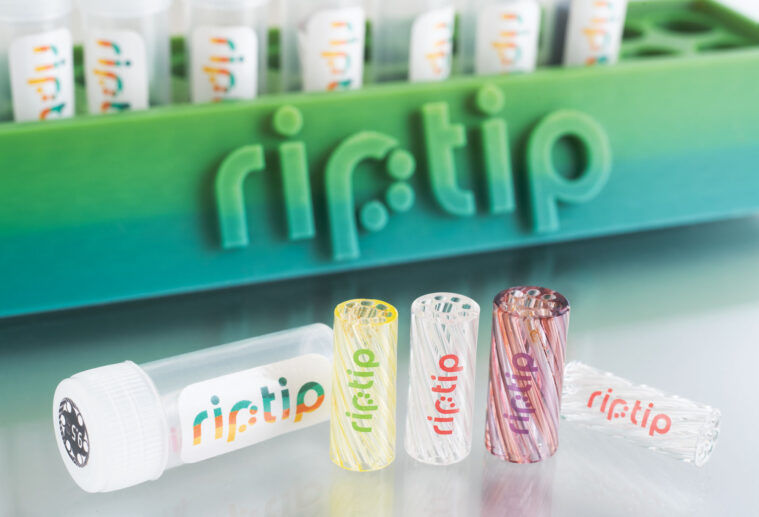 It's 2022, people – wasteful paper filters that hit harshly are old news. It's time to take your rolling game into the future with the Rip Tip. These reusable tips made of high-quality borosilicate glass are hand-blown by Gordo Scientific in Denver. Crafted to create a smoother and more sustainable sesh, the signature riptide channels that optimize airflow are where the "Rip" Tip gets its name. Aptly named indeed, these things sure do rip. Available in various diameters, the nine millimeter is the OG size and most popular. As a general rule of thumb, a seven to eight millimeter is ideal for personal pearls under a gram, while anything over 10 millimeters should be reserved for a trip to Mars.
---
LEVO C Oil Diffuser
levooil.com | @levo_oil
MSRP of $299.99
Review by Katherine Wolf @katadellic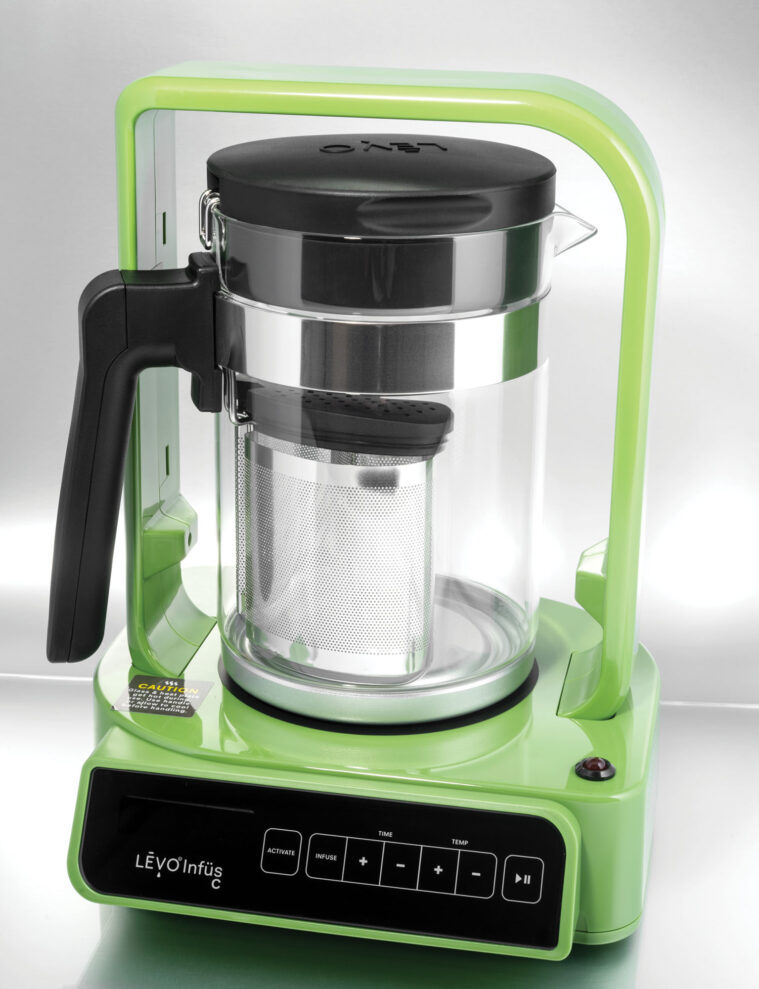 Budding (pun intended) home canna-chefs can use the LĒVO C to infuse large batches of oil, butter, honey, milk and more. Available in multiple colors, it's cuter than your favorite countertop coffee maker (and just about as easy to use). The LĒVO C is one of the simplest diffusers to set up and features an ultra-sleek, touch-activated interface with precise time and temperature controls. The best part? All the removable pieces are dishwasher-safe for a painless cleanup process – because having to clean a machine by hand after eating a bunch of edibles sounds like just about the worst thing ever.
---
Ardent FX
ardentcannabis.com | @ardentllc
MSRP of $299.00
Review by Katherine Wolf @katadellic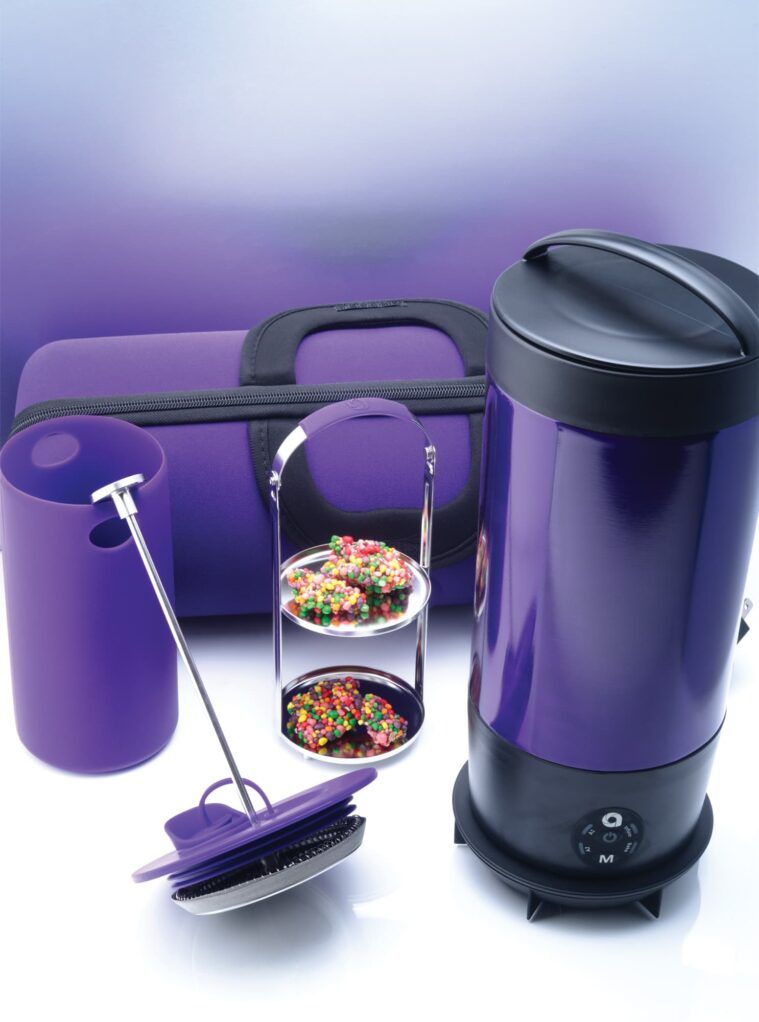 Dubbed the "Easy Bake Oven" for edibles, it really has never been easier to get baked off some baked goods with the Ardent FX. Equipped with precision heaters and timed cycles, this thing can activate and infuse up to one ounce of flower or concentrate at a time. Perhaps its most valuable feature, the Ardent FX optimizes terpene retention and cannabinoid activation with custom settings for decarbing CBD and THC/CBG. But that's not all, folks! Shift this cutting-edge culinary ganja gadget into "bake" mode to actually bake your infused goodies all within the same device. Yeah, technology is crazy these days.
---
The Focus V Carta 2
focusv.com | @focusv
Review by Matt Jackson @actionmattjackson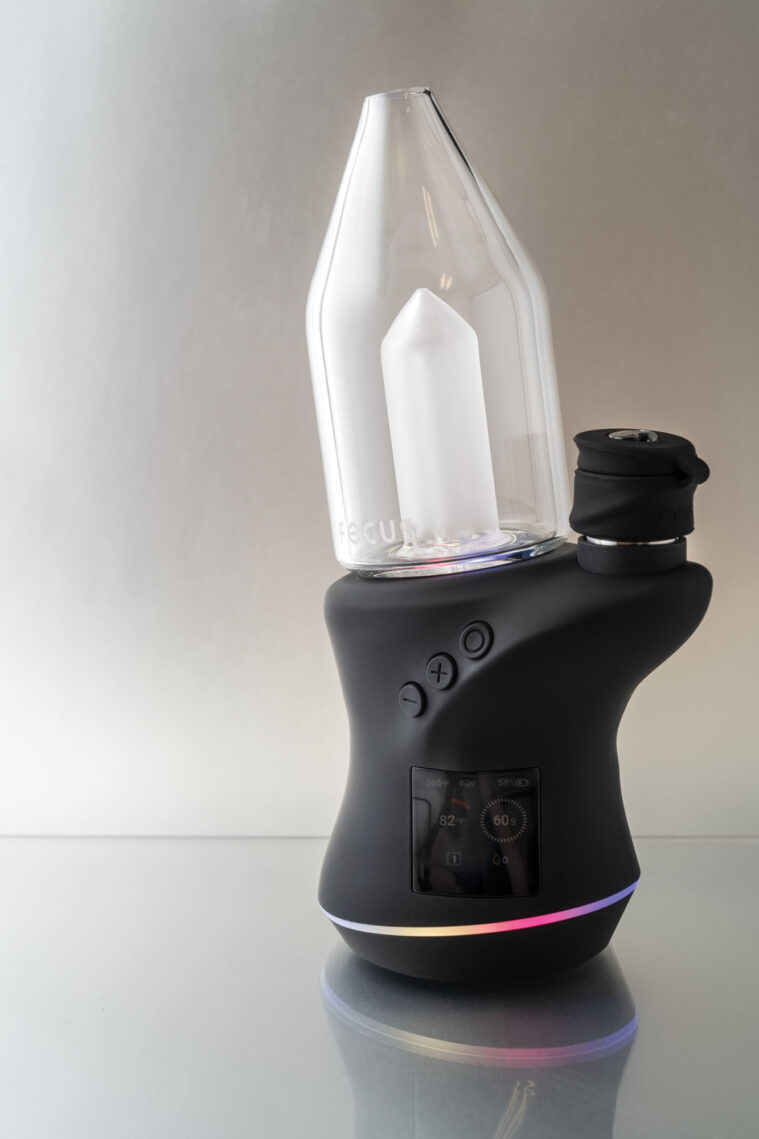 Focus V has revamped its popular e-rig device to create an experience that absolutely rips. With a solid, professional feel, the Carta 2 features an OLED screen that gives you up-to-the-minute temp readings, a session timer, and lighting customization that can be controlled with either the three buttons on the unit or an accompanying app. The improved glass chamber holds an impressive amount of water as well as smoke, and the battery ran about 25-30 dabs on a full charge. With a temperature range of 365°F-635°F that's adjustable to a single degree, Carta 2 captures the flavor from lower temp dabs while delivering the clouds we all crave.
---
Zenco by Flower Farma
flowerfarma.com | @flowerfarma
Review by Wes Abneey @beardedlorax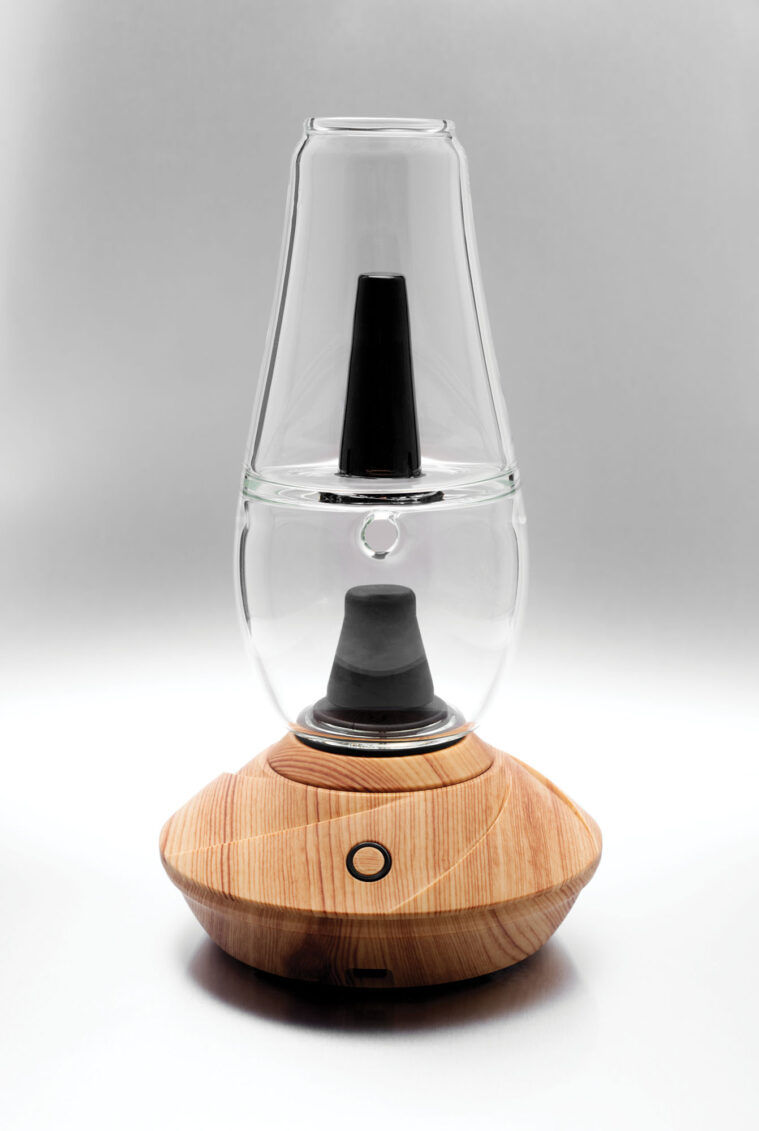 Raise a glass of vapor and embrace the most social innovation to Cannabis tech since passing a joint. The Zenco puts concentrates "on tap" by using an innovative function that turns a normal vape cartridge hit into a classy and tantalizing experience of drinking your vapor. Simply press down on the glass and watch the vapor swirl inside with tasty terps and cannabinoids, wait until full, and then sip by breathing in through the straw or the glass (to get huge hits). Shareable without having to swap spit from somebody's pocket dab pen, the glasses are easily washed and available in sets for entertaining. Perfect for socializing and micro or macro tokes, the Zenco is the ideal tabletop unit to transform your cartridge experience – and can easily be packed on-the-go for your next sesh!