Few companies can say they've contributed to the Oakland Cannabis scene like Oakland Extracts. Formed in 2013, Bay Area natives Terryn Buxton and Aaron Tran have navigated the difficulties of building their brand throughout the medical and recreational eras, even serving on the Oakland Cannabis Regulatory Commission. A proudly Black and Asian-American-owned business, their dedication to promoting the Bay's Cannabis community and producing affordable, single-source extracts has more than earned them the moniker of "Terps from The Town."
Oakland Extracts' signature product is undeniably their cookie crumble. This distinctive creation – which looks like a miniature sugar cookie – is the only of its kind on the California retail market, according to Buxton. Easy to travel with and simple to break apart, these baked goods are as effortless to load in a joint or blunt as in a rig.
Like the cookies you make at home, their cookie crumble is created by molding cannabinoid-rich wax into tiny circles by hand before sliding them into the oven. Buxton believes this tactile approach is part of the magic. "It's like the wax gets a little extra purging from the heat of your hands, so it doesn't need to spend as long in the oven, and the terpenes seem to have a higher retention."
To get that perfect texture, they classically use cured flowers. However, with the recent fresh-frozen boom, Oakland Extracts has been working with more frozen starting material, releasing even terpier batches. These slightly gooier cookies can almost be considered their "soft batch" variety. Strawberry Cough Cookie Crumble is one of these special batches.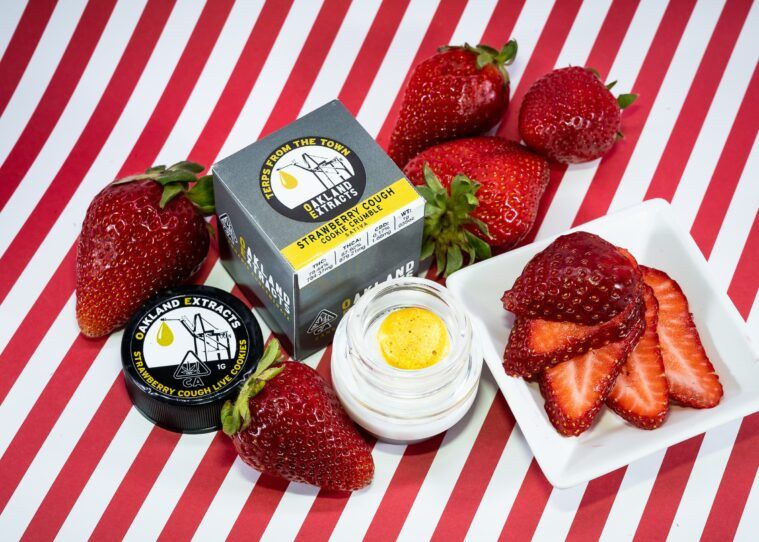 Not a usual suspect on dispensary shelves, this mixture of Strawberry Fields and Haze was the winner for best flower at the 2013 Cannabis Cup. According to Kyle Kushman, the breeder most associated with the strain, this "queen of the sativas" is nearly unmatched for its "joy, clarity, and uplifting feeling." This particular version expresses more of the indica-dominance of the Strawberry Fields, which nicely balances the sativa effects.
The flower for this release came from Agricola Farms and Nursery in Sonoma County. Their founder, Dr. Natasha Khallouf, is not only a Doctor of Acupuncture and Chinese Medicine with an active practice in Sebastopol, but also a first-generation American and native Californian. Her farm was the second permit issued by Sonoma County. They pride themselves on natural permaculture practices to create clean, environmentally-friendly Cannabis.
While you won't find an overwhelming smell out of the package, the fruit comes through as you begin to work the crumble with your fingers. On a lower-temp dab (450-470), there's a delicious flavor that's less fresh-picked and more freeze-dried strawberries. Once you hit higher temperatures, that profile blurs into something sweeter. The effects bring a wonderful bolstering feeling, almost like a second wind. Not so much energizing, but absolutely inspiring.
A perfect choice for daytime sessions, afternoon get-togethers or industry events, with summer almost here, the timing for this release couldn't be better. This pleasant flavor will keep people coming back for more, and the effects will keep the party going.
This article was originally published in the June 2022 issue of California Leaf.
View our archive on issuu.