SeaWeed Co. is known for being purveyors of quality Maine Cannabis, and this delicious and innovative edible is a strain-specific delight that truly impresses and leaves you coming back for more. With such care and craft, it's easy to sense the professionalism and love that goes into this gourmet treat.

We tried the strawberry jalapeño Pâte de Fruit (fruit paste) and I feel confident in declaring that it was the best edible I've ever had! That's no small statement … so let's get into the reasoning behind this pot proclamation.

Firstly, SeaWeed Co. uses pectin instead of gelatin – making the texture of each piece smooth and soft without any unpleasant mouthfeel or tough chewy bits that get stuck in your teeth. This reason alone would keep me coming back for more and staying loyal to this brand. All too often, infused fruit snacks will have an unappealing consistency – but this is hands-down one of the best textures on the market.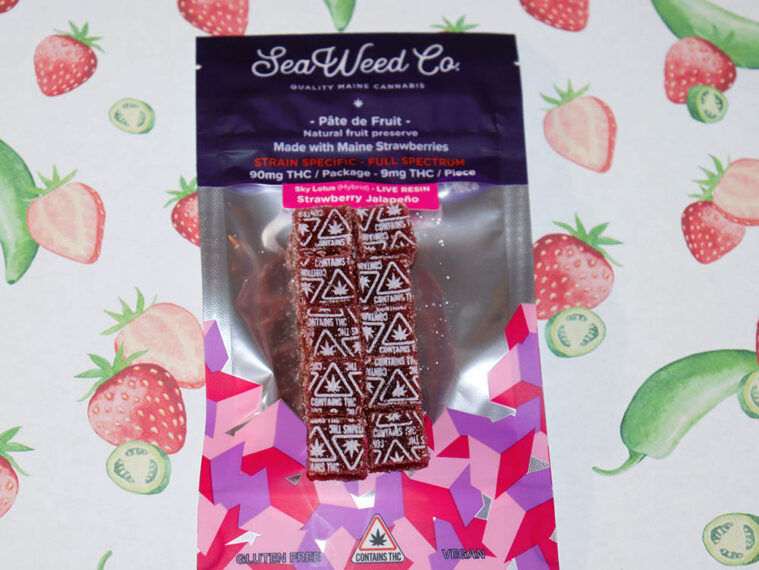 Next, the strain-specific full-spectrum Cannabis oil is a big flex. Being able to source quality Cannabis for an edible from one plant is largely unheard of, but this product shows that it's not only possible to accomplish such a feat – it's actually the preferred method. Think of your favorite strain and its desirable effects. Now think of the possibility that it could be diluted with other cheaper strains in order to "stretch it out" during the extraction process. This would leave you with a tainted Cannabis oil that's not as good as a single-source product would be.

For the Pâte de Fruit we sampled, SeaWeed uses the strain Sky Lotus – a hybrid plant from Bodhi Seeds. Taking nine weeks to flower on average, this plant is a labor of love that truly pays off. Its mixed berry terpenes and abundance of trichomes make Sky Lotus the perfect strain to be utilized here. The effects are balanced and buzzy with an undeniable positive energy and healing vibe.

Lastly, the flavor combination is insane! Strawberry jalapeño is far from boring (and in fact, it's really tasty). This mash-up is unexpected and welcome in a world of sometimes bland and boring fruit snacks. Not too spicy, the jalapeño gives this edible the edge it needs to really stand out and keep you coming back for more. It settles in the stomach nicely without any unwanted after effects – like indigestion – that you may have experienced with peppery foods in the past. And that's a good thing, because this flavor combo is really addictive. I ate the whole package in one sitting without even realizing it.

Bold, fun … and interesting indeed!
seaweedmaine.com | @SeaWeedCo.me
This article was originally published in the August 2023 issue of Northeast Leaf.
View our archive on issuu.