Tannins
Deltina Coffee Roasters California Poppy Blend
deltinacoffeeroasters.com | @deltinacoffee
Located on the fabled Pacific Coast Highway just blocks from the Oceano dunes in Cali's Central Coast, Deltina coffee roasters are a family-run outfit with some of the freshest, most flavorful coffees this side of Seattle. Deltina offers five varieties of small-batch organic coffee, all of which are mindfully sourced from sustainable farms. For this pairing, I selected their California Poppy blend – a light roast named after our state flower that's available year-round.
Terpenes
Kiva Confections & Yeastie Boys Bagels Everything Bagel Seasoned Dark Chocolate
kivaconfections.com | @madebykiva
yeastieboysbagels.com | @yeastieboysbagels
As a born and bred Brooklyn boy, few foods are as high on my culinary comfort list as a fresh-baked everything bagel. So when I heard that Kiva were collaborating with L.A.'s own Yeastie Boys Bagel shop on a limited-edition everything bagel seasoned dark chocolate bar, I couldn't wait to taste it – and let me tell you, it didn't disappoint. Though it may sound like an unlikely combo, the rich, deep, bittersweet dark chocolate flavor is beautifully complemented by the salty, savory sprinkling of sesame and poppy seeds, sea salt, onion and garlic.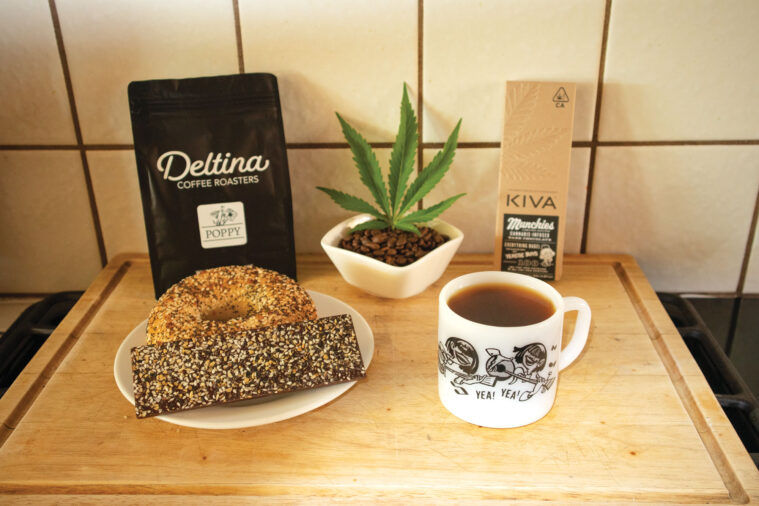 The Pairing
Choosing what to pair with this unique edible bar was a no-brainer. I mean, what goes better with an everything bagel than a good cup of coffee?
Grinding up the beans, I got notes of cherry, caramel and chocolate on the nose, but not so with the flavor. After the addition of a teaspoon of raw sugar, Deltina's Poppy blend had a bittersweet taste with notes of honeysuckle, nuttiness and a hint of citrus. Sipping it while nibbling the bittersweet chocolate produced a salivating synergy of sweet, savory and salty unlike anything I'd experienced before.
And being a light roast, the Poppy blend has higher caffeine content – providing an added kick to counterbalance any potential zone-out effects from the edible. This unique twist on the classic "hippie speedball" provided me with the perfect breakfast buzz – offering all the flavor of my favorite bagel without all those carbs (and with no schmear required).
This article was originally published in the September 2022 issue of California Leaf.
View our archive on issuu.