Tannins
GT's Trilogy Kombucha
gtslivingfoods.com | @synergykombucha
Synergy raw kombucha from GT's comes in several flavors, all of which are made with a base kombucha that is fully fermented for 30 days in small batches. Containing both black and green tea, this beverage is doubling down on the tannins and their antioxidant properties.
Trilogy is the flavor used in this pairing, which has a dominant raspberry taste including notes of lemon and ginger. The essence can be described as fruity and citrusy, with that classic kombucha fermented sensation on the finish. GT's Kombucha is available nationwide everywhere from gas stations to grocery stores.
Terpenes
Kings and Queens Runtz Shatter
89.60% Total Cannabinoids | 4.78% Total Terpenes
vireohealth.com | @vireohealth
In my experience, Runtz is a strain that can be gassy, can be fruity, or a nice blend of the two. This batch was on the citrusy and fruity side of the flavor spectrum, with limonene dominating the flavor profile in a lemony slew of goodness. Accompanied by caryophyllene, the element of gas is added back into the mix but remains on the back end of the smell and taste when dabbing.
The color of this shatter was bright gold and the gram was transparent with no cloudiness. Coming in see-through packaging allows you to inspect your medicine without holding the shatter out of its typical parchment paper.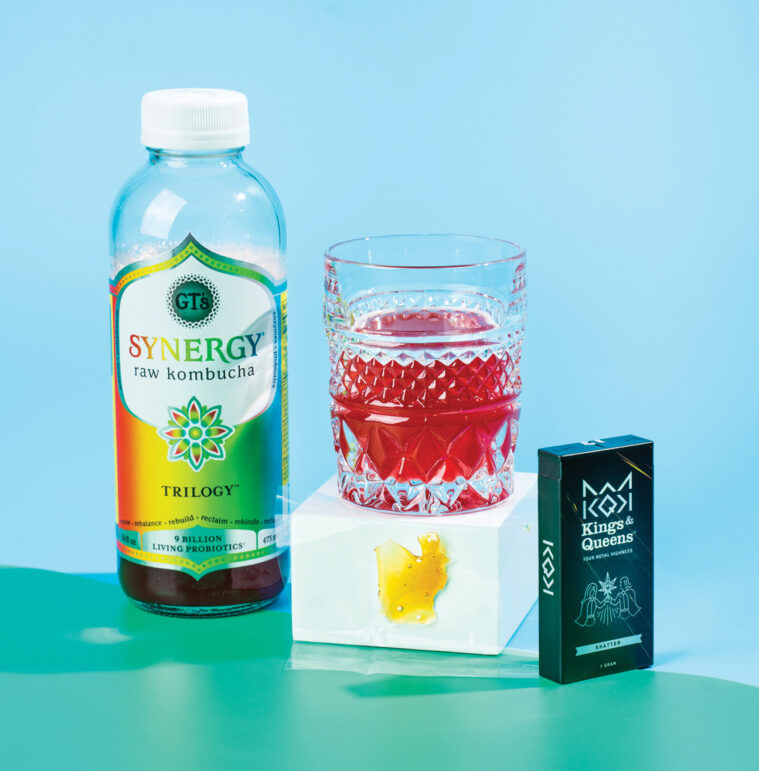 The Pairing
We wanted citrus to be the star of this pairing, and for citrus to be accompanied by fruits that accentuate each element's compatibility. Here, the raspberry and lemon go together like peanut butter and jelly – giving off a flavor similar to sweet and sour gummy worms. The classic smell of the kombucha blends with the gassy smell on the back end of the Runtz, while the citrusy overtone on the shatter mixes perfectly with the fruity profile on the kombucha. Both of these elements give me a boost of energy, making this pairing most useful during early mornings when I need a kickstart to my day.
This article was originally published in the September 2022 issue of All Magazines.
View our archive on issuu.