The Tannins
Blue Point Brewing Company Toasted Lager
bluepointbrewing.com | @bluepointbrewing
For over two decades, the kind folks at Blue Point on New York's Long Island have been crafting some of the most distinctive and unique beers in the region – including some brewed with local oyster shells, beach plums and seaweed! It's no surprise that their flagship – Toasted Lager, clocking in at 5.5% ABV and 28 IBU, and brewed using a blend of six specialty malts – won two World Beer Cup gold medals. This classic American Amber Lager starts with a creamy head with average lacing due to fairly low carbonation. Notes of warm caramel, coffee and chocolate follow, with the toasted malts shining through, noticeably lacking the bitterness of more hoppy brews.
The Terpenes
Cryo Cure East Coast Sour Diesel
cryocure.com | @cryocuremachines
sanctuarymed.com | @sanctuarymedicinals
Cryo Cure uses proprietary, patented freeze-drying technology to dry and cure Cannabis flowers in as little as 12 hours – instead of the usual two weeks or longer. This leaves the buds spongy, bright green and free of any mold, while preserving the trichomes and essential oils (cannabinoids, flavonoids, and terpenoids) within. This East Coast Sour Diesel flower was grown by a medicinal caregiver, but Cryo Cured bud is available as "Live Cured" in Massachusetts at Sanctuary Medicinals in Brookline, Gardner, Danvers and Woburn. The dominant terpenes are caryophyllene, limonene, and myrcene – giving this strain the telltale gassy-fuel flavor.
Cryo Cured Cannabis is available at limited dispensaries in Ohio, Michigan, Arkansas, Oklahoma and Colorado, with planned rollouts in Rhode Island, Washington state, and California by the end of 2022.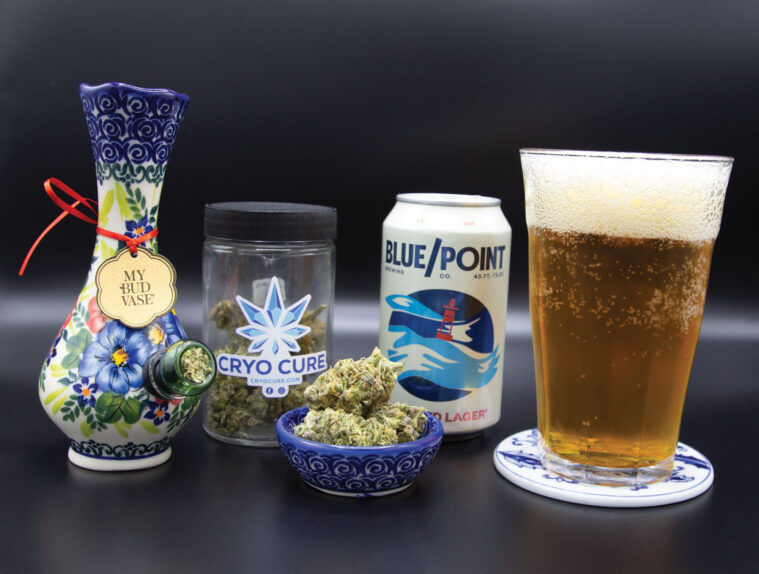 The Pairing
Together, Toasted Lager and Sour Diesel combine for a classic pairing of two unique scent and flavor profiles. The light citrus sweetness of the lager followed by the pine, skunkiness and menthol of the real deal Sour D commingle to create a spicy sensation on the palate. The very drinkable beer goes down smooth until the end of the pint and just a few puffs in, a heady and strong electric buzz sets in. The combination inspires energetic activity and lively conversation, followed by an uplifting feeling of joy and satisfaction.
This article was originally published in the September 2022 issue of All Magazines.
View our archive on issuu.