I met Lisa Moncrief at a Sacramento house party in 2015. We'd only been chatting for a bit before she excitedly pulled out her phone to show me her dog Kodi Bear – and I instantly understood Lisa's huge heart for our furry friends and her support for CBD for pets. Lisa grew up in Louisiana and Oklahoma with her family dog Peaches, and by the time she hit California as a young adult in 1989, she had developed a love for dogs that would grow into a lifelong passion for their care – even when she's not their 'person.'
Lisa first became a dog mom in her mid-20s, adopting a tiny puppy that would be called Roadie, because her then-boyfriend's bandmates found it tucked inside in a cardboard box at a rest stop after a gig. They shared nearly 13 years together before Roadie passed, and three-and-a-half years later in 2007, Lisa met and "instantly fell in love with" a fuzzy-faced one-year-old rescue from the Sacramento SPCA. She's never had his DNA analyzed, but Lisa's best guess is that he's a "Chow Australian Shepherd mix who looks like a little Red Panda Bear." Lisa named him Kodi Bear. While five years ago Kodi Bear was still active in mid-life – an avid hiker and swimmer who went everywhere with Lisa – now 14 in people years, Kodi Bear's physical decline is obvious.
How have you observed Kodi Bear changing through the years?
He was about a year old when I got him, super active, loved hiking – any adventure he was always down for. Then slowly he started aging. Last year, we went on a big road trip and he was able to get in and out of the car with me helping only a little bit, but this year it hit really hard. In March he was able to still do some running, and then in April he didn't even want to go down to his favorite spot on the river. He's just really slowed down to a snail's pace – it's super hard for him.
Was it these recent observations that led you to start Kodi Bear on CBD?
Yes. I just started it, since his mobility seemed to change for the worse all at once.
Did you yourself ever try CBD before giving it to Kodi Bear?
Yes, an 18:1 CBD tincture I took for anxiety. I tried a full dropper and it mellowed me out quickly, but it also made me feel like I needed to take a nap. Now I take a quarter of the dropper and I feel pretty even-keeled. And I've started giving it to Kodi Bear for his inflammation and pain – for his mobility issues.
How did you discover the proper CBD:THC ratio and dose for Kodi Bear?
He stayed with my friend while I was away pet-sitting this past Fourth of July, and my friend gave him the 18:1 ratio. She said it really helped Kodi Bear with anxiety during the fireworks, so I bought the 18:1. But after giving myself a full dropper of 18:1 and knowing how affected I was, I thought about 10 drops for Kodi Bear (who weighs roughly 60 pounds) would be sufficient for him. But I've played around with it and I've upped him to 15 drops per day.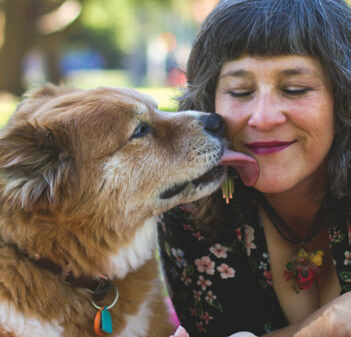 What specifically shows you that CBD is helping with Kodi Bear's mobility?
The two main things I keep an eye on are how well he is able to get up and down stairs, and his pace.
Are there any particular brands of CBD tincture that you recommend?
I've used Care By Design 18:1 and VetCBD 18:1, and I like both as CBD for pets.
What advice do you have for dog owners who are curious about trying out CBD for their dogs?
It's definitely worth a try! As a pet sitter, I often recommend owners give try CBD for pets. People seem to feel apprehensive about it, but for me it's a natural medicine, so I don't think people should be averse to giving it to their dogs.
Follow Lisa & Kodi Bear's adventures on Instagram: