As research advances and the Cannabis market matures, more brands are ditching broad decades-old classification terms like "indica vs. sativa." Instead, today's packaging comes with two more important words: dominant terpenes.
While more seasoned smokers may understand these scientific terms and their meaning, talking terpenes isn't always an easy language to become fluent in. This type of higher education takes expert help and can quickly overwhelm rookie rollers or the newly canna-curious.
To get advice on how consumers can conquer these complexities, we linked up with Jamila Owens-Todd – a Naturopathic Doctor, Adjunct Professor of Cannabis Pharmacology, and Chief Science Officer of a medical Cannabis manufacturer. The answer involves using aromatherapy to experience the wellness benefits of terpenes, and you only need one tool: your nose.
Aromatherapy is the practice of using chemical compounds called aromatics for therapeutic benefit. This link between scent and mood explains why a fresh pot of coffee brewing can wake you up in the morning or how the soothing smell of lavender before bed makes you sleepy. In the Cannabis plant, terpenes are one of the elements that impact not only a strain's fragrance and flavor, but also the way it makes you feel.
"Terpenes are essential oils. They're aromatic, volatile molecules, and the way we receive many of their benefits is through inhalation," explains Jamila. "So I would just start there and let the nose lead you. The fact that you're able to inhale, ignite those nasal passageways, and get the nervous system engaged simply from smelling the flower is really all you need. If you have five different types of strains in front of you, smell each one. The one that resonates with you the most, that is your flower."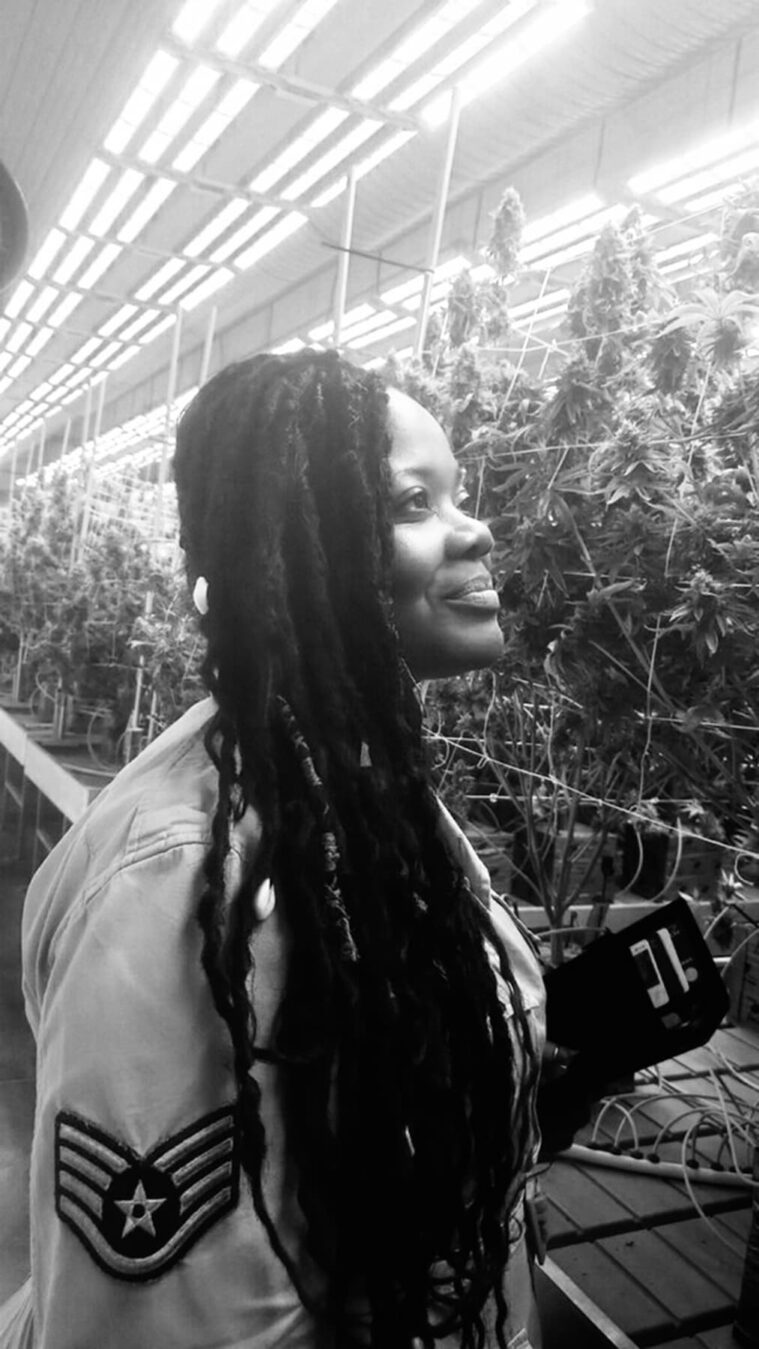 But what if you live in a state or shop at a dispensary that doesn't allow you to smell the product before purchasing it? Jamila went on to explain how you can take the power of scent a step further to elevate your smoking experience once you've taken your haul home. By understanding the connection between scent and terpenes, you can actually guide your Cannabis consumption throughout the day based on mood, environment and desired effects.
Let's say you wake up with a long list of tasks looming over your head. You may want to start the day with a strain that immediately makes you feel uplifted and euphoric after taking a big whiff – this likely tingles the nostrils and is high in limonene. After powering through a few productive hours of work, you take another smoke break, this time with a cultivar high in pinene such as OG Kush. It smells fresh and crisp, and in turn helps you feel focused, cerebral and ready to crush the afternoon – much like a mental walk through the woods. After you finally look up from the laptop, the day has already turned to dusk and it's time to unwind with a high-linalool strain like Lavender Diesel that is soothing, herbaceous and gentle on the exhale before hitting the hay.
Listening to our nose is a huge part of connecting your mind, body and spirit through Cannabis. This approach gives us a deeper relationship with the plant, allowing us to welcome all the wellness benefits it can provide. As Jamila put it, "Before you even start to spark up your flower, just take a good whiff. … Let the nose lead you … is the plant selecting you, or are you selecting the plant? If you allow yourself to be vulnerable in that way and just take that smell in, you've already engaged in terpene medicine. And then, once you ignite the flower, you get even more benefits of that aroma and those terpenes."
Cannabis Terpenes Cheat Sheet
Myrcene
Smells: musky and earthy
Feels: soothing and sedative
Commonly found in: Granddaddy Purple, Grape Ape, OG Kush
Limonene
Smells: citrusy and clean
Feels: uplifting and euphoric
Commonly found in: Do-Si-Dos, MAC, Sundae Driver
Linalool
Smells: floral and fresh
Feels: relaxing and restful
Commonly found in: Lavender Kush, Amnesia Haze, Tropicanna Punch
Caryophyllene
Smells: black pepper, cinnamon, cloves
Feels: calming and tranquil
Commonly found in: GG#4, Sour Diesel, Slurricane
Pinene
Smells: sharp and woodsy
Feels: energizing and focused
Commonly found in: Critical Mass, Dutch Treat, Larry OG
Ocimene
Aroma: minty and zesty
Feels: refreshing and creative
Commonly found in: Green Crack, Golden Goat, Strawberry Cough