Despite digging out from a freak blizzard in April, May is mostly mild and green. Very green. Fresh fruits and vegetables are arriving on the scene, and hanging outside still seems like the preferable way to go. If you can get to a farmers market, you can choose your meals seasonally – that's good for you and the farmers. Not to mention the planet … and who doesn't want to do that? I've recently started a more plant-forward diet including nuts, vegetables, fruits and grains. Meat is not off the table, it just appears more as a side than the main course. It feels good, I have more energy – and I'm taking care of myself and Mother Earth.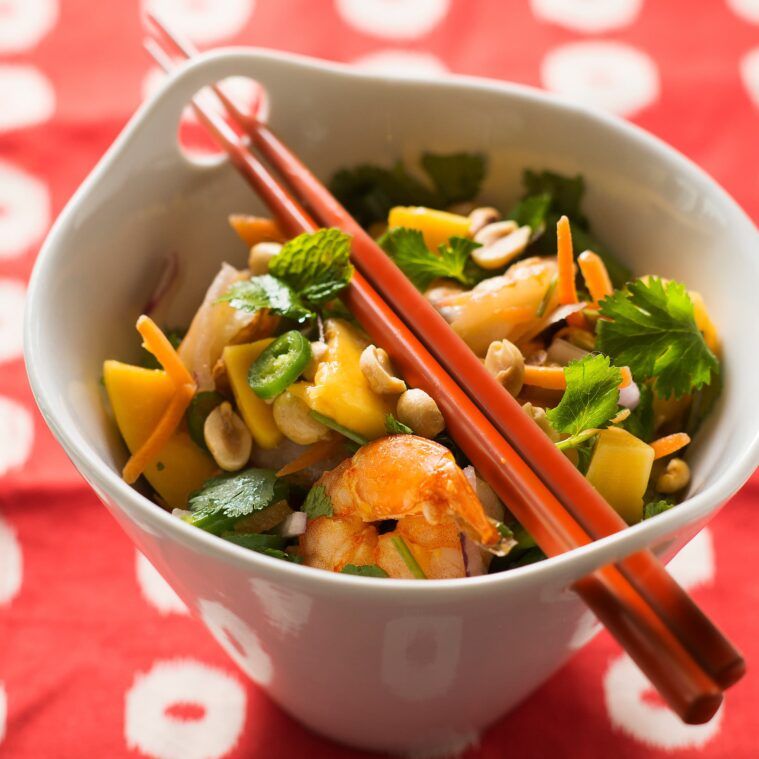 THAI SHRIMP SALAD
4 servings
This is a great warm-weather salad, with an interesting mix of flavors, colors and textures. I love pairing shrimp with papaya, and the garnishes of mint, cilantro and peanuts really bring it all together.
Ingredients:
1⁄2 cup freshly squeezed lime juice (from about 4 medium limes)
2 tablespoons Thai fish sauce (nam pla)
4 teaspoons canna-oil
2 teaspoons coconut palm sugar (brown sugar also works)
1 small onion, chopped
1 serrano chile, seeded and chopped
2 garlic cloves, minced
1 pound medium or large shrimp, peeled, deveined and cooked
2 medium green papayas, peeled, sliced or cubed
2 carrots, shredded
8 leaves fresh mint, for garnish
1⁄4 cup cilantro, for garnish
1⁄4 cup peanuts, for garnish
Directions:
1. In a medium bowl, whisk together the lime juice, fish sauce, canna-oil, sugar, onion, chile and garlic.
2. In a large serving bowl, combine the shrimp, papayas and carrots. Pour the dressing over the salad and toss well to combine.
3. Garnish with the mint, cilantro and peanuts before serving.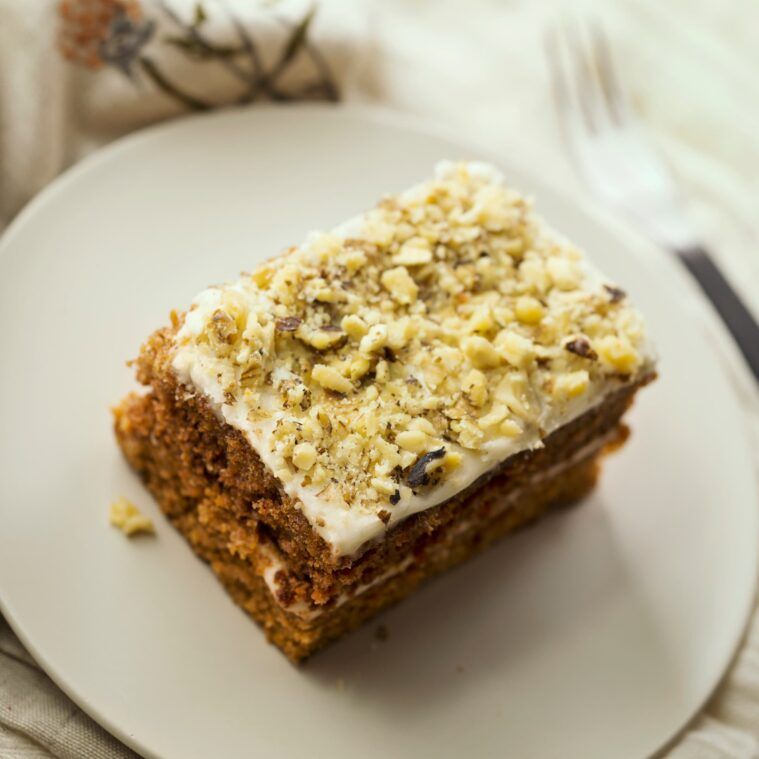 CARROT CAKE
Serves 12
I've been making this cake for years. It was my daughter Olivia's favorite, so there are lots of photos of her blowing out the candles, face covered with frosting and crumbs! Sometimes I add a small can of pineapple.
Cake Ingredients:
Cooking spray, for greasing the pan
2 cups all-purpose flour
1 3⁄4 teaspoons baking soda
2 teaspoons ground cinnamon
1⁄2 teaspoon ground nutmeg
1⁄2 teaspoon ground ginger
1⁄2 teaspoon salt (kosher or sea)
2 2/3 cups grated carrots
1 cup chopped walnuts, 1⁄4 cup reserved for decorating cake
1 cup canola oil
4 large eggs, lightly beaten
2 cups packed brown sugar
2 teaspoons vanilla extract
Frosting Ingredients:
1 pound cream cheese, softened
4 tablespoons canna-butter, softened
3 cups confectioners' sugar
1 tablespoon vanilla extract
pinch of kosher salt
Directions:
1. Preheat the oven to 340°F. Spray two, 9-inch square cake pans with cooking spray and set them aside.
2. In a medium bowl, whisk together the flour, baking soda, cinnamon, nutmeg, ginger and salt.
3. In the bowl of a stand mixer fitted with the paddle attachment (or use a hand mixer or a wooden spoon in a large bowl), combine the carrots, 3⁄4 cup walnuts, oil, eggs, brown sugar, and vanilla on medium speed.
4. Reduce the speed to low, add the flour mixture, and mix until just blended, scraping down the bowl as needed.
5. Pour the batter into the prepared pans. Bake for 25 to 30 minutes, until a toothpick inserted in the center comes out with just a few crumbs on it.
6. Let the cakes cool in the pans.
7. In the bowl of a stand mixer fitted with the paddle attachment (or use a hand mixer or a wooden spoon in a large bowl), beat the cream cheese and canna-butter on medium speed until very smooth and creamy, 3 to 5 minutes.
8. Add the confectioners' sugar, vanilla and salt, and beat on medium-high until fluffy, about 3 minutes.
9. When the cakes have completely cooled, turn the first cake out onto a serving plate. Using an offset spatula, spread a little less than half the frosting over the top.
10. Turn out the second layer on top of the first, and spread the remaining frosting over the top and sides of the cake. Sprinkle the reserved walnuts on top.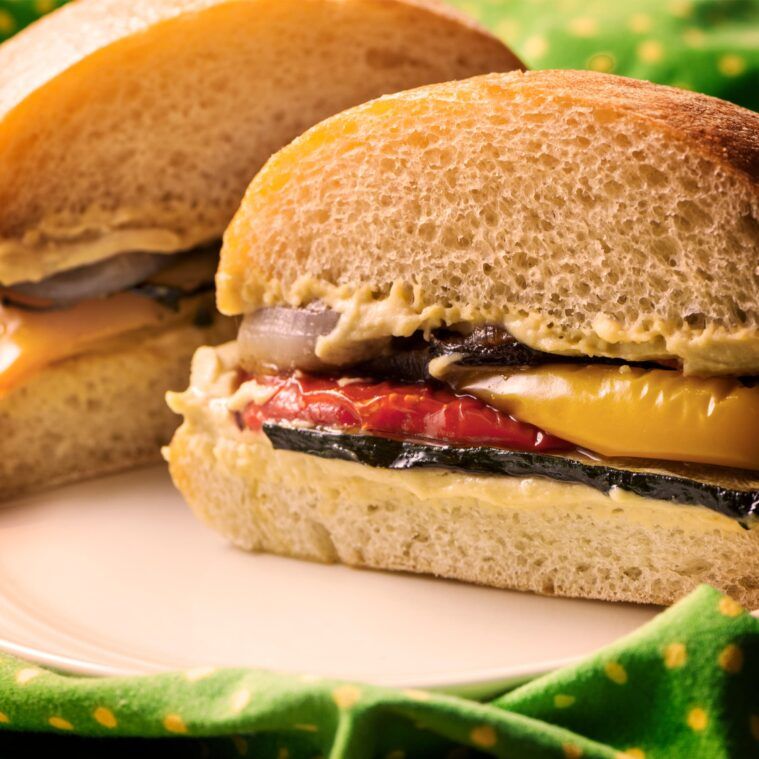 MEDITERRANEAN VEGGIE AND HUMMUS SANDWICHES
This healthy hummus sandwich infuses easily and it's fresh and super tasty. Feel free to use one of the many flavored hummus options out there like roasted garlic or roasted red pepper.
Ingredients:
1 small zucchini, cut into thin strips
1 bell pepper, any color, seeded and cut into thin strips
1 small red onion, thinly sliced
1 teaspoon ground cumin
1⁄2 teaspoon dried oregano
Salt (kosher or sea) and freshly ground pepper, to taste
1⁄2 cup hummus
2 teaspoons canna-oil
4 slices whole-grain bread
Directions:
1. Preheat the oven to 375°F.
2. Pour the olive oil onto a rimmed baking sheet. Put the zucchini, bell pepper and onion slices on the baking sheet, and sprinkle with the cumin, oregano, salt and pepper. Toss to coat and bake until the vegetables are tender, 15 to 20 minutes. Let the veggies cool.
3. In a small bowl combine the hummus and the infused oil. Spread the hummus equally on all four slices of bread.
4. Divide the vegetables between two bread slices, add more salt and pepper to taste, and top with the remaining two slices of bread.
5. Slice each sandwich in half before serving.