Ryan Hemnarine grew up in a normal New Jersey household. In his house, drinking alcohol was an acceptable pastime – but smoking weed wasn't. Later in life, he discovered that, while alcohol is widely accepted in American society, Cannabis is criminalized. It was this double standard that opened Ryan's eyes to the hypocrisy of Cannabis prohibition.
"It blew my mind that one was so socially acceptable and the other was completely federally illegal," Hemnarine told Northeast Leaf via Zoom.
The injustice created a passion in Hemnarine to share the truth of Cannabis with more people, and it was with this goal in mind that he joined the first pilot class for the Minority Cannabis Academy. Now, he plans to use everything he learned about budtending and horticulture to spread the "good word" about Cannabis to others.
And Hemnarine is just one of the many individuals being positively impacted by the Minority Cannabis Academy – a nonprofit founded in 2021 with a mission to connect their communities to Cannabis opportunities.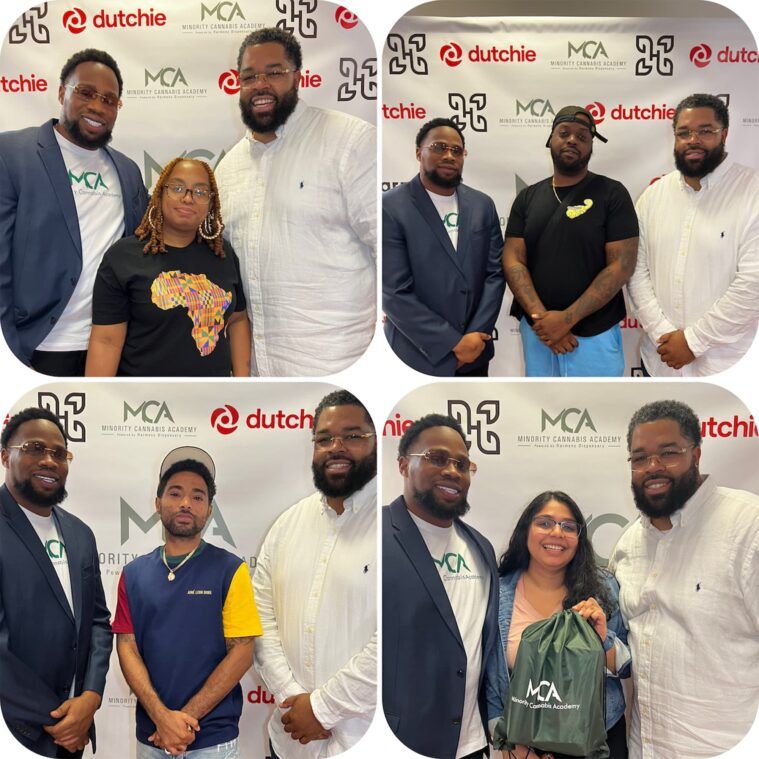 Putting Social Equity into Practice in New Jersey
In March 2021, Brendon Robinson and Stanley Okoro – friends since childhood and cofounders of a Cannabis event company called 420NJEvents – hosted a marijuana masterclass for a company called Leafy Green Agency. Though the event went well, the two entrepreneurs noticed something that seemed odd: a dearth of Black and Brown faces.
The realization made the community disconnect clear.
"We're just going, man, this would be really difficult for Black and Brown folks to break into this space," said Robinson. "Whether it's the financial costs associated with it, the business acumen required to get through it, the general knowledge of Cannabis."
The conclusion they came to is that people lacked the necessary education – so Robinson registered Minority Cannabis Academy (MCA) as a nonprofit in early 2021 to try to help remedy that problem. His previous commercial banking experience and the pair's excellent networking and social media skills brought funding for the project.
The MCA graduated its first class of 25 students in September. The Academy's goal is to take advantage of the social equity atmosphere in New Jersey to help those most harmed by prohibition.
How to Teach a Class: Nonprofit Edition
In order to host a free class, MCA got creative with donations. Included among the sponsors of the first class were Cannabis-related companies Dutchie and Harmony Dispensary, who donated products and space. Dutchie provided a training version of their software and Harmony provided the space for two classes a week for eight weeks. A few people also donated their Cannabis expertise to the project – one of whom was Anson McManus, who works for Justice Cannabis Company as their New Jersey Cultivation Manager. With the pilot program consisting of two courses – budtending and horticulture – he brought expertise to the horticulture arena.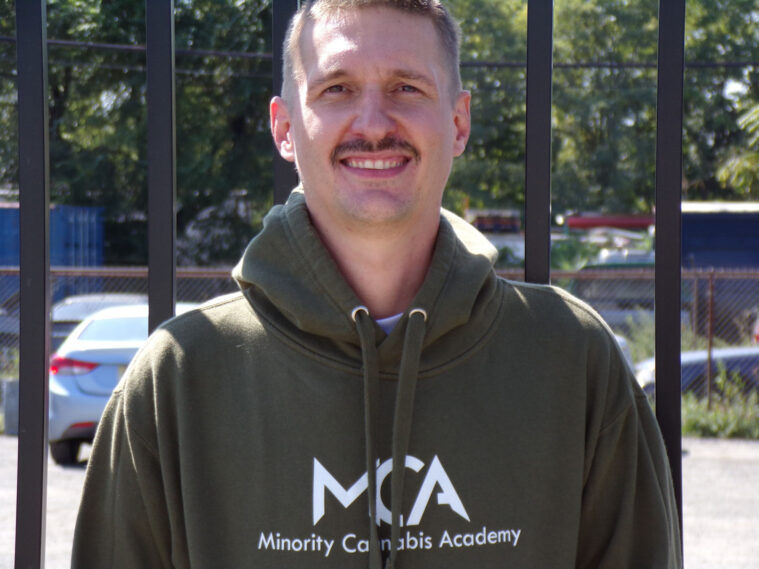 McManus got to know Robinson and Okoro through social media and after a while, they asked him to be part of a podcast episode about Cannabis growing. And when it came time to find an instructor of horticulture for the first class, McManus says he was convinced just by the idea.
"It would be hands-on, and it was going to be the best training program," he explained. "It was going to be free for people that were, you know, traditionally negatively affected by Cannabis laws."
As with so many Cannabis enthusiasts, McManus has an activist streak and enjoys sharing his knowledge. "I didn't feel like I had a choice," McManus said. "I'm a part of that team."
Starting Over in the Cannabis Space
Julian Landron of Jersey City gained the distinction of having the best scores in MCA's pilot class. He currently works as a financial analyst but says he's applying for a "class one" cultivation license in New Jersey. His interest in the Cannabis industry comes from his own experience.
"I personally have seen how [Cannabis] has had a great impact on helping me move forward," said Julian, who uses medical marijuana to help with anxiety issues. He sees his experience with MCA as a chance to move forward in making Cannabis a career and helping others.
"It's a great opportunity for me to spread the good word," said Julian. "To really try to educate others and inform everyone on the benefits of medicating."
New Classes and New Partners
In addition to the classes provided by MCA, the goal is to provide career services so that graduates can go on to be employed in the industry. To that end, MCA has already announced a partnership with a company called EZHire Cannabis to provide job placement assistance.
Robinson told us that they are currently ramping up for their return in January.
"We already have budtending and cultivation in place," Robinson said of their current course offerings. "In phase two, we're going to add an entrepreneur course, an extraction and processing course, and a medical Cannabis law course."
Robinson said the biggest challenge for their continued success is keeping the classes funded – but with the connections made and successes thus far, you can expect to see much more from MCA in the future.