The easy recipes below were infused with the delightful strain Life Coach from Noble Farms. I'm never disappointed with the flavor or effect. An indica dominant strain, I find it's surprisingly good for getting stuff done… and the kind of funny, musky-citrus taste is quite enjoyable. As the season changes, remember:
"Spring is nature's way of saying "Let's Party!" ~ Robin Williams
Spanakopita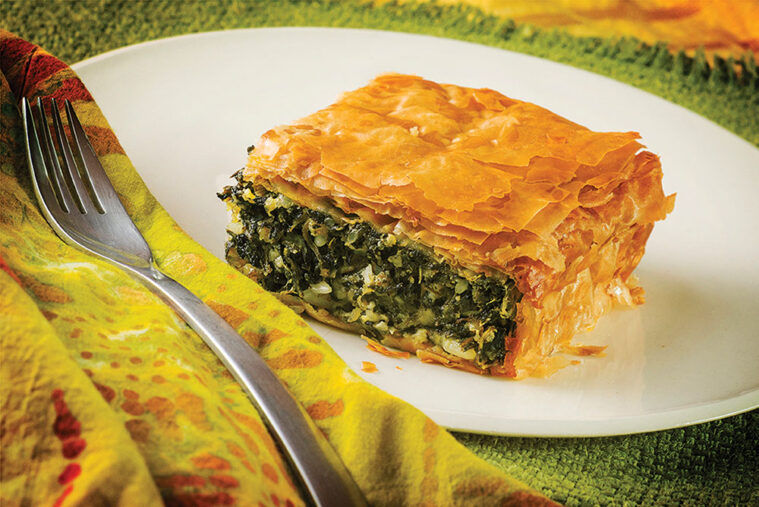 People tend to be intimidated by phyllo dough. No need. If you keep the sheets of pastry covered with a slightly damp cloth, they will be fine. Also, if a sheet tears, no worries – just place it in the pan and keep working. When sprayed or brushed with olive oil, it will all bake evenly. Allow the phyllo to defrost in the fridge and then come to room temp, still wrapped, before working.
Serves 12, 5mg THC each
Ingredients:
1 tablespoon olive oil
2 large onions, chopped
2 teaspoons garlic, minced
1 cup fresh parsley, chopped
½ cup scallions, chopped
¼ cup fresh dill, chopped
2 ½ pounds spinach, fresh or frozen (squeezed of all moisture)
2 cups ricotta
1 cup soft tofu
1 cup feta cheese
3 eggs, lightly beaten
16 sheets phyllo dough
1/3 cup olive oil, in a mister or use a pastry brush
4 tablespoons canna-oil, 60mg THC
Olive oil spray
Directions:
1. Heat oven to 340.
2. In a large saucepan, heat the tablespoon of olive oil. Add the onions and cook until tender, about 8-10 minutes. Add the garlic and cook 2-3 minutes. Add the parsley, scallions and dill, and stir to mix. Stir in the spinach and again mix well. Allow to cool fully.
3. When cool, add the ricotta, tofu, feta and eggs, and mix well.
4. Spray a 9×13 baking pan. Open the package of phyllo dough and cover the top with a slightly damp dishtowel. Lift the towel and remove the first sheet. Lay on the bottom of the sprayed baking dish. Combine the two oils, warm slightly and lightly brush the sheets with the oils. Continue this process until you have used 8 sheets of phyllo. Be sure to cover between sheets.
5. Place the spinach mixture over the eight sheets of dough. Use a spatula or spoon to make the spinach even.
6. Cover the spinach mixture with 8 more layers of phyllo, following the same procedure.
7. Bake the phyllo until golden brown, somewhere between 50 and 60 minutes. Allow to cool slightly before cutting into serving pieces with a serrated knife.
Pan Seared Chicken with Spring Bounty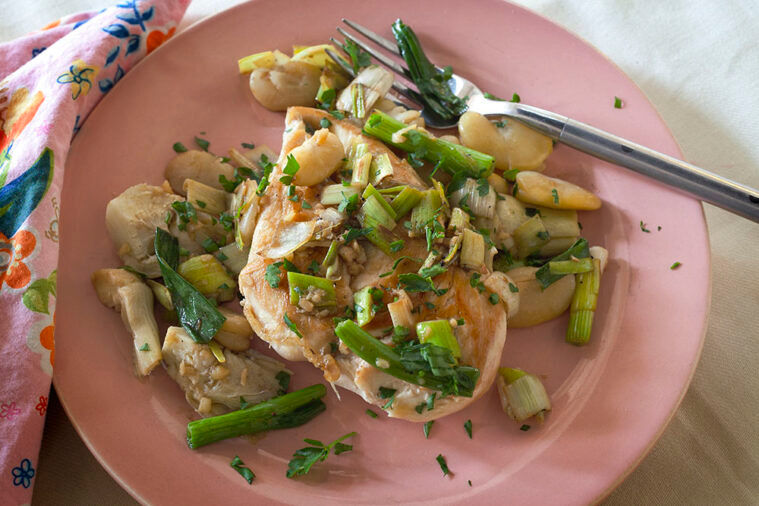 This dish is easy and flavorful. Sometimes I add cooked pasta to the final sauté, and there would be nothing wrong with adding some crisp bits of bacon or sausage.
Serves 4
Ingredients:
2 tablespoons olive oil
4 teaspoons canna oil
4-5 ounce boneless skinless chicken breasts, pounded thin
2 leeks, trimmed, washed well and chopped
2 lbs fresh fava beans, shelled yield is 1½ cups
4 artichoke hearts, quartered
8 scallions, trimmed
3 cloves minced garlic
dash of salt
pepper
1/3 cup chicken stock
1/4 cup chopped fresh parsley
Directions:
1. In a large skillet, heat 1 tablespoon of the olive oil. Cook the chicken over high heat for 3-4 minutes, turn and cook for an additional 3-4 minutes. Remove to a plate.
2. Add the remaining tablespoon of olive oil and the canna oil to the pan. Add the leeks and the fava beans and sauté for 5-6 minutes. Add the artichoke hearts, scallions, garlic, salt and pepper.
3. Return the chicken breasts to the pan, along with any drippings and the stock. Heat and divide among four dinner plates. Sprinkle with the parsley.
Chewy Granola Bars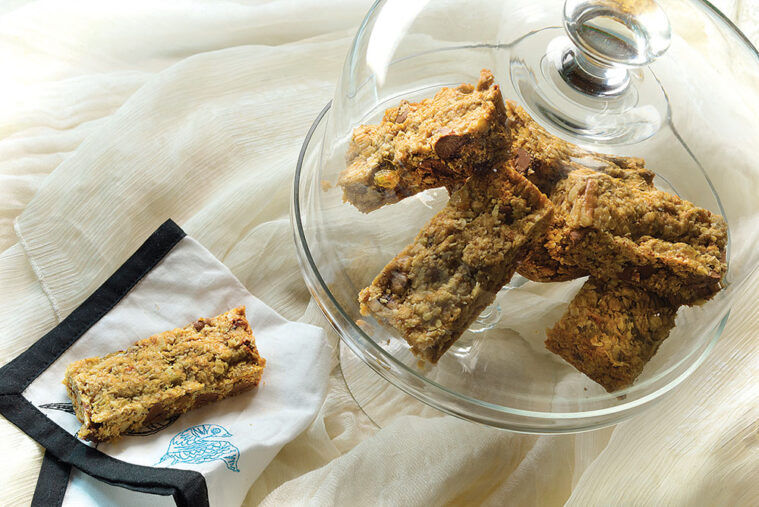 Granola bars are, for the most part, crunchy or chewy. Since chewy is my jam, this bar rocks texture and flavor… and it gets you high. There are many options for the additions – I tried it with dried cranberries and ginger, which I liked, but this combo is my favorite so far. I may drizzle a few pieces with canna-chocolate, as I have a few clients at a local dispensary who put in a request. They freeze well, and last night I heated a bar for 10 seconds in the microwave and topped it with a scoop of ice cream. Without the canna-butter they are pretty great as well. And they are very easy to make.
24 servings, 5mg THC per serving
Ingredients:
coconut oil spray
4-5 cups quick cook oatmeal
1 cup all-purpose flour
1 teaspoon baking soda
2 teaspoons vanilla extract
2/3 cup canna-butter, melted, 120mg THC
2/3 cup honey
1/3 cup brown sugar, packed
2 cup mix of coconut, chocolate chips, walnuts, pecans and raisins (totally your call)
Directions:
1. Heat oven to 325. Spray a 9×13 sheet pan with coconut oil.
2. In a large mixing bowl, combine all the ingredients. Mix well.
3. Spread the mixture into the prepared pan. Make it as even as possible.
4. Bake until golden brown, about 30-35 minutes. Allow to cool for at least 30 minutes before cutting.