The chickpea salad is healthy, easy and makes a great warm weather lunch or dinner. You can leave out the chicken entirely, or sub a different protein like tofu or shrimp. This smoothie is my weekend morning treat – starting the day with a bang, not a bong. If you have never had a citrus curd, try this. Creamy like velvet, tangy and sweet, the crunch of the toasted bread, the luscious fruit … you just have to try this at home.
Garbanzos for the Road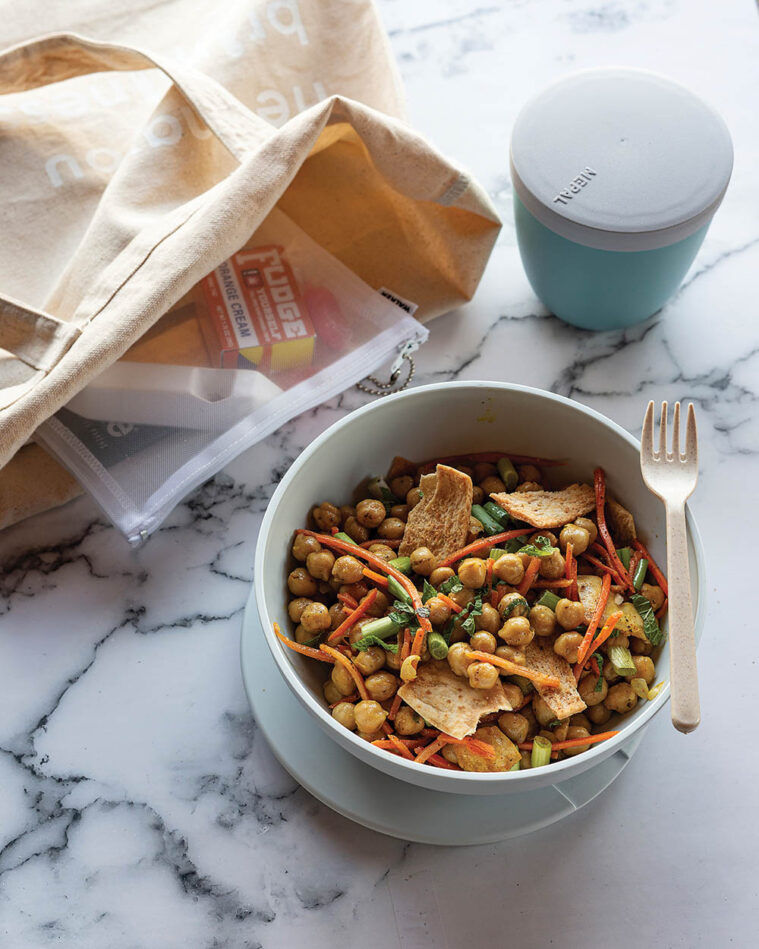 Sometimes I bring my lunch to work and make this salad with CBD. And I share. When infused with THC, folks have to come to my house to eat it … and they have to promise to stay 'til the THC feels are gone. This salad is good for you and only gets better as the flavors commingle.
4 servings | 5mg THC per serving | 20mg THC total
Ingredients:
2 tablespoons cider vinegar
2 tablespoons olive oil
4 teaspoons canna-olive oil
1 tablespoon lime juice
2 teaspoons curry powder
1 teaspoon salt
1 teaspoon cumin
½ teaspoon turmeric
½ teaspoon Aleppo pepper
3 cans chickpeas/garbanzo beans, rinsed and drained
2 grilled chicken breasts, thinly sliced
shredded carrots
pita chips
Directions:
1. In a large bowl, combine all the ingredients except the pita chips and mix well to combine flavors. Allow to sit for 30 minutes before serving.
2. Serve with pita chips. I like to mix them into the salad – the dressing and crunch go perfect together.
Green Dream Smoothie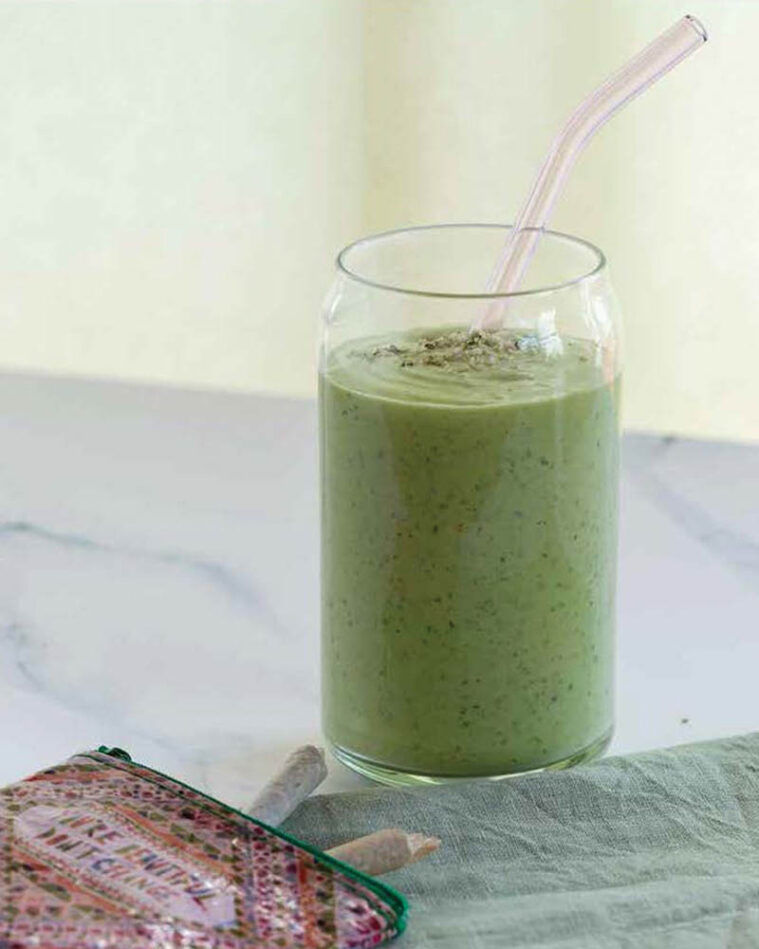 I never thought I would enjoy drinking avocado anything. I also didn't know how healthy avocados are. But this drink is fire. Get a ripe avocado (yields to gentle pressure) and give it a whirl in the blender with the rest of the ingredients. I wonder if a savory version with the stuff that goes in guacamole would be good?
2 large servings | 5mg THC per serving |10mg THC total
Ingredients:
1 ripe avocado
1 ½ cups almond milk, or milk of your choice
1 banana, peeled and sliced
½ cup almond butter
1-2 tablespoons honey
2 teaspoons canna-oil or butter, melted and cooled
chia seeds
Directions:
1. Combine all the ingredients in a blender. Process until smooth.
2. Divide between two glasses and top with chia seeds.
Lemon Lime Curd on Toasted Baguette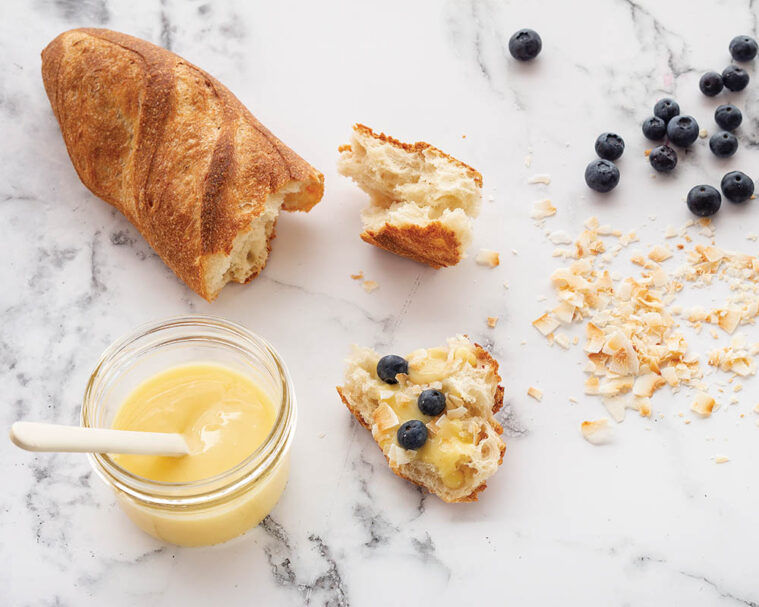 12 servings | 5mg THC per serving | 60mg THC total
Ingredients:
2 large lemons, zested and juiced
1 lime, zested and juiced
1 cup granulated sugar
5 egg yolks, lightly beaten
4 tablespoons canna-butter, cut in pieces
2 tablespoons unsalted butter, cut in pieces
1 teaspoon vanilla
pinch of salt
12 slices toasted baguette
1 cup berries, sliced if large
Directions:
1. In a medium bowl, combine the zest and sugar. Mash together with a wooden spoon or potato masher.
2. In a medium saucepan, combine the zest and sugar mixture, lemon juice, yolks and butters. Stir to mix well. Cook the mixture over low heat, stirring frequently until the mixture thickens, about 12-15 minutes. Remove from heat and place in a bowl. Stir in the vanilla and salt.
3. The mixture will thicken as it cools. Allow to come to room temperature, chill in the fridge for two hours.
4. Spread the curd on the toasted bread. Top with berries and toasted flaked coconut.