June is here, and since it's not yet too hot to turn on the oven, it's a wonderful time to bake this delectable crostata with the first local cherries of the season. Yum. The "all season" mozzarella and tomato is as pretty as it is delicious. And since Pet Appreciation Week is the first week in June, you should hook your pooch up with these CBD biscuits! They have tamed some pretty hyper pups … a nice way to say "I love you."
I infused the crostata and the olive oil with the strain Sunburn, a delicious smoking and tasting strain from Noble Farms. The CBD is from East Fork Cultivars, a superb flower that's grown with a lot of love.
Fresh Mozzarella with Cannabis Drizzle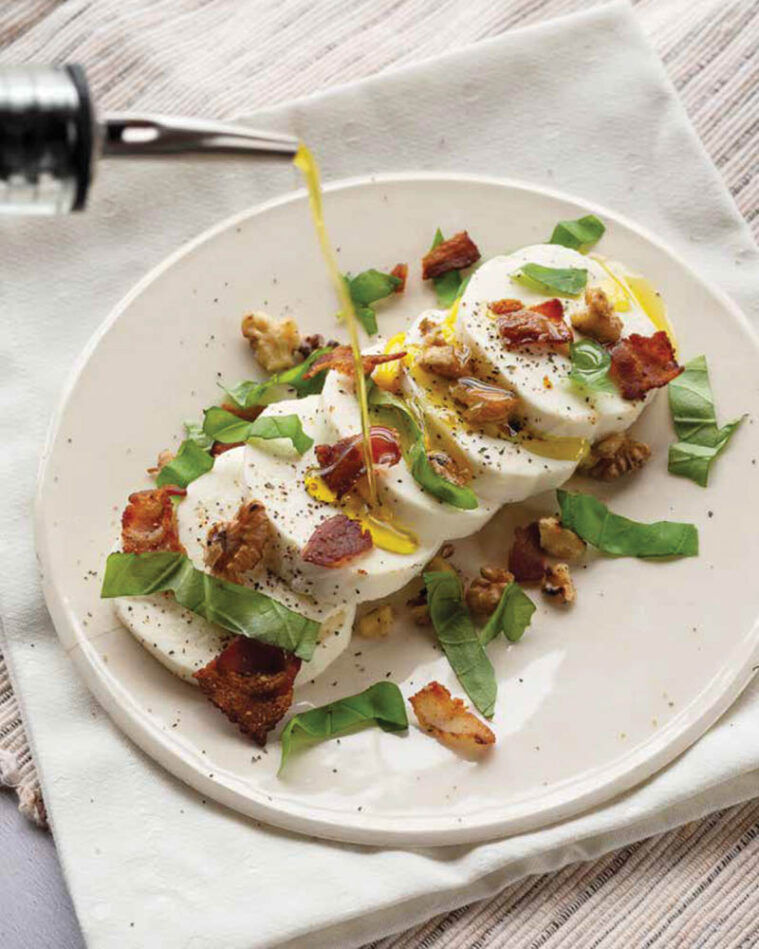 This use of mozzarella does not require a perfectly ripe tomato, so it has no season. I make this as a starter year round and everyone loves it. If mozzarella only speaks to you when combined with tomato, during the cold months roast cherry tomatoes in olive oil and add them to the rest. Quite tasty.
Serves 3
Ingredients:
9 slices good quality fresh mozzarella cheese
6 basil leaves, shredded
2 strips bacon, cooked until crisp and chopped
2 tablespoons toasted walnuts
2 tablespoons olive oil
1 tablespoon Cannabis olive oil
1 clove garlic, minced
coarse black pepper
Directions:
1. Layer the mozzarella slices on a small plate. Sprinkle with the basil, bacon and walnuts. Combine the two oils with the garlic and drizzle with the oil.
2. Serve with crusty bread.
Cherry Crostata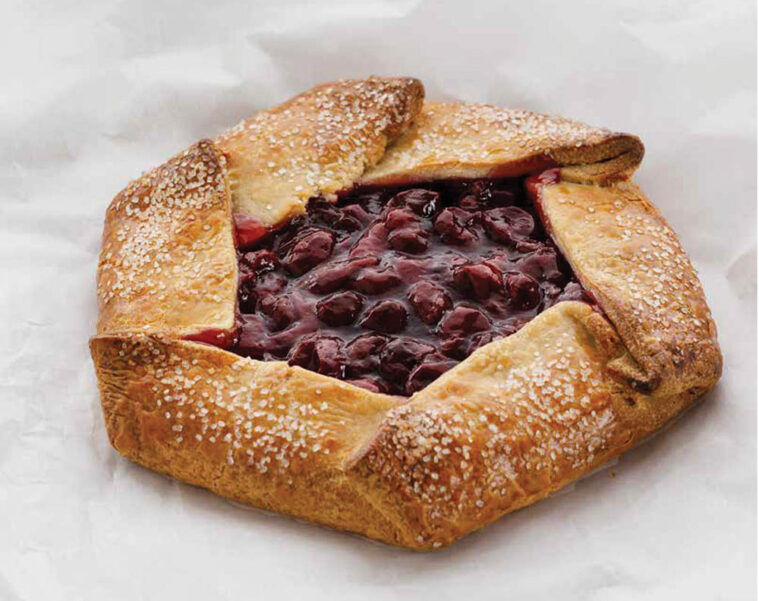 This flaky crust pairs beautifully with the sweet and tart cherry filling. A crostata is a free form pie, and it's forgiving and fun to make. You can pick your fruit seasonally, or go with frozen. Another favorite of mine is peach and blueberry.
Serves 9
Ingredients:
1¾ cups all-purpose flour
3 tablespoons sugar
½ teaspoon cinnamon
12 tablespoons cold butter, divided
1½ tablespoons cold canna-butter
5 tablespoons ice water
1 pound cherries, pitted (frozen works too)
2 tablespoons sugar
1 tablespoon cornstarch
2 tablespoons orange juice
2 teaspoons lemon juice
pinch of salt
zest of one orange
coarse sugar
Directions:
1. In a food processor, combine the flour, sugar, cinnamon and salt. Add 8 tablespoons of the unsalted butter along with the canna-butter and pulse until pea-sized crumbs form.
2. Add ice water and pulse until the dough comes together. Wrap and chill for an hour.
3. In another bowl, combine the cherries, sugar, cornstarch, orange and lemon juice. Toss with the orange rind.
4. Heat oven to 340º. On a lightly floured surface, roll the dough into a circle, ⅛ of an inch thick. Place the fruit on the crust, leaving a 1½ inch border. Fold the crust up around the fruit, and dot with the remaining butter and coarse sugar.
5. Bake for 35-40 minutes, until the crust has browned and the fruit is bubbling.
6. Once cooled, slice into nine pieces and serve.
Damn Good Dog Biscuits (CBD Biscuits)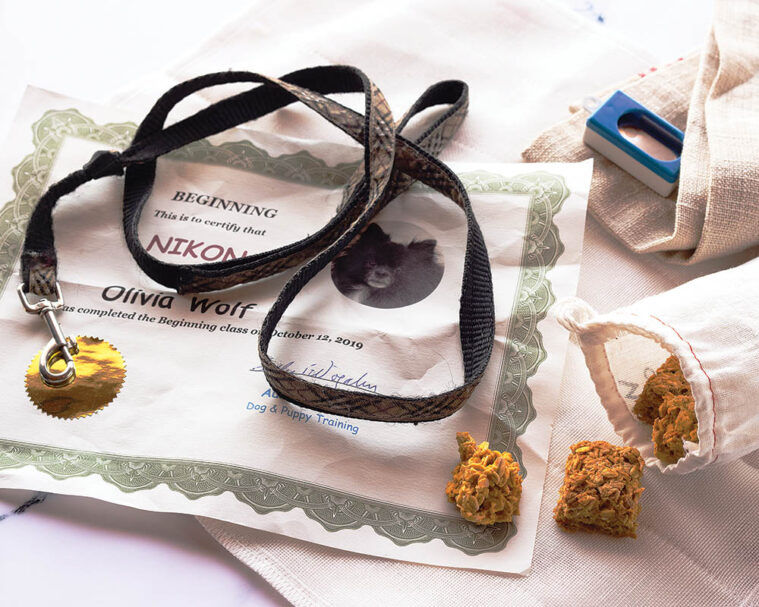 This is a good starting dose for most dogs, regardless of their size. If your dog requires a stronger dose, keep the recipe the same but add more CBD oil. As I suggest for people, start with a low dose and work your way up.
40 biscuits | 2 per serving | 5mg CBD per serving (100mg total)
Ingredients:
1 cup pumpkin or sweet potato puree
½ cup peanut butter
2 large eggs
2½ cups oats
¼ cup grated or shredded carrot
3⅓ teaspoons CBD infused coconut oil
¼ cup water
Optional ingredients: chopped bacon, grated cheese, liver powder, grated apple
Directions:
1. Heat oven to 340º. Line a baking sheet with parchment.
2. In the bowl of a food processor, combine all the ingredients. Pulse until mixed, but still a bit chunky.
3. Press the dough onto the prepared baking sheet. Alternatively, scoop the mixture into 40 portions.
4. Bake as a whole for 30-35 minutes, cutting into 40 portions while still warm. If baking in individual treats, bake for about 9-11 minutes. Most dogs seem to like them crunchy.
5. If you have a dog with no teeth (like my five-pound rescue named Bisou), either bake them for a shorter time, or crumble and serve.