Cranberries, tasty and tart, are also super healthy – rich in both anti-inflammatory properties and considerable vitamins and minerals. They are a fruit native to this country and are quite versatile, making their appearance in salads, dips, stuffings, drinks and desserts. And occasionally, they make an appearance in a jello mold … although I am not sure anybody actually eats them.
This season, I am infusing food and drink with Applegate Valley Oregon's Cherry Pie. It's a delightful strain that I puff a bit when recipe testing – a hybrid with notes of pine and fruit, cherry in particular. It's kind of a sweet-and-sour cherry pie vibe, and I love it.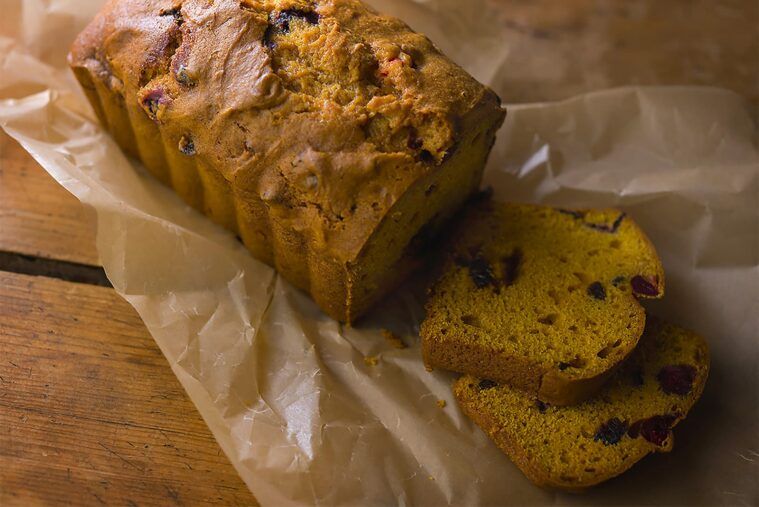 Cranberry Pumpkin Bread
My daughter, Olivia, likes this sweet bread with cream cheese. Uninfused, sadly. I wonder if it would be good with sliced, smoked turkey? Maybe I'll give it a try and get back to you…
Makes two 8×3 inch loaves | 14 slices per loaf | 5mg THC per slice
Ingredients:
3 ½ cups all-purpose flour
2 ½ cups granulated sugar
1 teaspoon cinnamon
¼ teaspoon ground allspice
pinch ground nutmeg
2 teaspoons baking soda
½ teaspoon salt
4 large eggs
1 15-ounce can of pumpkin
1/2 cup infused Cannabis oil
1 cup fresh cranberries 
1 cup dried cranberries
Directions:
1. Heat oven to 340º F.
2. Spray two 8×3 inch loaf pans with baking spray.
3. In a large bowl, combine the flour, sugar, cinnamon, allspice, nutmeg, baking soda and salt.
4. In a mixer, blend the eggs, pumpkin and infused canola oil until well mixed.
5. Add the flour mixture to the egg/pumpkin mixture and combine. Gently fold in the cranberries.
6. Divide the batter between the two pans. Bake in the oven for 50-60 minutes, or until a toothpick in the center comes out clean.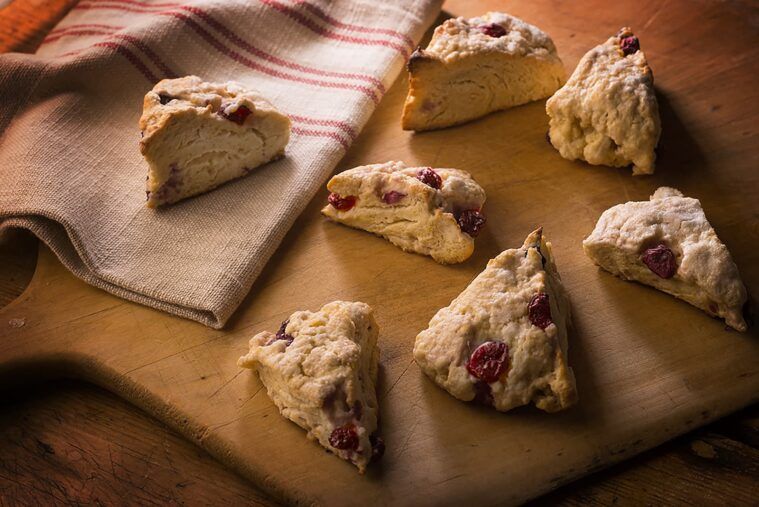 Cranberry Orange Mini Scones
I love to eat these beauties with orange marmalade. They freeze well and everyone loves them.
Makes 18 scones | 2 per serving | 2.5mg THC per scone
Ingredients:
3 cups all-purpose flour
1 tablespoon baking powder
¼ teaspoon salt
1 tablespoon orange zest
1/3 cup granulated sugar
7 tablespoons butter, cold
3 tablespoons unsalted canna-butter, cold
¾ cup milk
2 large eggs, lightly beaten
1 teaspoon vanilla
1 cup fresh or frozen cranberries
2 tablespoons milk
2 tablespoons granulated sugar
Directions:
Heat oven to 340
1. Heat oven to 340º F.
2. Line a large baking sheet with parchment paper and set aside.
3. In a large bowl, combine the flour, baking powder and salt.
4. In a small bowl, combine the sugar and orange zest. Mix into the flour mixture until evenly distributed.
5. Add the chunks of cold canna-butter to the flour mixture. Cut the butter using a pastry blender, fork, or your hands. I generally use my hands so that I can feel when I have the right texture. Mix until you have pea-sized chunks of butter.
6. In a bowl, combine the milk, eggs and vanilla. Mix with the dry ingredients until moist. Add the fresh cranberries and gently mix with the dough. Transfer dough to your work surface, lightly dusted with flour. Knead gently until dough comes together.
7. Shape the dough into two small circles, each about seven inches. Cut dough into wedges and place on the prepared baking sheet. Don't worry if the wedges are not exactly the same size. Brush each scone with milk and sprinkle with sugar. Bake for 17-19 minutes, or until the scones are light golden brown. Remove from oven and allow to cool.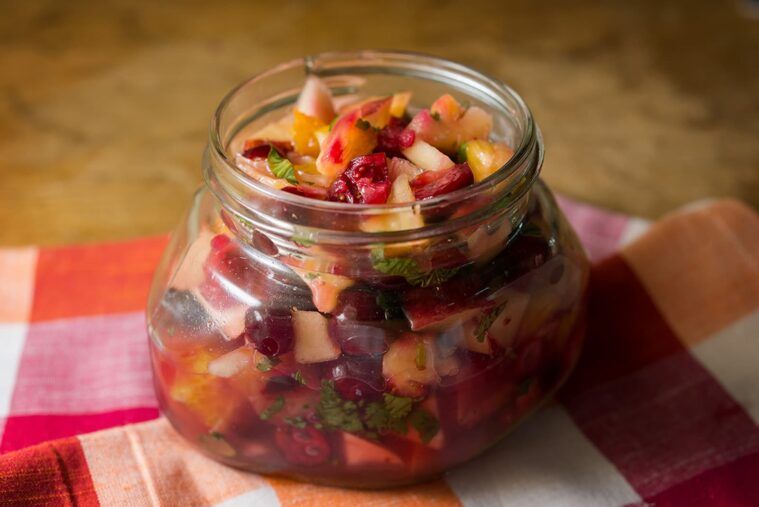 Cranberry Salsa
A great topper for chicken, turkey and pork – and you can use it as a dip for apples and pears, or some toasted pita chips. 
Makes two 1/2 cups | 1/4 cup per serving | 5mg THC each

Ingredients:
1 cup pineapple, coarsely chopped
1 cup fresh cranberries cut in half
1 apple, washed, seeded and chopped
2 tablespoons cilantro, chopped
2 teaspoons canna-oil
1 teaspoon orange zest
1 orange, peeled and chopped
1-2 tablespoons honey
Directions:
1. In a large bowl combine all the ingredients. Cover and place in the fridge for at least four hours.