Three infused recipes that can serve as a snack, party food, or a fun night in front of a screen. For sure, I've had the nachos for dinner more times than I can count. I tend to cook the mushrooms a little longer than the recipe suggests, as I like when the mushrooms get very tender … with the melted cheese and crumbs they just melt in your mouth. And the bruschetta is a comforting combo of creamy ricotta and peas.
MUSHROOMS SEVILLE STYLE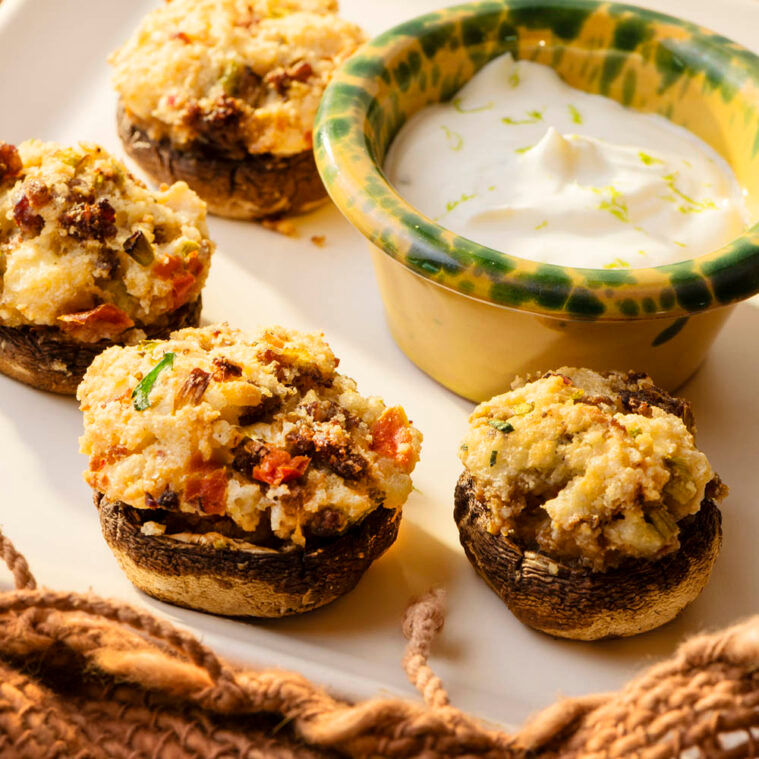 8 servings, 2 mushrooms per person
Ingredients:
16 extra-large white button mushrooms, cleaned
2 tablespoons olive oil, plus extra for coating mushrooms
Salt (kosher or sea) and freshly ground black pepper, to taste
3⁄4 pound chorizo sausage (removed from casing if in links)
1⁄2 cup diced green onion (white and green parts)
2 garlic cloves, minced
1⁄2 small jalapeño, seeded and finely chopped
2 tablespoons plus 2 teaspoons canna-olive oil
1 Roma tomato, seeded and finely chopped
2/3 cup panko bread crumbs
3 ounces Neufchâtel cheese, at room temperature
1/3 cup cotija cheese, at room temperature
1⁄4 cup chopped cilantro, for garnish
Directions:
1. Remove the stems from the mushrooms and chop.
2. In a medium skillet, heat the olive oil over medium heat. Add the sausage, and cook, breaking it up with a spoon into small pieces until all the pink has disappeared, 4 to 5 minutes.
3. Add the chopped mushroom stems, green onion, garlic and jalapeño, and cook until the stems are tender, 2 to 3 minutes more.
4. Remove the skillet from the heat and stir in the canna oil, mixing thoroughly for 2 minutes.
5. Stir in the tomato, bread crumbs, Neufchâtel, cotija, and a pinch of salt and pepper.
6. Fill the mushroom caps with 1 ½ tablespoons each of the sausage mixture.
7. Bake the mushrooms until they are tender and the filling is golden brown on top, about 20 minutes.
8. Sprinkle with the cilantro and serve.
SPECIAL NACHOS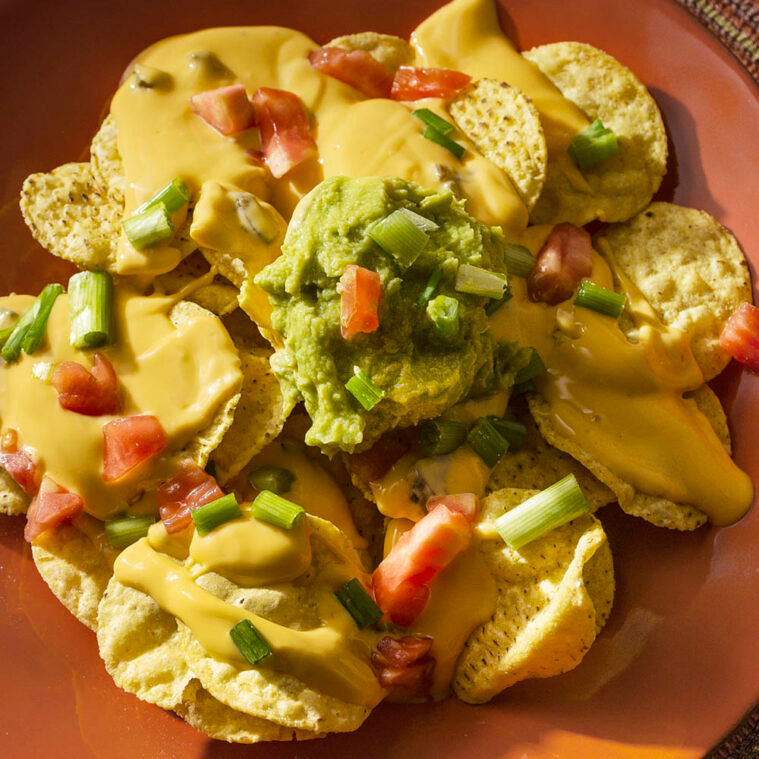 Serves 8
Ingredients:
3 cups tortilla chips
3 green onions (white and green parts), chopped
1 small tomato, seeded and chopped
1 cup cheddar cheese sauce (recipe below)

Directions:
1. Preheat the oven to 325°F.
2. Put the chips on a baking sheet and bake until light golden brown, turning once for 8 to 10 minutes.
3. Transfer the chips to a serving platter.
4. Top with the green onions and tomato.
5. Pour the cheese sauce over chips and serve immediately.
CHEDDAR CHEESE SAUCE
This sauce is unbeatable on nachos, but it also has a myriad of other uses – which is good, because the recipe makes more than you'll need for the nachos. We like to pour it on top of potato hash and a sunny-side-up egg for a weekend breakfast, or add it to a baked potato loaded with fresh vegetables for a quick and easy late-night snack. If you don't have white pepper, black pepper works just as well.
Ingredients:
2 tablespoons butter
8 teaspoons canna butter
3 tablespoons all-purpose flour
1⁄2 teaspoon kosher salt
1⁄2 teaspoon white pepper
1 cup (whole or 2 percent) milk
1 cup heavy cream
2 ounces cream cheese, slightly softened
1 ½ cups freshly grated sharp cheddar
pinch of ground nutmeg
Directions:
1. In a medium saucepan, melt the butter and canna butter over low heat. Whisk in the flour, salt and white pepper, and cook for several minutes – stirring to remove the raw flour taste.
2. Slowly pour in the milk and cream, stirring constantly; this ensures a smooth and creamy consistency. Once the milk and cream have been added, add the cream cheese in three or four pieces, whisking between each addition.
3. Continue to cook the sauce over medium-low heat until it is thick enough to coat the back of a spoon, 7 to 10 minutes.
4. Reduce the heat to low and add the cheddar a ½ cup at a time, whisking between each addition, 5 to 6 minutes.
5. Remove the pan from the heat, stir in the nutmeg, and serve immediately.
BRUSCHETTA WITH RICOTTA AND PEAS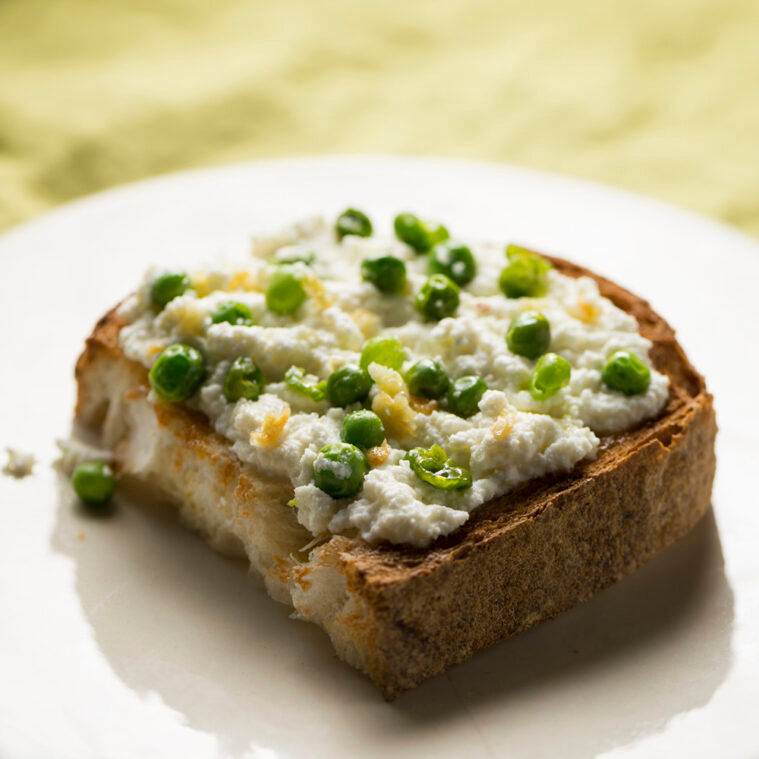 Serves 4, 2 pieces each
Ricotta is a totally underutilized cheese. It's spreadable and creamy, with a subtle flavor, and its texture pairs nicely with the crunch of toasted bread and the sweetness of peas in this recipe.
Ingredients:
8 slices peasant bread, lightly toasted
4 teaspoons canna-olive oil
1 cup ricotta cheese
3 tablespoons plus 2 teaspoons olive oil, divided
2 tablespoons chopped onion or green onion
½ cup peas, fresh or frozen (thawed, if frozen)
salt (kosher or sea) and freshly ground black pepper, to taste
Directions:
1. Drizzle or brush the toasted bread with the canna olive oil, using ½ teaspoon per slice.
2. Spread 2 tablespoons of ricotta on each slice.
3. In a small skillet, heat 1 tablespoon of the olive oil. Add the onions and sauté until they wilt slightly, 3 to 4 minutes.
4. Add the peas and sauté until they soften and are no longer vibrant green, 3 to 4 minutes more.
5. Divide the pea mixture among the bread slices.
6. Drizzle each slice with 1 teaspoon of the remaining olive oil and sprinkle with salt and pepper.