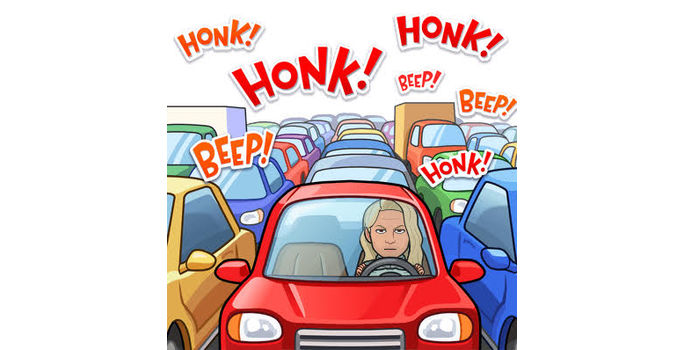 Episode #186 – Traffic Magic
The moment your automobile doors are shut with the driveshaft engaged; the contest is underway. Regardless of who is behind the wheel of other vehicles competing for space on the road, your primary objective is to circumvent them to save precious minutes enroute to your destination. And although the unidentified drivers against whom you jockey for position are often good people in your own neighborhood, they have now become faceless adversaries crowding the track. 

Like the butts of cigarettes, courtesies are flicked out the window.

And there's no surprise that this daily race causes tension. Because traffic is a drain on your fragile psyche. And you are not proud of who you become in these moments of frustration when it turns you into a triggered bitch.

You see, we all have a threshold of tolerance that, when crossed, causes a discomforting level of anxiety and stress, fueling the impatience and adding to life's pressures. And because there is no immediate resolve, you learn to live with the strangulation while building a resentment that weighs on you like an addict's regret. 

You blame the other drivers. "Oh, if only those idiots hadn't dug themselves into that inescapable cavern of debt like I did." There's the mortgage, the auto loan, the kids, the boob job—all the shit you have on autopay that prevents you from turning right out of the driveway instead of left. That's the right turn that leaves the city toward a tropical paradise–far, far away from the giant magnet that tugs you into the grind.  

Fortunately, Cannabis improves your perception. One small toke from a vape pen makes the speakers speak, the seat heaters glow, and the engine vibrate comfortably for the most optimal enjoyment during your relaxed commute. 

You are quite aware that it is against the law to drive stoned. 

Thank God for Visine.