In recent Cannabis times, few breeders have captured the imagination of the community like Compound Genetics' founder Chris Lynch.
Time after time since 2017, when discussing where the best Cannabis on the planet got its start, Compound Genetics would be a name synonymous with whose conversations. But behind all the hype cuts and 'next big thing' is a guy who loves Cannabis.
Lynch has spent much of the decades prior chasing down the world's finest Cannabis flavors. Like many, his dealer taught him to grow – first dialing in his cultivation skills in Oregon at a house his dealer bought and built out. As the scene matured into dispensaries and warehouses in the early 2010s, Lynch was along for the ride.
The warehouses of Portland were also the first places Lynch came to understand what exclusivity in Cannabis meant when chasing top dollar. "It was the power of genetics," Lynch told Leaf Mag during our interview at his San Francisco basecamp. A lot of the cuts he was working with were the classics of the moment sourced from Humboldt County, Calif. – including Headband, a solid OG pheno he worked, plus some Afgooey and Super Skunk cuts in the mix, too.
But he'd already been to Amsterdam years earlier in 2004 to link up with some friends he'd traded music with online, where his friend Akko gave him a place to crash and an introduction to Holland. Many days Lynch would find himself at Amnesia – one of Amsterdam's most famed coffeeshops and known for good Haze – where he talked to travellers from around the world as he enjoyed strains like Lavender, MK Ultra, Cheese and the sorely-missed Nothern Lights #5 x Haze.
Lynch notes those coffeeshops were his first insight into how professional weed could be. The people running those shops seemed like legitimate business people to him. Eventually, he'd travel back to Oregon only further bit by the bug.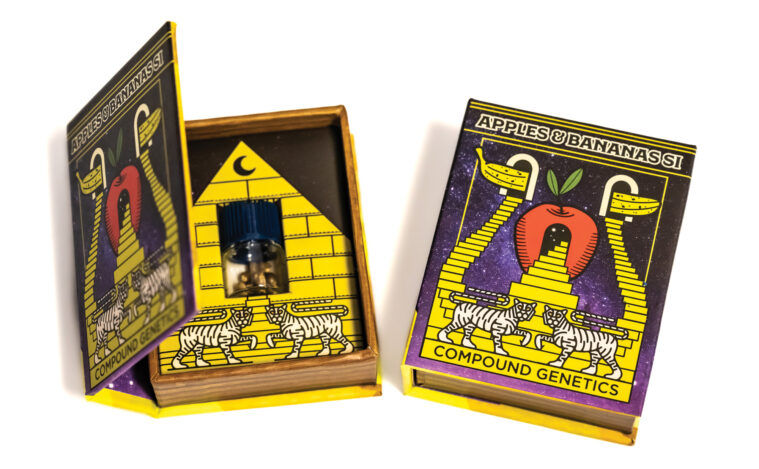 The following years featured a significant step up in his collection of high-end genetics. He acquired a solid OG in 2007, which was also the same year he did his first cross: a pairing of Fort Collins Cough with a Chemdog DD male (Chemdog x Sour Diesel IBL). While he felt like his pedigree was strong out the gate thanks to the people that helped him out in the first place, he did have to teach himself to be more selective in the breeding process. Eventually, he realized less is more.
"I was lucky to have access to the best cuts from the get-go," Lynch said. "Back then it was kind of more about who you knew."
In the coming years, Lynch made the move south to take Compound Genetics to the next level, teaming up with Node Labs and bringing in some folks to help on the business side, so he could focus on his quest to keep finding the heat. And these days – after bouncing around the cultivation circles of Oregon to having people lined up for his latest creation down the block outside of Cookies – the trajectory remains solidly upward.
Lynch went on to speak of his selection process these days, as the market continues to evolve. While many are very focused on THC percentages, he'll hear none of it.
"I honestly never focus on THC at all," Lynch said in his firmest reply of the chat. "I focus on the terps and experience the plant could potentially produce. I'm worried about total potency – THC is important, but there is so much more going on in the terps."