An Oakland Cannabis company with a passion for pot-law reform opened its first retail storefront in Portland, Maine this fall. The group behind the new dispensary, Rose Mary Jane, celebrated Cannabis freedom while stressing the importance of social equity at the store's grand opening on September 23.
Upon arriving at Rose Mary Jane, visitors are greeted by beautiful stretched canvas artwork on the building's walls – an inviting and welcoming touch. After showing ID, customers enter a well-appointed display room with wood-framed glass cases containing a large variety of locally cultivated craft Cannabis products, as well as an assortment of smoking accessories.
Overall, Rose Mary Jane had a warm, professional atmosphere. Shelves were filled with a variety of books about marijuana, while artwork hung on the walls featuring slogans extolling the virtues of social justice in Cannabis and the importance of women-run businesses. And all the employees present at the opening, including budtenders, managers and a Cannabis purchasing agent, were very well informed, helpful and enthusiastic.
While the Portland shop is Rose Mary Jane's first adult-use retail location, the company has been in operation for nearly three years with the mission of using the Cannabis business to move social justice issues forward. That goal is more than just a slogan for RMJ Founder Erik Murray and Social Justice Director Evelyn LaChapelle.
In 2013, LaChapelle was pregnant and finishing college in California when she was sentenced to 87 months for a small role in a friend's marijuana business. Like so many others who've suffered similar fates, LaChapelle was left with inadequate resources to rebuild her life and faced ongoing employment discrimination. She understands the financial and emotional repercussions of the War on Drugs – which have disproportionately impacted so many people of color in this country – because she has experienced them firsthand. Now, she's passionate about helping others who have been caught up in the criminal justice system because of prohibition.
LaChapelle met Rose Mary Jane founder Erik Murray while working with the Last Prisoner Project – a nonprofit devoted to addressing the past and continued harms caused by the drug war with a mission to secure the release of the 40,000 people incarcerated nationwide for Cannabis-related crimes, expunge their records and find ways to get them restitution. 
During the ribbon cutting ceremony at the dispensary's opening, Murray explained, "Portland, Maine is the ideal destination to serve as our first East Coast retail location, in what we feel is the most diverse, equitable and sustainable city on the Eastern seaboard."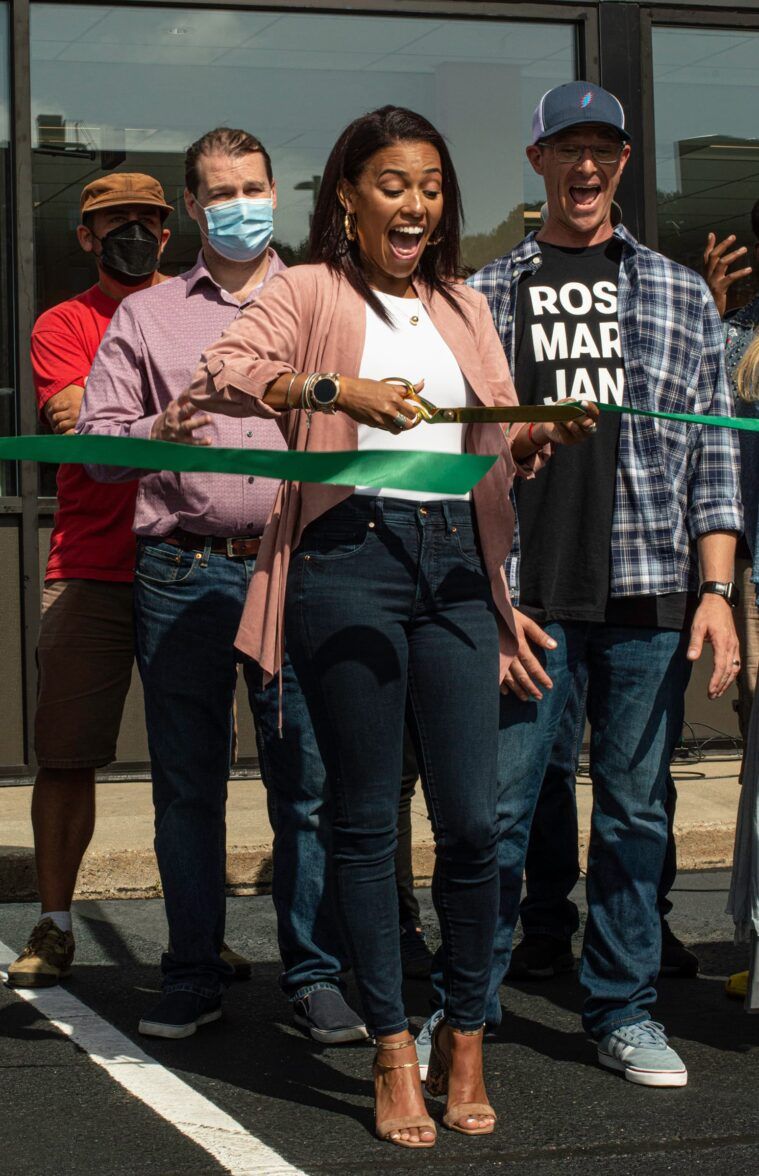 "At Rose Mary Jane, we believe the Cannabis industry is a force for good when legalization, automatic record expungement and social equity are prioritized," he continued. "We look forward to working with the greater Portland community to break down the stereotypes and stigmas of our industry."
After the ribbon cutting, LaChapelle told Northeast Leaf of plans to open Rose Mary Jane locations in Boston, New York City and New Jersey, while also acknowledging the challenges of Cannabis-law reform in these large metropolitan areas, which have a long history of social injustice.
The grand opening event also featured guest speakers, including Maine State Representatives Grayson Lookner and Benjamin Collings, as well as Bruce King – the Co-Executive Director of the transformative justice group Maine Inside Out – who told the crowd, "We have fought incredibly hard to be where we are today, with marijuana legalized … But the War on Drugs is not over. There are people who are still suffering behind bars. So to find an organization out here that's doing the work, not just in stores but also with their own initiatives, was incredibly powerful."