Doofanter Iortyer has been running since birth.
This winter, the retired Division I track and field speedster jumped in her gray Chevy Colorado, drove 849 miles east to Boston, and embraced a period of solitude – turning inward in an attempt to heal pain that has followed all her life.
No more running, she said.
Pronounced Doe-Fawn-Tay, Doofanter was born in Gboko, Nigeria – a small town in the northern region of the country whose Wikipedia page runs shorter than this sentence.
In 1998, her mother, Vadoo Iortyer, was murdered by members of a rival tribe seeking revenge against her father in a land dispute. She was killed execution style while baby Doofanter, just an infant, lay in her arms. Doofanter and her brother Terlumun were rescued by her mother's brother, Martin Nyamor, and his wife, Ashi. They fled Nigeria and came to Rockford, Michigan – later applying for political asylum.
Bringing their African roots from Nigeria to Rockford, the Nyamors encountered growing pains in a community composed by less than one percent of people of color. But Doofanter made friends easily, with her charm, affable energy and natural athleticism often winning the hearts of locals – including the 2019 pageantry title of Miss Grand Rapids (a city Rockford shares a border with).
However, the dualities of those worlds often created an internal conflict within the 24 year old, leading to bouts of anxiety, depression and seasonal burnout.
"I wrote [in my journal] that there was 'a thin line between love and hate,'" explained the former Central Michigan University sprinter. "I had built a home on these unstable grounds."
Doofanter believes she has been undergoing a spiritual awakening over the past three years. She has become big on allowing intentions to guide her actions, leaving behind the people-pleasing ways she attributes to growing up in a military household.
"I am living so purposefully and so intently, that I feel I've made a connection with my mother who passed away," said Doofanter, who made the cross-country trek with a desire to cultivate an inner peace. "It felt like if I gave up, everything would be for nothing. Her death would be for nothing. My parents getting charged with alien smuggling for bringing us here, would be for nothing."
On the outskirts of Boston, Doofanter has dedicated a tremendous amount of time towards creating art in various forms, including painting, jewelry making, as well as content creation. Her talents in the latter have earned her thousands of followers on Instagram, TikTok and YouTube (@IamDoofanter). Her posts often document the process of her awakening, offering self-help to fellow travelers along a "journey to nirvana, heaven on earth – or in other words, unconditional self-love." She even has her own podcast on Spotify, called Dauphin's Lounge.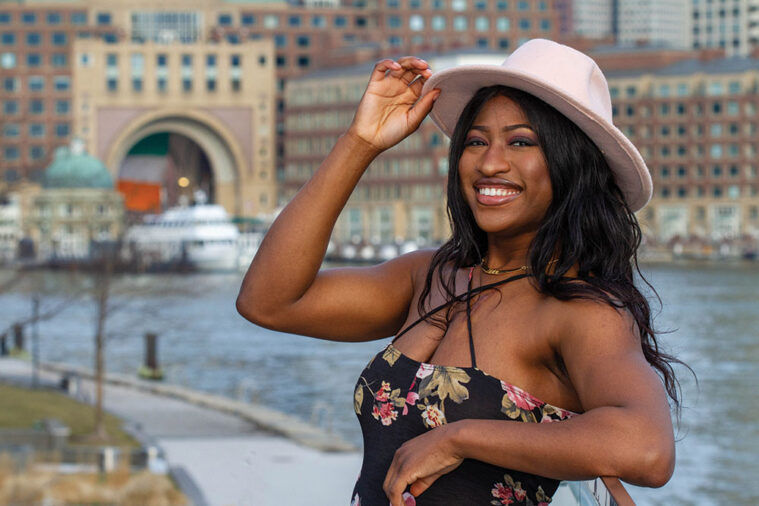 What fans don't see much of is Doofanter's affinity for medical Cannabis, though she is quick to praise how much the plant has helped in her life.
"I grew up in a super Christian background, my [adopted] mom was a Lieutenant Colonel in the United States Military, and we had the DARE program at my school," she said, noting her childhood programming has been tough to shake. "So the conditioning is still there, in that I want to respect my family and their beliefs. You won't see me posting nugs on my Instagram stories, but I don't feel an ounce of shame for using Cannabis. I know what type of clarity it provides for me."
Her usage of Cannabis is an extension of her spirituality, she says. Whether it be five milligram edibles, or her preference for a sativa-hybrid pre-roll, Doofanter prays over her Cannabis before ingesting it.
"It moves stuck energy for me and sometimes that's just anxiety," she said.
Doofanter's relationship with Cannabis has taken time to develop, involving a self-pursued education in regards to strain-specific terpenes.
"At first, I felt lazy and unproductive," she said. "I was just trying to learn what strains were what. I ended up finding out what my own medicine was in a sense. And by doing that, my soul has been allowed to speak through my art and heal the part of me that my art speaks out of. I am a better person because I decided to create a relationship with weed that benefits me."
Like a draw from her favorite Blue Dream cone, Boston has breathed a new life into Doofanter.
"[My time] here has allowed me to have faith in myself," she said. "I've always had faith in a higher power. But by having faith in myself, I can have faith in everyone I've let in around me. I'm at a point in my awakening where I know greatness is my only option."
She says she will continue to express her highest self through creation and attempt to share it with the world on various platforms.
"The freedom of self-expression is beautiful; I can do whatever I want," Doofanter said. "And what I found is that when I do whatever I want, however I want to do it, someone out there is bound to feel the same way."