The Cannabis community was shocked and saddened to learn of the untimely passing of one of its most beloved figures—world-renowned hashish maker, connoisseur, historian, and educator Frenchy Cannoli, who died Sunday, July 18 from complications during a surgical procedure. He was 64 years old.
Known for his unmistakable thick French accent and infectious enthusiasm, Frenchy was a regular fixture at most major Cannabis events, where he would turn on hundreds of attendees to the joys of traditional hashish with his huge hookah and "Lost Art of the Hashishin" workshops.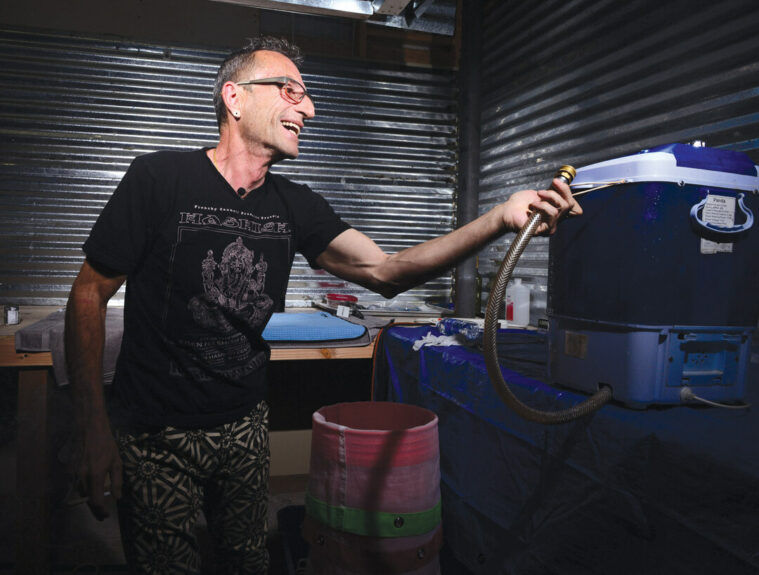 Cami "Frenchy" Cannoli was born on December 13, 1956, in Nice, France. As a child, he was enthralled by stories of the Far and Middle East like 1001 Arabian Nights and The Travels of Marco Polo (where he first learned of the mysterious drug known as hashish) and fantasized of someday traveling to these exotic Eastern lands and cultures. But those childhood dreams quickly faded, and as he approached adulthood, he found himself ill-equipped to cope with the pressures of the modern world.
"I was 17 years old and I was facing life, and I just didn't want any part of it," Cannoli confessed. "I was flipping out, but I didn't know what to do anymore—I had forgotten about my dream of traveling. Then my best friend, after six months of struggling whether he was going to make me smoke my first [Moroccan hash joint] or not—because he was afraid he could break our friendship—finally found the courage to share a smoke with me and that was it. I knew exactly what I wanted to do—I just wanted to travel, and that's what I did."
Leaving home with just $450 in his pocket, Cannoli dropped out of Western society and spent the next two decades as a nomad.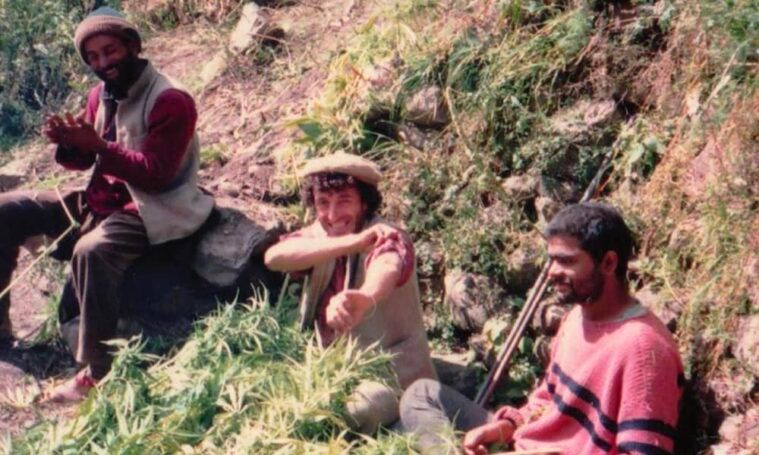 "I took 18 years of retirement upfront, just in case," he joked.
Following in the footsteps of his heroes Marco Polo and Henry de Monfreid (a French adventurer and hashish smuggler), Frenchy traveled the world in pursuit of the finest hashish and the culture behind it. Following the old Hippie Trail of the 1960s and early 70s, he traveled to many of the world's top Cannabis and hash-producing centers (including Mexico, Morocco, Thailand, Pakistan, Nepal, and India) and studied the traditional techniques of the region. Regretfully, he was never able to visit Afghanistan, as it was too dangerous when he was in the area during the 1980s; he did, however, study under an Afghani refugee hashishin (hash maker) while in India, where he spent several years living in caves in Manala and the Parvati Valley learning to make charas (hand-rubbed hash) from the locals. He'd typically spend around three to four months a year building his hash stash in the remote areas of these hash-producing countries, then spend the remainder of his year smoking it on a beach somewhere and using it as currency.
It was on the full moon of June 1980, while living in Nepal, that Frenchy met his future wife Kimberly at a birthday celebration.
"It was an epic party, and the beginning of a 41-year relationship," she recalls. "We ran into each other traveling separately in India four times before we decided the universe had plans for us and I joined him and the group of friends he was traveling with."
After the birth of their daughter Eva in 1989, Frenchy decided to put his passion for hashish aside for a time to focus on being a dad—working various jobs in Asia before moving his family to the Bay Area in the early 2000s. It wasn't until Eva left home for college that he rededicated himself to his first love.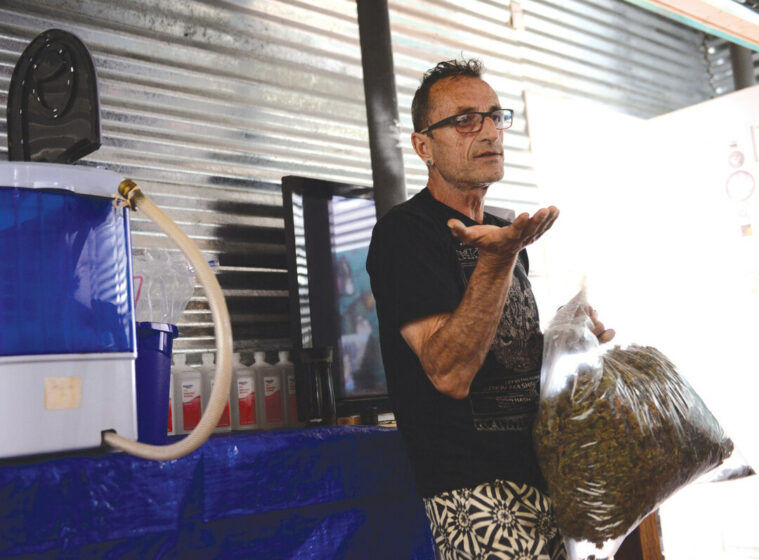 Since then, he made a name for himself as one of the world's leading experts on hashish—earning him the well-deserved title "master hashishin." Putting his decades of knowledge to use, he devoted himself to educating the Cannabis community about hashish—launching his acclaimed "Lost Art of the Hashishin" seminar series of DIY videos and classes, and penning articles in nearly every major Cannabis publication about the history and science of hashish. And under his signature brand V.S.O.P. (Very Special Olde Press), he produced some of the finest hash ever made in America.
Comparing hash making to winemaking, he frequently emphasized the use of the whole plant rather than just extracted oils, the terroir of the plant, and the techniques of heating and pressing the collected pollen as the main drivers of a hashish's best flavor and effect. He was also a pioneer in studying the effects of aging on hash—a process known in the cheese industry as affinage. He was putting the finishing touches on a book about the history of Cannabis concentrates at the time of his death.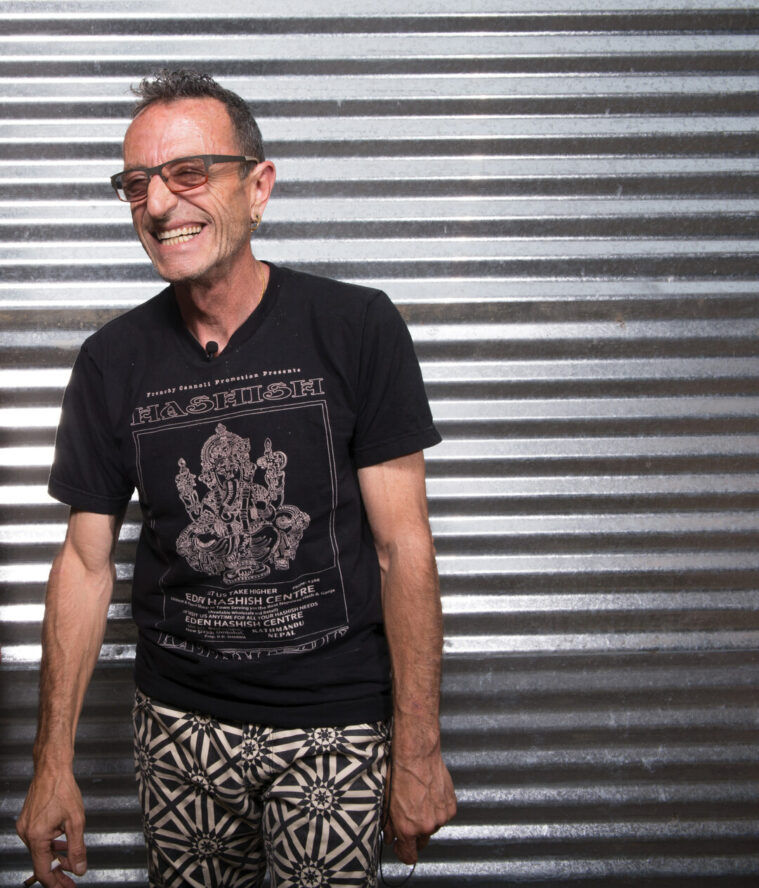 Since news of his passing broke, social media has been awash with touching photos and tributes from all corners of the Cannabis community—most of which regarded Frenchy as family.
"It has been so extraordinarily therapeutic to read the posts and look at the photos people are sharing with me on Frenchy's Instagram," wrote his widow Kimberly. "He is vibrant and so full of life in all of them because he is with cannabis community people. This community meant so much to him and gave him a place when normal society wanted to toss him aside. His passion was contagious and inspiring. I hope young people will listen to his podcasts and watch his videos and be inspired to take quality to even higher levels."
Au revoir, mon ami…and rest easy knowing that the coals of your passion, joy, and wisdom will continue to burn in the hookahs of our hearts for generations to come.
Learn about Frenchy's life and work at frenchycannoli.com.
Read our interview with Frenchy from our 2020 Stoner Owner feature in California Leaf Magazine here.
Listen to Bobby's last interview with Frenchy for Cannthropology: