I'm riding a trailer being pulled behind a tractor watching a team of workers harvest four long rows of Cannabis plants at a time, among them the first legal A.J. Sour Diesel plants in New York that've ever been grown. By my side, along with Flowerhouse New York co-founders Sid Gupta and Linsay Villarreal (aka V), stands Joe Murray – the A.J. behind the Sour Diesel – who more than 30 years ago popularized a particular phenotype that changed New York and earned a name that has spread worldwide.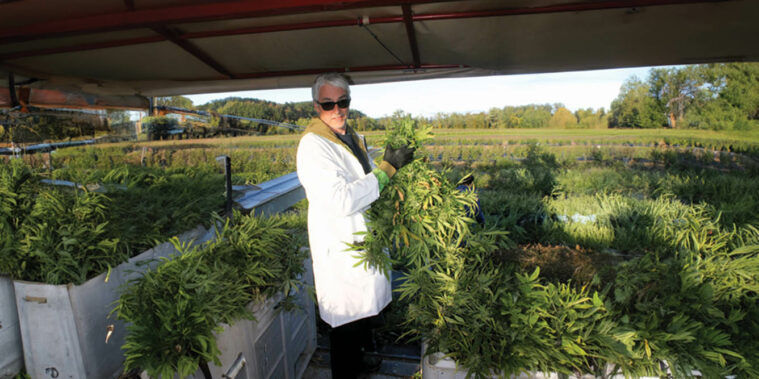 It's a surreal sight for us all, watching industrial farming equipment being used to harvest THC-rich Cannabis, but especially so for Joe. The A.J. Sour Diesel story starts in the early '90s when he was a fixture at legendary NYC music venue Wetlands – where jambands, hardcore outfits and hip-hop acts performed at one of the few nightclubs that turned a blind eye to weed smoke in the air.
"I became an intern for the eco office in Wetlands around '92-'93," Joe tells me. "That's where I met Mike Klopp, and I knew the Albany kids from Dead tours. Mike and V had the Chem 91 and everyone wanted it. At some point, Mike had gone to Amsterdam and bought beans from Sensi Seeds including NL#5, Hawaiian Indica and Superskunk."
"A small amount of seeds popped out of the Chem and we all assumed it was pollinated by one of the Sensi strains. I nicknamed these 'Diesel' and there was Diesel #1 and Diesel #2. I started growing these in 1994 and by '95-'96, a random seed from them produced what came to be called Sour Diesel. Honestly, V wrote on his jar 'Our Diesel' to differentiate it. The number '5' was already on the jar and the '5' looked like an 'S' … 'Our Diesel' became 'Sour Diesel.'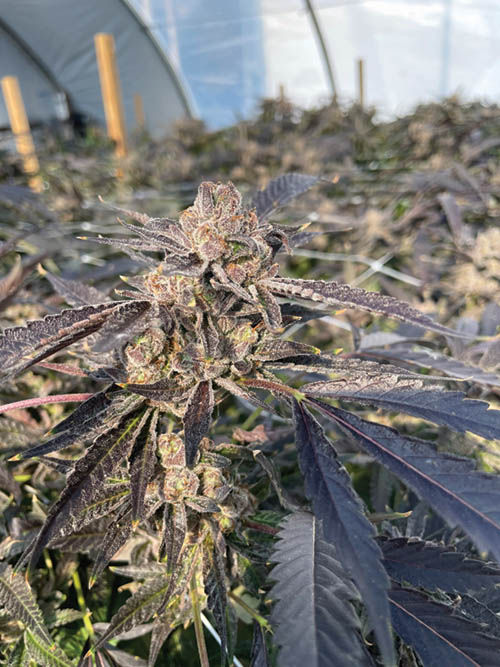 Joe also tells me that over time, the name proved more and more apt. "Access to the Sour became all consuming and some people became insatiable. It had a power and a force around it that broke apart lifelong friendships and made people crazy. In 1998, I moved back to New York City from Upstate and a break-in happened in my grow. Clones were stolen and Sour got out and the delivery services started selling it more and more."
"By 2002, I was sharing clones with friends and eventually started selling cuts. Honestly, it took the pressure off me. I knew that no matter how many people grew it, it would never be enough."
A.J.'s description of the Sour is a reminder of the strain's potency and a testament to its staying power and popularity. "It's similar to Chem but a little puffier and flashier – shinier," he says. "Greasy and funky, but with a skunkiness."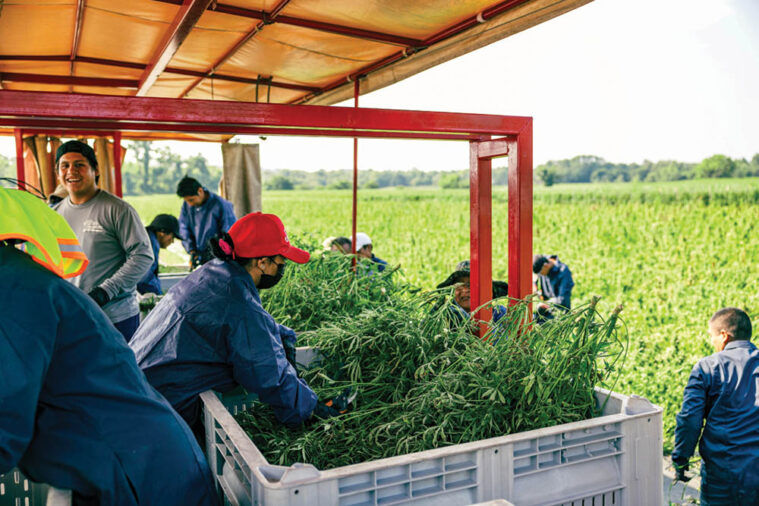 Flowerhouse NY x AJ Sour Diesel
Located in the bucolic Hudson Valley, Flowerhouse New York prides themselves in producing licensed Cannabis for the legal New York State marketplace. Their commitment to excellence is reflected in the quality of their smokable flower and pre-rolls. Known for strains such as Ice Cream Cake, Grass Valley Girl and Mendo Breath, they're super excited to be growing A.J. Sour Diesel flowers in conjunction with Joe – and especially under his personal supervision.
How did this epic collaboration happen? As Flowerhouse New York co-founder and CEO Sid Gupta explains, "To me, as a New Yorker that's younger than you guys, Sour Diesel was the first designer weed. Named, sought after and allocated. There were rumors that all of it was grown for and consumed by the Wu-Tang Clan. As I transitioned from the restaurant industry to the Cannabis industry, Jason Pinsky brought A.J. to my cultivation facility – Pistilpoint in Portland, Oregon – in 2013 and we started talking about a collab then. I always knew I wanted to work with A.J. but the timing now couldn't be better. We're both returning to New York with legal A.J. Sour Diesel!"
When it comes to this new age of A.J. Sour Diesel, Joe couldn't be more excited for the legal landscape that's emerging. "It's great! I never thought this day would come. I wish it was 20 years ago, but I can't complain now that I see her in all her glory – growing in full sun and in greenhouses where she can truly thrive," Joe shares passionately. "Flowerhouse New York is doing Sour justice and as far as the online haters are concerned, I know it's the authentic cut. There's a million other Diesels out there – crosses, bagseed and mislabeled stuff included – but I can vouch for the fact that this is the A.J. Sour Diesel people know from the past."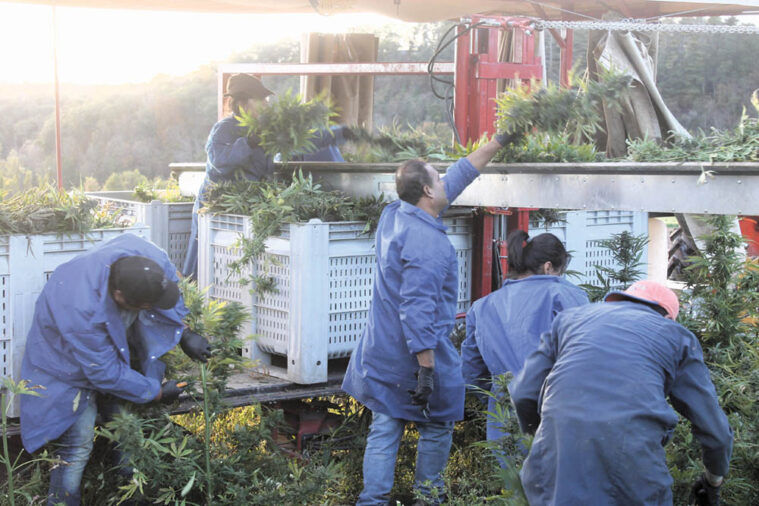 Harvesting The Sour
On the day of my visit, we're in the Hurley Valley, where Flowerhouse is working with Row By Row Farm for the second year. The 300-acre site has been a working farm for over 200 years! The first house was built on the property by Dutch settlers in the 1720s and in recent years, the family who now owns the property has been growing a variety of organic heirloom vegetables in fertile, mineral-rich, river-bottom soil for green markets and Michelin-starred restaurants.
In the field, workers cut down four rows of plants at a time as the tractor drives ahead pulling the trailer. As they move, they chop down whole plants and large branches, quickly placing them on a conveyor belt. At the other end of the belt, workers on the trailer remove the branches and carefully place them into bins for transport up to the 150-year-old drying barn.
The barn, used for decades to dry hay, has been retrofitted to sweat the moisture out of thousands of Cannabis plants at a time. Scissor Lifts are used to hang branches from plastic netting attached to the ceiling, while fans maintain airflow and dehumidifiers pull water out of the air for environmental control.
With 30-foot ceilings and breathable wood, the barn provides the perfect atmosphere for the drying process – after which the branches are bucked and flowers are placed into their curing bins in climate-controlled storage containers. Once properly cured and packaged, the legendary A.J. Sour Diesel flowers, pre-rolls, vapes, edibles and extracts will be available via limited release through preferred New York retailers.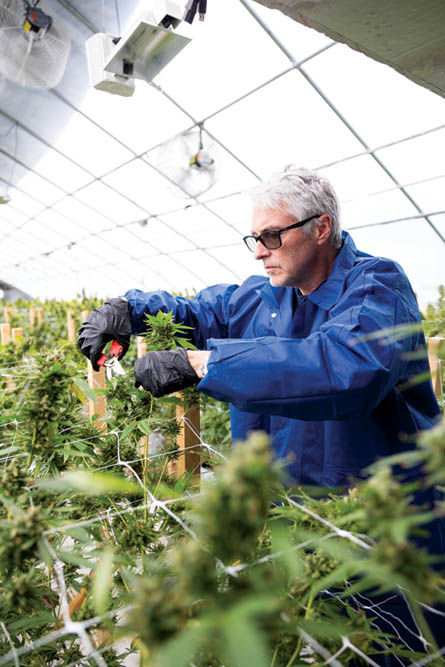 More on A.J. Sour Diesel
City/Region: Walden, New York. Hudson Valley
Canopy Size: 43,560 Sq. Feet
Number of employees: 80 
Signature strains: Gas Face, A.J. Sour Diesel, Donny Burger {GMO x Han Solo Burger}, Jelly Cake {Jealousy x Ice Cream Cake} 
Motto or Mantra: From The Ground Up