Sid Gupta, Linsay Villarreal and Barry Warman bring decades of experience to the largest legal Cannabis cultivation facility in New York State.
The first thing you notice at Flowerhouse New York's upstate cultivation facility are rows of greenhouses tended by a team of happy growers. Perhaps this is due to the novelty of legally producing thousands of beautiful Cannabis plants within an hour or so of New York City, but I suspect that there's more. Many of the team worked on the farm that has existed here for decades growing herbs and ornamentals – making for an easy transition when the new owners took over to grow for the new recreational market in the Empire State.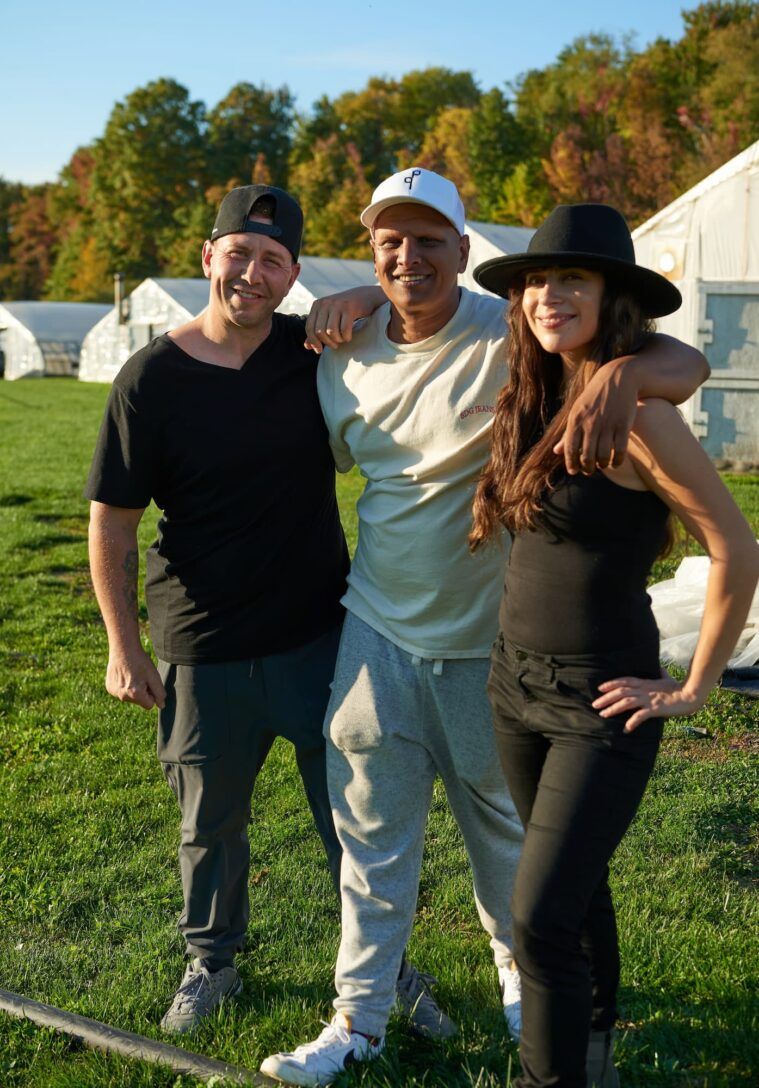 The People
I sat down with co-founders Sid Gupta and Linsay Villarreal to learn more. A native New Yorker with years of experience running restaurants and nightclubs, Sid gravitated west years ago to found Pistilpoint cultivation in Portland, Oregon before helping to start up the massive Natura pot production "campus" in Sacramento, California. It was there that he met Linsay, who had pioneered the transition from legacy to medical and then into the legal world in Grass Valley and Monterey County – having helped build California Bud Company, Pacific Reserve and Guild Extracts.
"As a Latina with over 13 years of experience growing and creating SOPs (Standard Operating Procedures) for nurseries, harvesting and producing pre-rolls and more, I want to help empower women from all walks of life to enter and thrive in the legal Cannabis space," explains Linsay. "Having been a bridge from the traditional market to the corporate one, I can guide others in how to navigate creating craft quality products at a large scale."
I ask Sid about his choice to return to New York. "We worked hard to help change the law here and coming back home to the East Coast was a no-brainer for me," he shares. "We want to focus on the brands and genetics that made a name for New York weed culture worldwide and build a platform for New Yorkers to build East Coast brands. We want people that love the plant and love what they do – and it shows. Our focus is on producing quality smokeable flower. We see a huge market for high-end flower in New York and that's why we're called Flowerhouse."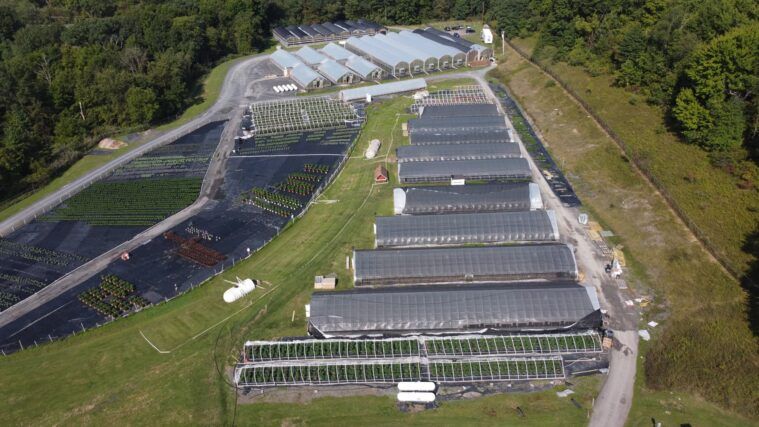 The Grow
Upon touring the massive facility, one thing was obvious: Everyone working at Flowerhouse puts their heart and soul into the project. They've only been operating on the property for less than five months, and yet almost every greenhouse is full to the brim with healthy plants in various stages of life. They use light supplementation and deprivation techniques to insure a perpetual harvest of sungrown Cannabis flowers.
Along the way, Flowerhouse New York's head grower and partner Barry Warman explains the challenges. With over 22 years of growing experience in the legacy market, Barry sounds delighted to be producing pot legally and he's practically giddy as he describes the different phenotypes and his strain-specific approach to large-scale ganja gardening.
"Growing in greenhouses in this region is a constant battle," Barry tells me. "The biggest concern is always the environmental conditions, which can change rapidly and without warning. We're experimenting with coco and soil as growing mediums while using drip irrigation, and we have to do some deleafing and limit watering during times of high humidity. It helps so much that we inherited some of the crew that was here before, especially our foreman Jorge, who's been working on this property for over 26 years."
I ask Barry about his two-hour commute from his home on Long Island and with a sigh he explains, "To do this near my home, legally, not having to look over our shoulders all the time … it's the dream! I tell all my buddies that are still slogging it out in the underground that it's time to rise up before they get left behind. I'd drive four hours each way to work here!"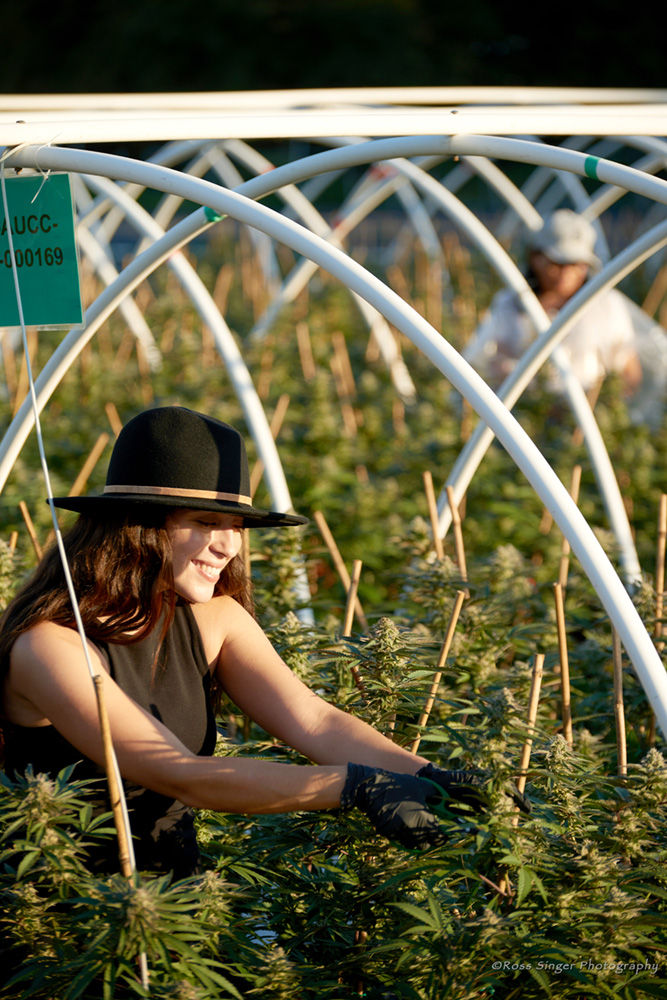 The Harvest
Flowerhouse New York employs multiple 40-foot food-grade storage containers retrofitted specifically for Cannabis, with climate control in the form of air conditioning and dehumidification with the intention of creating the highest quality flowers for true connoisseurs. "We can't compete with the legacy growers or the product coming from out of state without growing the best genetics and then processing it properly," Linsay explains. "Everything is hang-dried, hand-trimmed and cured to perfection. I ran the harvests at all of the companies I've built and worked for, and I have a very specific goal: to create smokable flowers that patients and aficionados like myself enjoy consuming from start to finish."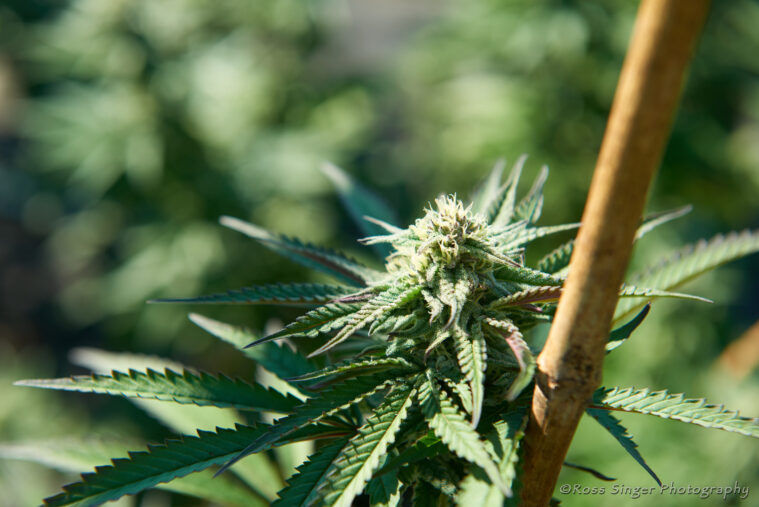 Linsay's Curing Class
We follow Food Grade GMP standards. It starts before harvest – when we remove all fan leaves from the plants as soon as we determine that they're ripe. We also rely on science, along with expertise and intuition. We hang dry plants and branches for 10-14 days in cool dark rooms with humidity kept below 50%, and temperature between 65º-75º degrees tops – but as close to 65º as possible.
The curing starts while plants are still hanging – slowing down the process. We have a bucking team that's separate from the trimmers. Once we test the moisture level to 12%, the bucking team takes the buds off the stalks and sorts them into "A, B or C" bins so that the trimmers don't have to sort and can focus on just the dry-trimming process.
Hand-trimming is so important! Our trimmers work over kief catchers and then the flower is binned up into environmentally-controlled storage. The airtight containers are "burped" automatically to let the gasses out and the flower is then tested and packaged. The A and B grades go into our eighths, while C goes to pre-rolls. Our pre-rolls are all whole flower and no shake. Shake or "sugarleaf" goes to edibles and concentrates. We believe our attention to quality will set Flowerhouse New York apart. 
---
Region: Walden, New York
Tier Status/Canopy Size Sq. Feet: 100,000+
Number of plants: 30,000 plants
Number of FT/PT employees: 40 FT
Signature strains: Sour Diesel, Gelato, King Louis OG, Blueberry Danish, OG Kush Banana Breath, Zkittles, Gelato, Runtz, Piff, Chem