Cultivation Manager Robert Winter and his team are making magic at Grassroots' 50,000-square-foot facility in Taneytown. With around 15,000 square feet of canopy space, they are packing a ton of fire into their 10 flower rooms. Robert has been with Grassroots for four years, previously working at a growing position at Verano. His interest in Cannabis blossomed while seeing it around friends and family, but truly took off following a trip to Amsterdam at the age of 18. These roots are the source of his dedication to his craft, and there's a palpable sense of devotion pulsing through the entire team to the art of growing high quality Cannabis.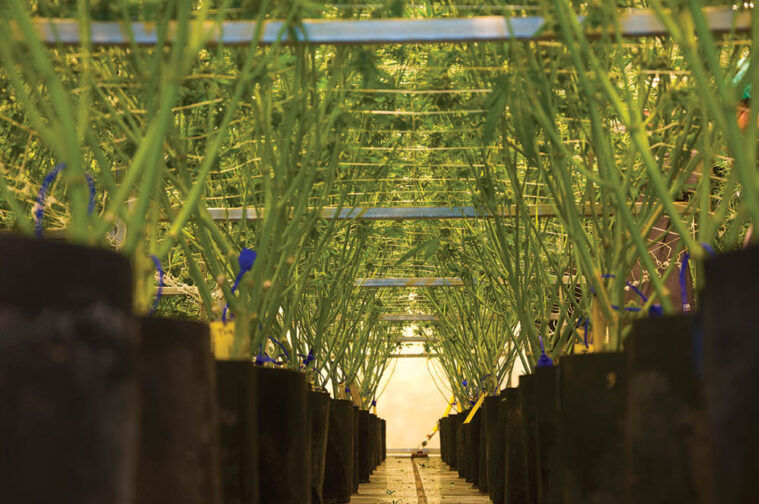 The foundation of any successful grow is undoubtedly cleanliness – a point proven as we suited up in scrubs, booties, beard nets and hair nets, before making our way into a chamber that blasted air all around us. Only then were we good to safely enter the corridors leading to grow rooms in various stages. It's always a comforting feeling knowing that proper care is taken for patients' medicine and that adult-use consumers have access to high quality ganja. We spent most of our time during this tour in the beautiful and pungent flower rooms, which produce around 100+ pounds of finished flower each and every week. You can be sure that this flower goes relatively quickly at dispensaries too, given that Grassroots has developed a cult-like following in Maryland.
As we entered the first room, I could see massive canopies of Trop Cookies, Ghost Rider, Apple Fritter and Romulan. If you have ever smelled any of these strains, you know that this room was an aromatic slice of heaven. Dense and sticky, purple buds dominated the Trop Cookies section of the room, followed by bright-greenish white tops to line the rest of the canopy. Every single flower room had a specific person in charge of it, giving growers autonomy to really shine in their own light and hone in on their individual areas of expertise. This also opens the opportunity for learning experiences, and the ability to see how others' rooms are doing and ask for advice.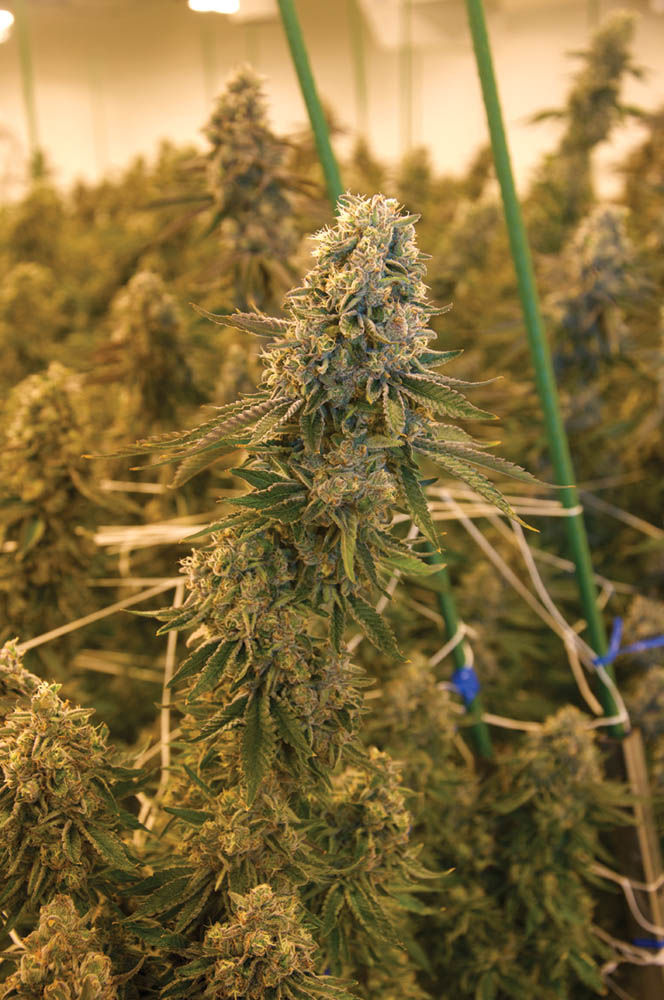 In the current day and age of Cannabis, many processes are automated – from watering to packaging and everything in between. The Grassroots veg rooms are all 100% hand watered, providing a closer level of care to each and every plant. While this might be a lot of work on the back end, the team here sees it as essential to maintain the level of care and control they expect of themselves. One of the only automated processes here is the curing process – which essentially pumps clean air through barrels of curing Cannabis twice per day, eliminating the need for people to constantly burp each and every barrel by hand.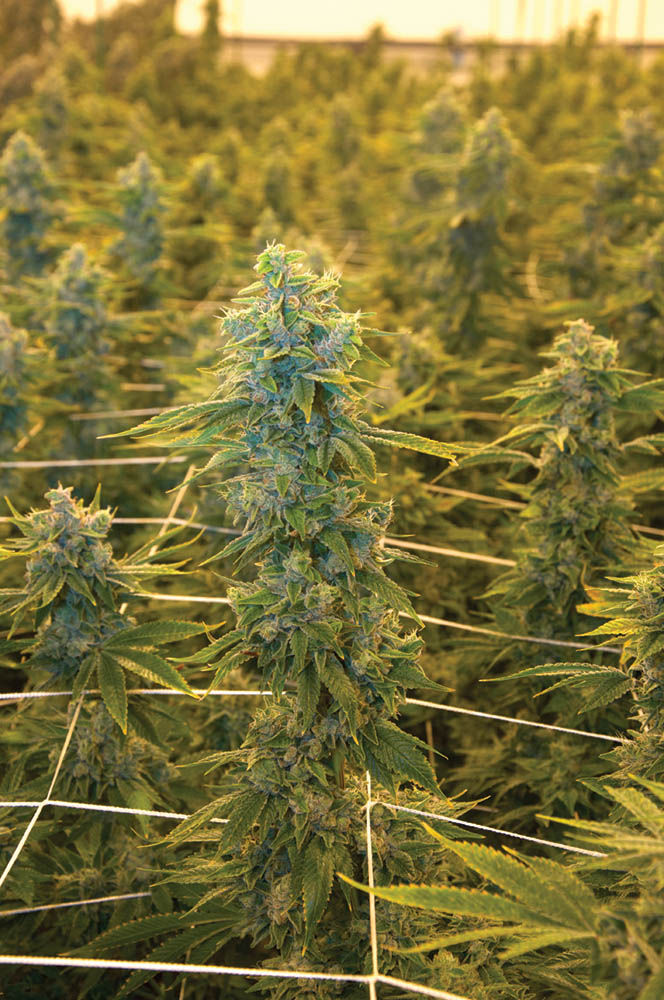 We were lucky enough to catch the team right in the middle of a large harvest. As many of us were currently harvesting our first round of homegrown plants (including myself), it was amazing to see this process on such a large scale. Multiple people worked tirelessly to cut down hundreds of plants, before wheeling them over to the drying stage. We caught up with Jacob Halpert as he wheeled a rack of plants to their drying destination, and he said how much he "loves working with plants." Everyone around Jacob seemed to share the same sentiment – with faces ranging from ecstatic to dedicated, there were undeniably good vibes floating around this grow.
They keep some crazy genetics in house from some of the world's favorite producers like Cult Classic Seeds, Skunkhouse Seeds, Jbeezy/Seed Junky Genetics, Capulator and many more. That is how they are capable of bringing us fire strains like Cap Junky and other exclusive drops you can't find just anywhere. They even have a strain called Tarts, which I refuse to believe was not named after my close friend and Senior NE Marketing Manager for Grassroots, Dave Tart.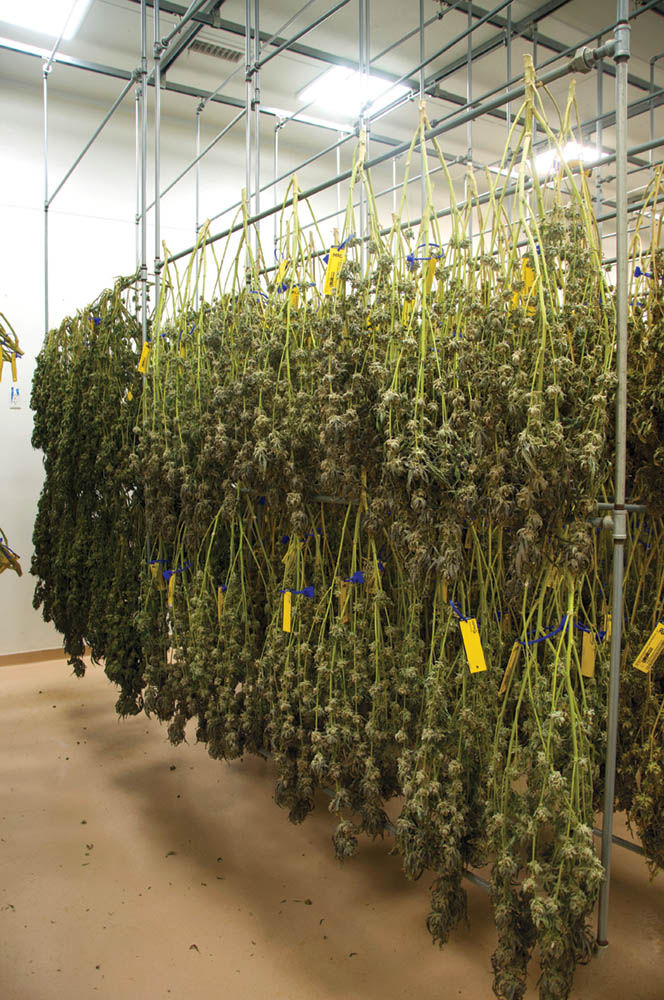 As I made my way back to Baltimore from Taneytown, I couldn't help but smile about how much fun we had on this tour. After seeing dozens of grows from Maryland to California, it takes a truly inspiring vibe to lift me into this state of mind with an hour still left on the road. Every time I thought the tour was nearing the end, Robert exclaimed that he had something new to show me – a powerful reminder of how much progress has been made in this movement over recent years, and the high and hopeful potentials on the horizon.
Thank you, Grassroots, for sharing the fruits of your harvest with us.