Upstate New York's Finger Lakes region is known for boating and fishing, as well as some of the best wines the Northeast has to offer. Now, the area has become a hotbed of hemp cultivation, despite some erratic weather conditions that sometimes threaten to ruin harvests before they can even happen.
While we take a tour of the farm during harvest, Tap Root Fields CEO Joshua Allyn tells me, "This is our third year growing hemp outdoors on this property. The first year was a veritable washout with monsoons. Last year, we suffered through a drought and this year we had over 28 inches of rain during the growing season – 10 inches in just the last month! We even put in Bluetooth-controlled irrigation and never even had to use it."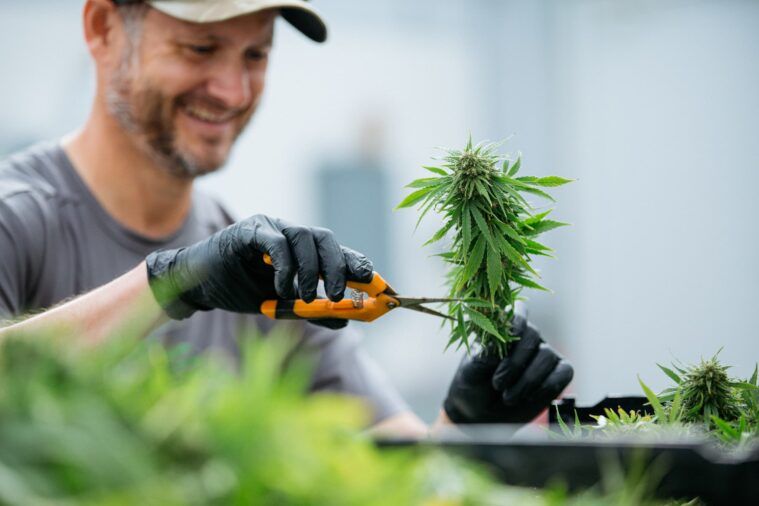 Chief Farm Officer "Taproot" Travis Williams explains how much work goes into dealing with so much wetness. "We were out here every day, propping up plants with bamboo stakes, shaking off the rain and dew in the mornings, and making sure our soil can absorb extra moisture using organic amendments and cover crops."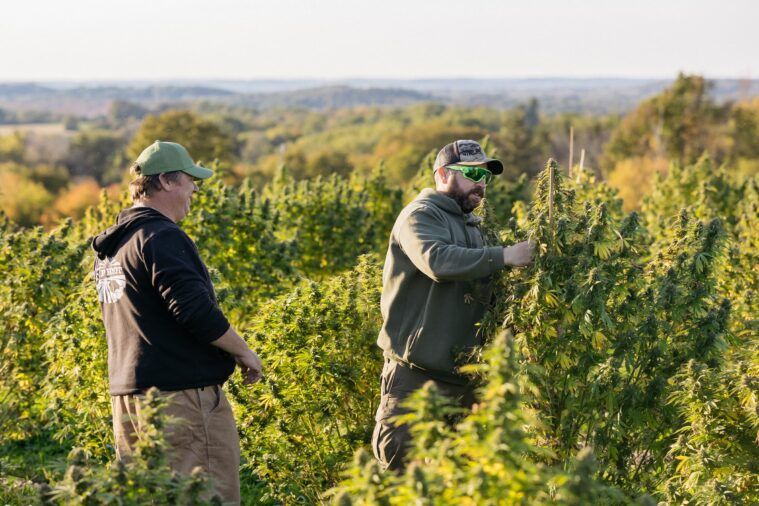 The workers planted 3,500 plants this year and the strains are divided between two main varieties. One field was filled with Matterhorn, a CBG-rich strain from HGH Genetics (High Grade Hemp) that they will use to make future CBG products. The other side of the field is filled with Orange Peel, a high-CBD variety from KLR Genetics bred by The Garden Warlock.
A strong citrus scent fills the air as we walk among the plants, admiring the glistening trichomes at their peak maturity. There's also a smaller field of four varieties grown for a study at nearby Cornell University.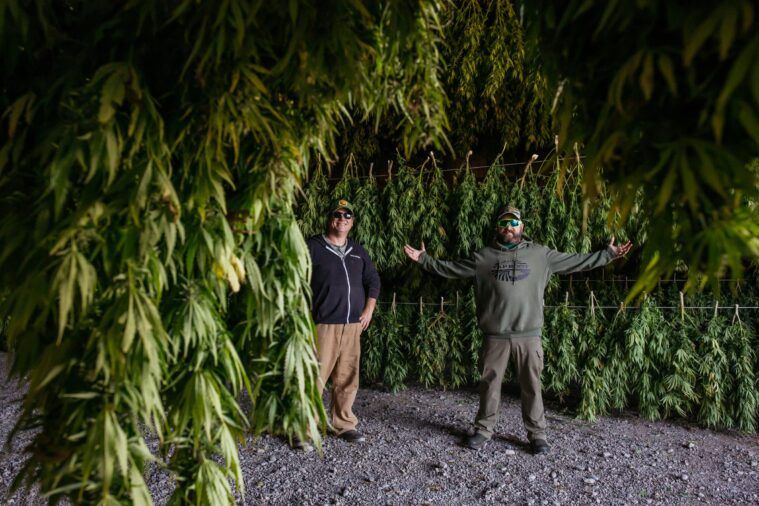 Travis continues, "This was an organic farm for 100 years. We dug out two ponds and a well for potential irrigation and built everything here including all of the buildings and solar panels. Our goal is to be sustainable and regenerative in every way and to eventually turn this into an off-the-grid food forest – with heirloom fruit trees and many other rare and beneficial plants. We want to reuse as much of our waste as possible and spend less and less each year on inputs."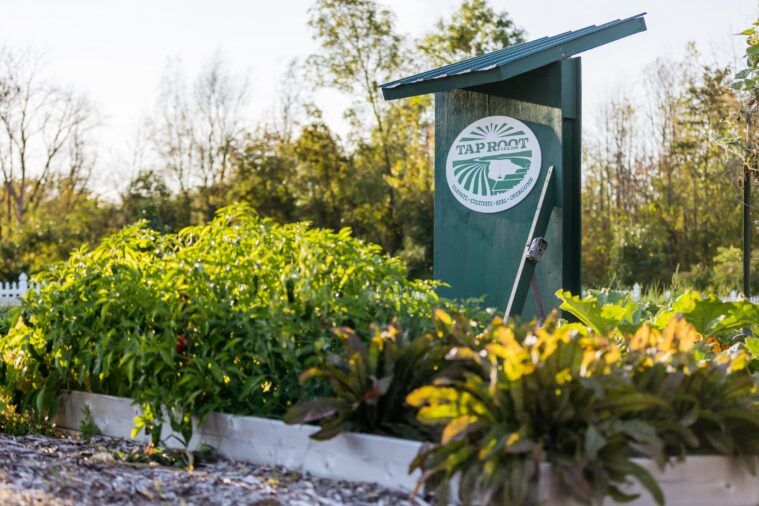 The plants are grown in an organic soil amended with horse compost, biochar, chicken manure and even old spent hemp from the processor. They brew their own EM1 for foliar spraying and even use a "chicken train" – a moveable coop in which the chickens eat grasshoppers, crickets and other bugs while pooping up a storm for extra nitrogen.
Joshua tells me with a knowing look, "If the last three years have taught us anything about growing in the Northeast, it's that we're at the mercy of nature – but there's also plenty you can do to ensure success. We switched to no tilling and using plenty of cover crops instead of plastic."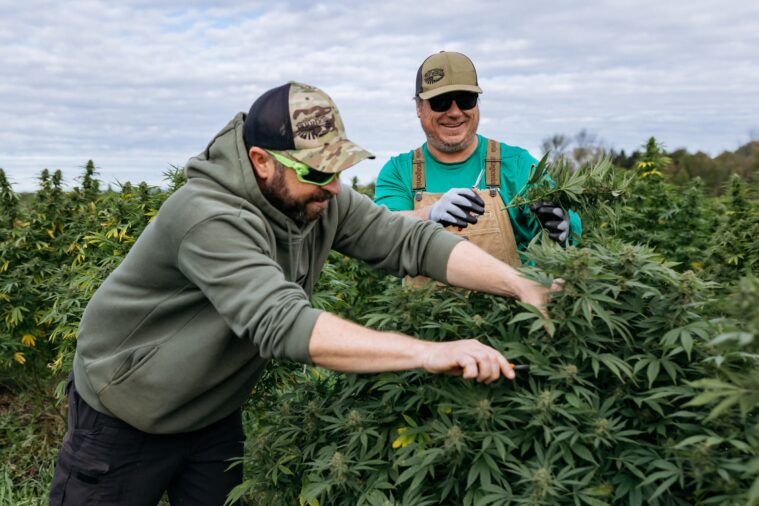 The cover crops they use include white and crimson clover, hairy vetch, perennial and annual ryes, winter pea and even eco-till radishes to loosen up the soil. This not only sequesters carbon in the soil, it enables it to soak up excess water and avoid the devastating puddling they've experienced in the past.
As for the actual harvesting, choice tops are taken down to dry and cure separately for smokable hemp, while the rest of the plants hang to dry in the head house with big fans and dehumidifiers. After that, the bulk is processed at Beacon Skiff apple orchards.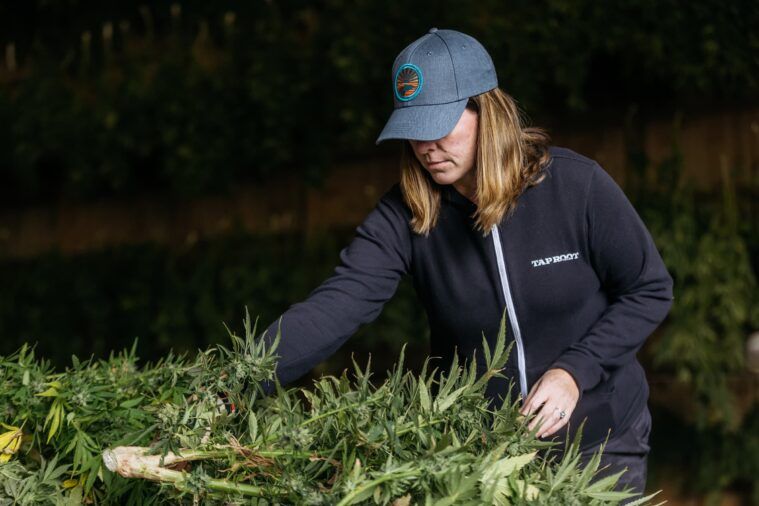 The products they produce from all of this hemp grown at Tap Root Fields include the aforementioned CBD-infused tinctures and gummies for daytime and nighttime use, as well as their unique Hydro Boost water-soluble CBD – perfect for adding to smoothies, sauces and dips. They even created a fantastic SPF 30, CBD-infused, reef-safe sunscreen for the face and body that works wonders while toiling in the fields!