James Davis doesn't have a title other than "Volunteer" for the Bay Staters for Natural Medicine, but when pressed he will say he's a "Volunteer Leader." In the one year since this grassroots community group came together, they've gotten four cities in Massachusetts to pass resolutions that decriminalize entheogenic plants: Somerville, Cambridge, Northampton and Easthampton.
"In these cities they're allowed to grow, gather and give entheogenic plants like psilocybin mushrooms," said Davis. "And it ends all drug possession arrests – so if someone's caught with a small amount of MDMA or LSD or even more harmful substances like heroin or methamphetamine – they're referred to services that help them get better, instead of ruining their lives with a drug possession arrest."
Bay Staters is a small army of over 1,000 volunteers (including first responders, healthcare professionals, scientists and ordinary people) in Massachusetts that send letters to city counselors sharing their positive personal experiences with entheogenic plants, attend online and in-person meetings and events, and make phone calls to their local officials. Their support has also expanded nationwide to help groups and people in other states get decriminalization resolutions passed. "The opioid crisis motivates a lot of us," said Davis, "because these plant medicines have tremendous benefits for people struggling with their mental health and addiction. I get nearly an email a day from someone who has PTSD or who really needs this treatment."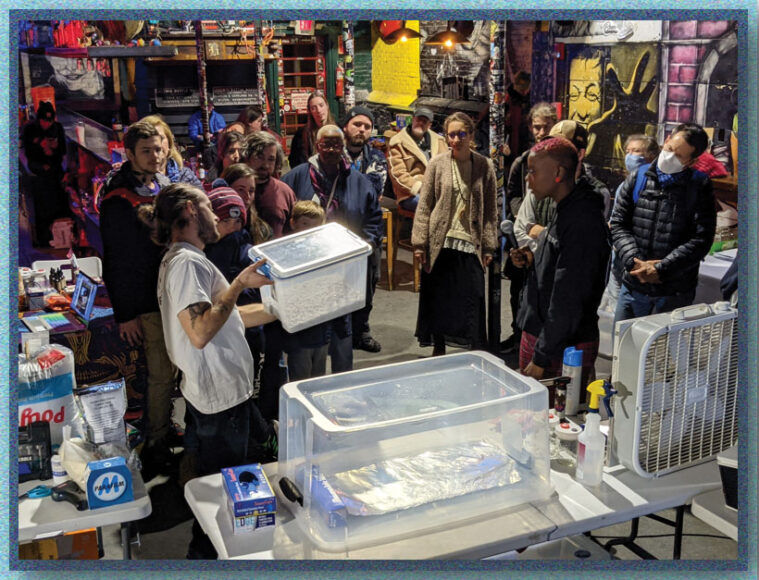 "In the next year we anticipate we'll get eight more cities to decriminalize," said Davis. "Next month in February, Burlington, Vermont is up to pass the resolution and we have active Massachusetts city counselors that want to sponsor the resolution in Amherst, Newton, Medford, Salem, Revere, Worcester (which has a veteran and first responder version), Needham, and most importantly of all is Boston – the biomedical capital of the world. The Boston Police Department still makes thousands of drug possession arrests every year that destroy a lot of lives, and there's a 2 to 1 racial disparity. We have several city counselors privately very supportive of moving this resolution forward. We just need to push it over the finish line in 2022!"
When talking with Davis you feel his passion for the cause, and I asked him about his motivation for doing this work. "I grew up in a trailer park in Kansas where the war on drugs was very, very real," said Davis. "A meth lab exploded when I was just five years old and we had to evacuate the park. There was a lot of domestic violence and neglect that happened because of substance use. I have really close family that have trouble with addiction, and I worried for their safety – worried that they were going to die from an opioid overdose. And so for me, I believe and I put all my energy into this because plant medicines are going to change the future of addiction treatment!"
His personal experience with entheogenic plants began with a couple of grams of mushrooms in a Berkeley, California CVS parking lot, resulting in a magical evening that included a documentary of beautiful landscapes and Terrence McKenna's musings on psychedelics. "The lesson I took away was there's a lot of love out there in the world that I had been pushing away, that I always thought I wasn't worthy of. And I just realized that I needed to open my heart to other people and I need to accept that I'm worthy of that love. It was truly a life-changing experience."
But unless you're Anderson Cooper and given a couple grams of Golden Teachers for a guided (and filmed) trip session, this whole world of psychedelic plants might seem out of reach. And that is where Bay Staters also comes together as a supportive community with online and in-person events covering the many aspects of psychedelic plant medicine.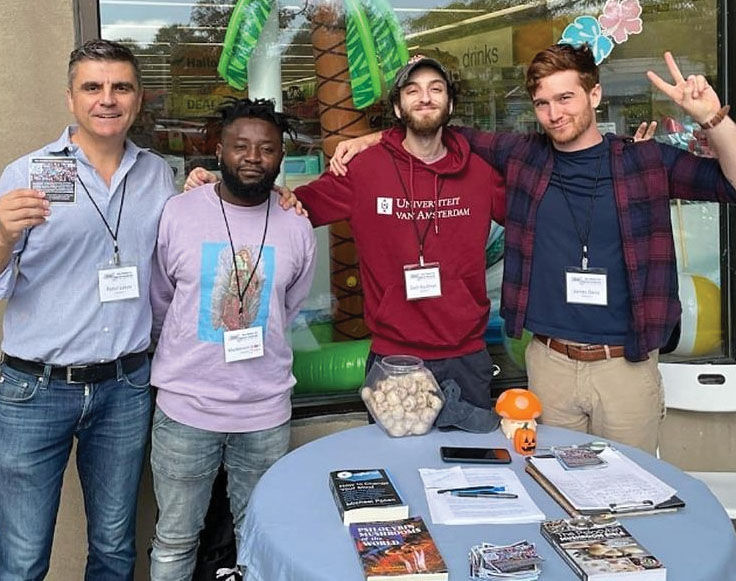 "We had a class online for trip-sitting that had almost 100 attendees from 10 different countries and about 15 states," said Davis. "Our job is to scale up and keep holding these really awesome informational events!"
One of the biggest events Bay Staters has planned for this year is Plant Medicine Palooza in March. Here people can learn how to grow psilocybin mushrooms and cacti – which contain mescaline and are completely legal – as well as how to trip-sit and meditate. Davis said that meeting people in person at events like these is a great way to join the community, as well as following the Bay Staters Instagram page and following other people who like the page. "That's a pretty accessible point for meeting other people," said Davis, further noting that "there's a whole lot going on that we have no idea about."