September has been near and dear to Jack Darlington's heart for quite some time.
Besides the turning of the calendar into autumn, September is the name of his family's 10-year-old rescue cat. With many rescue animals, the question often asked is, "Who rescued who?" For Jack, that answer is well-known.
"She saved our lives," the 30-year-old said with an ear-to-ear grin.
In 2016, Jack and his fianceè Andi were living in the Hampden neighborhood of Baltimore, when an electrical fire broke out in a large six-family shared household.
"Our dog was still asleep," he recalled. "The fire alarms didn't go off. I heard our cat running back and forth and it woke me up. When I came to, the whole place was filled with smoke. I went out and saw our whole coffee table on fire – it was like a bonfire in the middle of our living room."
The family was able to escape without physical harm, but the damage to Jack's creative collection had been done. A design graduate from Stevenson University, Jack's entire portfolio was made unsalvageable by the fire. Paintings and artistic prints that adorned the walls as decor and inspiration were turned to dust overnight.
"We lost everything in that fire, but it put things in perspective for me," the Baltimore County native said. "Afterwards, I didn't really care that much, mostly because we made it to safety. A lot of my stuff went up in flames, but at the same time, I love making things. I came to realize that it's not necessarily about the finished product."
The near-death encounter did little to quell Jack's anxiety, which he had previously struggled with, often using Cannabis as the remedy to quell an anxious heart.
"With my anxiety, it's the old nature-versus-nurture debate," said Jack, who classifies his artwork as surrealism. "I think it's a little bit of both. But I never wanted to take Xanax or any of that stuff. I read all about them and it freaks me out. Cannabis has always been something special, specifically indica. If I'm having an outright panic attack, it's like a miracle."
Panic attacks for Jack involve full-body paralysis, freezing his muscles and body in place.
"It's not a seizure, though it might fall into the same medical category," he said. "It's very weird. But Cannabis has been the only thing that has ever been able to completely take me out of that moment."
Cannabis also fuels his creativity, which was cultivated at a young age by his mother and grandfather, who have been oil painting for decades. Jack prefers to paint by watercolor, though these days, much of his work is digital, making his work fireproof.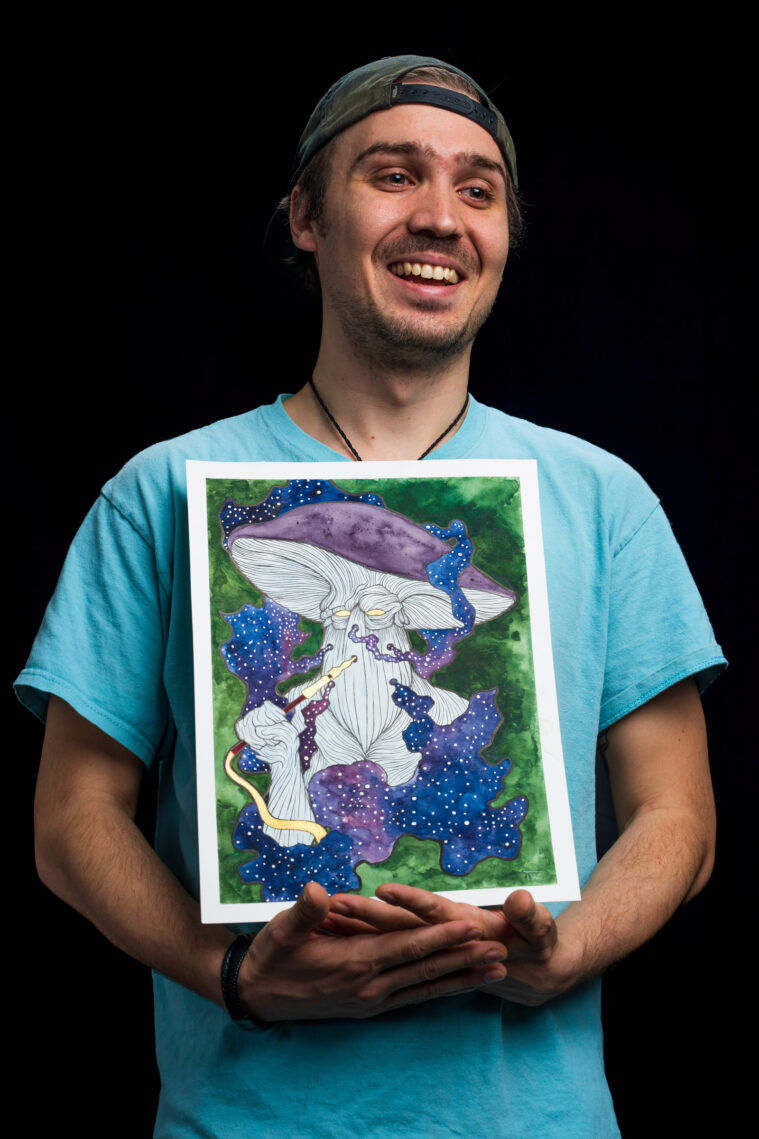 "We're a very artistic family," Jack said, noting his sister is also an oil painter.
The influence of Cannabis, and most recently, psychedelics, makes his art a bit different from that of his family's style.
"I love the idea of alternate realities," said Jack, whose work can be found on Instagram @the_trippy_wizard. 
Jack is a screen printer by day, creating digital art for stickers and clothing apparel. When he is out of work he begins work for himself, for IG, and for his Etsy account – where he sells sticker packs and prints of his artwork, which often includes aliens, wormholes and a variety of compositions from a world of his creation.
He continues to battle anxiety, as well as bouts of depression. Having his medical card has given him access to go-to strains like GrandDaddy Purps, a personal favorite he packs into his Pulsar herbal vaporizer. Jack estimates he smokes a gram or two per day – sometimes for inspiration, sometimes for a pick-me-up, and sometimes to quell an anxious mind.
"I'm definitely a lot more content with life," he said. "Medical Cannabis has definitely done a lot in regards to that. Before I might go to a buddy and get something he says is some fire, but turns out it's [the strain] Green Crack. I'd buy an ounce of it and now I'm locked into a month of anxiety. Now I walk [into a dispensary] and can get someone to help me with terpenes and get a strong indica I know is going to work for me."
Having stability in his life has also helped. Jack is very excited to tie the knot with Andi, his companion of 10 years, in the opening month of fall. The pair were engaged on Christmas Eve of 2019, but were forced to postpone their wedding due to the pandemic.
"There's going to be about 200 people," he said. "We had friends who got engaged around the same time, who canceled or did very small ceremonies. We said, 'Screw that! We want to have some fun!'"
They've come a long way, he exclaims – from September waking them up amidst a fire, to planning a fire September wedding – life is on the up-and-up for Jack Darlington.