Ten years after suffering a traumatic brain injury during a flag football game, Kylie Davis is still taking hits. However, the former "straight-edge" turned Cannabis influencer prefers the taste of limonene to the charging shoulder of an over-ambitious jock.
"[Those types of strains] get me high in the right spot and relieve the pressure in my head," said Kylie, who has used Cannabis to stifle debilitating migraines that resulted from the incident.
A graduate from the University of Maryland, Kylie doesn't remember much from the game that forever altered the course of her life.
"I had the ball and didn't stop running," she recalled. "Unfortunately, neither did he."
Kylie was knocked unconscious for over a minute. When she awoke, she was plagued with a lengthy spell of amnesia, unable to decipher those closest to her. In the months to follow, Kylie dealt with mood swings, as well as light and sound sensitivity, impacting her studies as a sophomore at UMD.
"Just walking to school and doing the things normal college kids did left me incredibly depressed," she said. "I wanted to kill myself."
Kylie was given Topamax, an antiepileptic drug, to try and prevent migraines. The side effects were prominent, proving to be untenable when she passed out during a workout at the gym. Hitting rock bottom, a friend suggested smoking Cannabis.
"Right away, it worked to relieve the pain," the 29-year-old recalled. "I said to myself, 'I'm never letting this feeling go.' That was the first moment of relief I had felt [since the incident].
Kylie spent much of the next two months in her room smoking her pain away. Finally, the day arrived when she woke up without a headache. The door to a new life had been opened.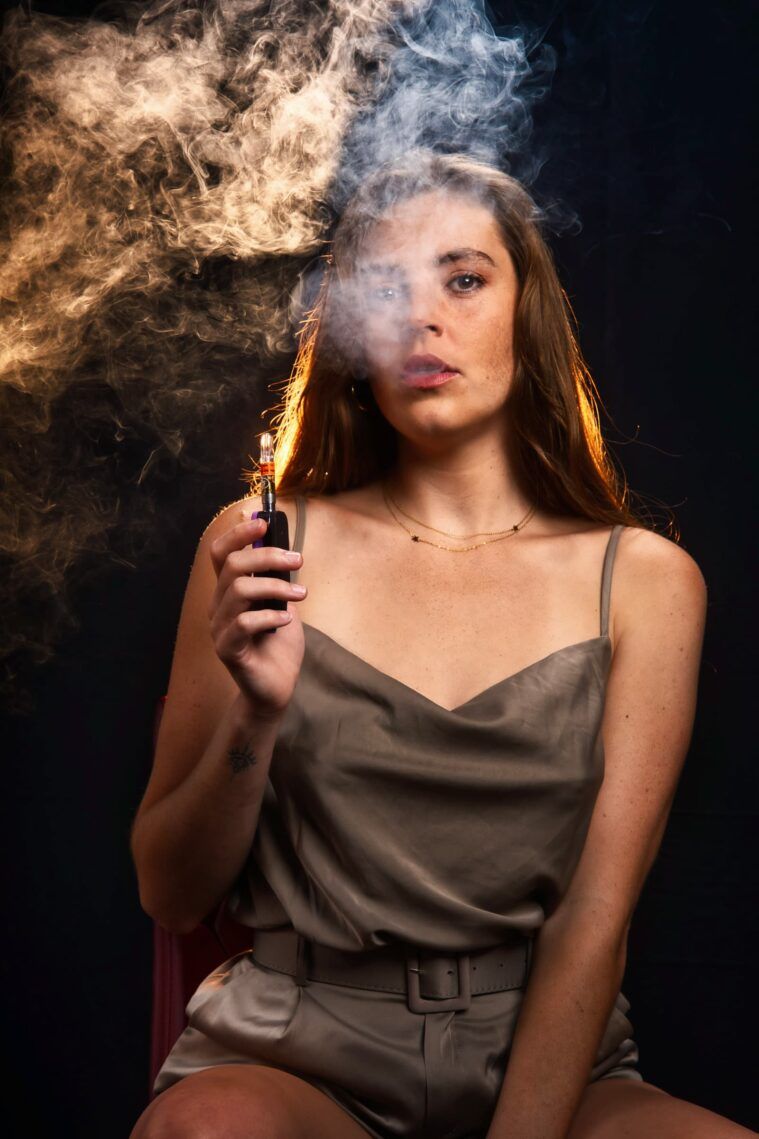 "I went to class that day and I didn't stop," she said. "I graduated with a great degree that I love and now I am very successful in what I do. Some people find it comical that I smoke as much as I do and still excel. It's not for everyone. But it's literally the only way I can go about life without being on any pharmaceuticals."
Kylie estimates she smokes 7-10 grams per day, varying her medication by way of flower, concentrates and edibles.
"I used to be a blunt queen, but I learned how to roll joints during the pandemic and I've never looked back," she said.
In 2014, Kylie ventured out into the Cannabis world as an influencer, kicking off the year with an Instagram account called PotPixies that generated over 12,000 followers. In 2015, she began a two-year stint with the Washington Vape Company in D.C. Kylie joined GTI in 2017, helping the company push their way into Maryland with the launch of the Rythm brand.
She then took six months away to pursue PotPixies as an LLC, showcasing names such as Stiiizy, 710 Labs, and a variety of accessory and glass brands. Unfortunately, her Instagram account was deleted multiple times, turning her back to the Maryland market where she has spent time with Culta and Terrascend. She currently serves as the Director of Wholesale Operations for Curaleaf.
"I think for every influencer, stability is non-existent," she said. "I got deleted five times and just couldn't keep my social media online. It just didn't make financial sense to keep going."
Kylie acts as the director of sales – the leading expert for Curaleaf in the Maryland market. The job keeps her busy, traveling to a variety of states such as Florida, Maine, Massachusetts and California, where she is conducting this interview by phone.
Time on the road means time away from her husband, and their two cats. The long hours and a yearning for the comfort of home can bring about stress, which can lead to migraines. For that, Kylie turns to Cannabis and proper hydration – something she says is vital in the battle. Armed with a one-two punch, Kylie says she hasn't had a migraine in over a year.
"At this point, Cannabis is a complete preventative," she said. "For a child who didn't smoke anything and barely drank, my parents are incredibly surprised that I chose [this route]. But it works."
The drug has been a savior, she concludes. But the community has also provided another layer of relief.
"My friends at college would smoke just to get high," she said. "I wanted to find a community that was for me. Creating PotPixies allowed me to find other people who were using Cannabis as medicine."
"All of this – my life – was created because my friend and I chose to create an image of a fairy smoking a joint," Kylie continued. "Beer doesn't do that. Cannabis does. I've made this plant my life and career to hopefully help more people find relief like I have."