Landrace Origins is the first coffee brand that's encouraging consumers to pair their coffee and Cannabis together. The company believes that just as we tell customers about regions famous for their beans, we should also tell them about their strains of Cannabis and how these flavors interact together – even going so far as to create a set of examples to start with. Their tagline – Tell The Origin Story – refers to the overarching plan to give consumers the information to make an educated choice by buying products that support farms and farmers instead of corporations.
The first brand backed by Oakland-based company MAKR House, Landrace Origins is the brainchild of Black Stallion Coffee owner/head roaster Scott Johnson and his cousin, well-known Cannabis entrepreneur Amber Senter. The two talked about the similarities between their industries, the importance of knowing where your products come from, and how no one was designing a pairing experience between different types of coffees and the Cannabis that grows native to those areas.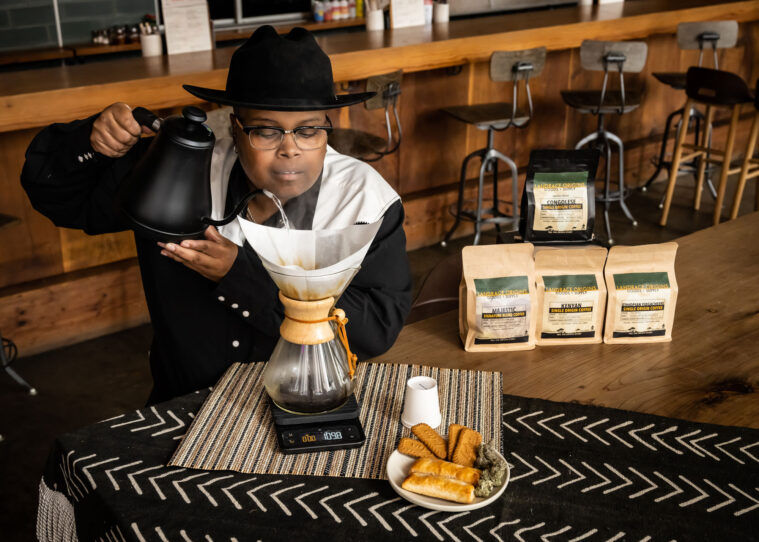 Each of the company's first four releases is designed to be paired with different landrace strains of Cannabis, chosen based on combinations of taste and effect. The term "Landrace" refers to a plant that, over time, has adapted to its environment and become a natural part of the landscape. These landrace cultivars can be hard to find – often requiring more care, time and optimal conditions to grow. They've largely fallen out of favor as big greenhouses fill the landscape. Through this partnership, Landrace Origins hopes to open the door for more interest in landrace strains amongst retailers and consumers – showcasing their history, as well as the coffees that grow nearby in these particular regions.
Another important part of telling this story, according to Senter, is sourcing as much information as possible from the people who live there. "These wonderful strains, most of them come from Africa," she points out. "Often, Black people aren't seen as Cannabis experts, and we need to start changing the role Black people play in Cannabis history. We brought these things to light, to the market, so it's really important to highlight the people who've been cultivating these strains for centuries."
Working with small importers, geneticists, cultivators and coffee farmers, the duo has created an educational experience that can be shared from coast to coast. While not always on your local menu, landrace strains like Durban Poison are becoming more widely available. Meaning that you, your sister in Arizona and your cousin in Connecticut can all discover the freshly-roasted Yirgacheffe as you get roasted off some Lamb's Bread.
Their whole line is a love letter to the supply chain, but two varieties in particular stand out: the Majestic and the Congolese. Majestic is Landrace Origin's signature blend, created by mixing three specific kinds of beans. It's a perfect chance to tell the story of how genetics travel by pairing it with a blended landrace strain like Happy Valley Farm's Orange Durban.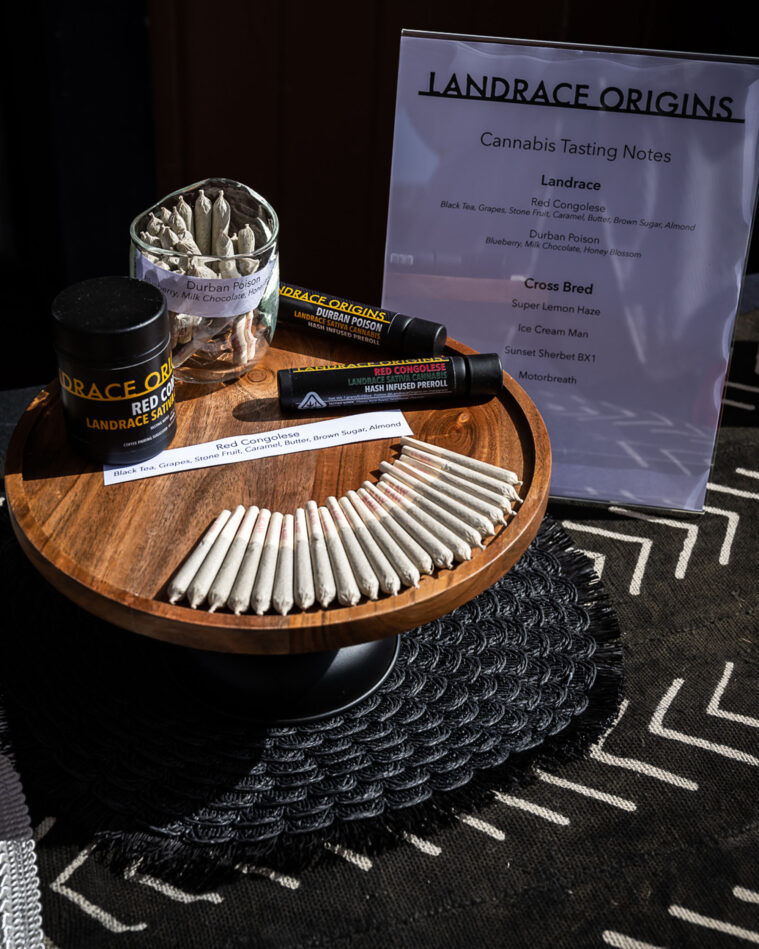 Just like finding coffee farmers with stories to tell, looking for the right Cannabis farmers with landrace blends is equally important for telling how far these genetics have traveled and who is caring for them now. For their Congolese single-origin, this was perhaps most important. The group they found to collaborate with, Rebuild Women's Hope, is a collective of farmers from a large remote island in the eastern part of the Democratic Republic of Congo. An area that has mainly survived through their coffee trade, for years they had only smugglers to sell to and were held hostage by illegal trade prices. Now, with so many new regulations and opportunities, they've developed this program to promote women's representation and business education, raising the standard of living for their communities.
If any of that sounds familiar to the Cannabis industry, it's just the beginning. There's so much Cannabis can learn from the journey coffee has taken over the last 20 years. In a business dominated by big players like Folgers and Columbia House, retailers in the coffee industry began promoting the impressive works of specific areas and farms – spreading not only their family histories, but also the reasons why the combination of soil, elevation and intention produces some of the best coffees on earth.
While brands like Starbucks have promoted elevated coffee experiences, new blood like Blue Bottle, Coava and Philz have helped people open their wallets and palates for specialty blends that feature more subtle notes – and support a living wage for their producers. Over time, the dominant attitude shifted to responsibility through purchase. Now, each half-pound you grab at the store equals more than just the flavor notes on the bag, but also the success story of a roaster, a farmer and a supply chain.
Being part of both industries, Johnson and Senter are uniquely qualified to identify which other protections coffee farmers fought for that could benefit Cannabis producers.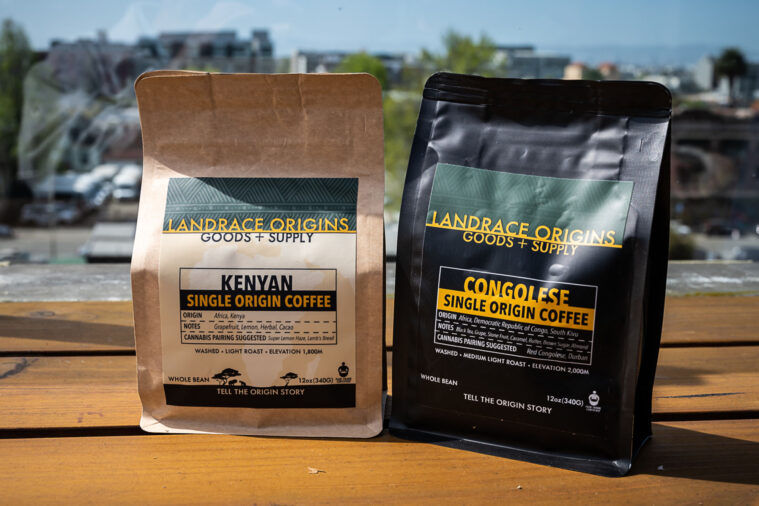 "The thing that's going to help the small farmer the most is the same thing that helps the small retailer – a reduced excise tax," Senter explains. "But there's also the idea of a fair trade movement for Cannabis – ensuring farmers are properly paid. Small farmers are putting weed in the chipper because it's easier to destroy than sell, while corporate interest farms are selling at a loss so they can outlive everyone. So much is due to [Cannabis] leaning on people's inclination to compare THC numbers to run sales, instead of teaching consumers to shop by who their money supports."
One of the more exciting things about this project is that it can take this story of who, where and why to a new crowd of consumers. Landrace Origins is Cannabis-adjacent, not Cannabis-infused – which means they can attend food and beverage trade shows across the country, sparking a conversation about sustainable smoking along the way.
Cannabis fans already hold coffee in such high regard … isn't it time coffee lovers were given the same opportunity to know where it all originates?