Alexis Gonsalves and her boyfriend Nick were heading to Miami this past month to attend the Rolling Loud Festival – a three-day annual music festival that features the likes of hip hop heavyweights Kanye West, Kendrick Lamar and Future.
For Alexis and Nick, this isn't an ordinary concert. The couple, who have been seeing each other for six years, "do everything together" as Alexis joyfully describes it. They especially enjoy music festivals. But they haven't attended a big show since narrowly escaping a stampede at the notorious Travis Scott Astroworld Festival held in Houston on November 5, 2021.
Ten concertgoers died that day as a result of accidental compressive asphyxiation, while 25 people were hospitalized, and more than 300 people were treated for injuries at the festival's field hospital. Investigations are ongoing, but many place the blame in a variety of places including Scott, event organizers Live Nation, unruly attendees and unqualified security staff at NRG Park – the host of the festival.
"Honestly, I think there were just too many people," Alexis said.
Scott began his set at 9:06 p.m., and within 10 minutes the crowd began to compress toward Scott's custom-built stage. Alexis and Nick had neglected other ongoing performances, staking out prime real estate in anticipation of watching the megastar perform up close.
"We saw the first two songs," the Baltimore native said. "After that, that's when it got crazy."
The initial rush "caused some panic," Houston Fire Chief Sam Peña said, noting that "it started causing some injuries." Shortly thereafter, audience members like Alexis and Nick began having trouble breathing as the crowd became even more condensed.
"We started getting pushed up against the metal barrier gates," she said. "I couldn't breathe. I really did think I was going to die."
Alexis recalls being helped by fellow concertgoers, who grabbed her and Nick, pulling them over the gates to safety. Shaken by the experience, they left the concert and headed back to their hotel.
"First, I thought it might've only been our little group section in the front," she said. "I didn't know until we got back what the hell had happened."
A long-standing sufferer of anxiety and depression, the event left Alexis with what she believes to be post-traumatic stress.
"That whole month after the concert was really crazy," the 27-year-old said. "Over the first few days, we just started seeing all the reports coming out about how many people had died. Then you'd find out another person had died. It was just sad."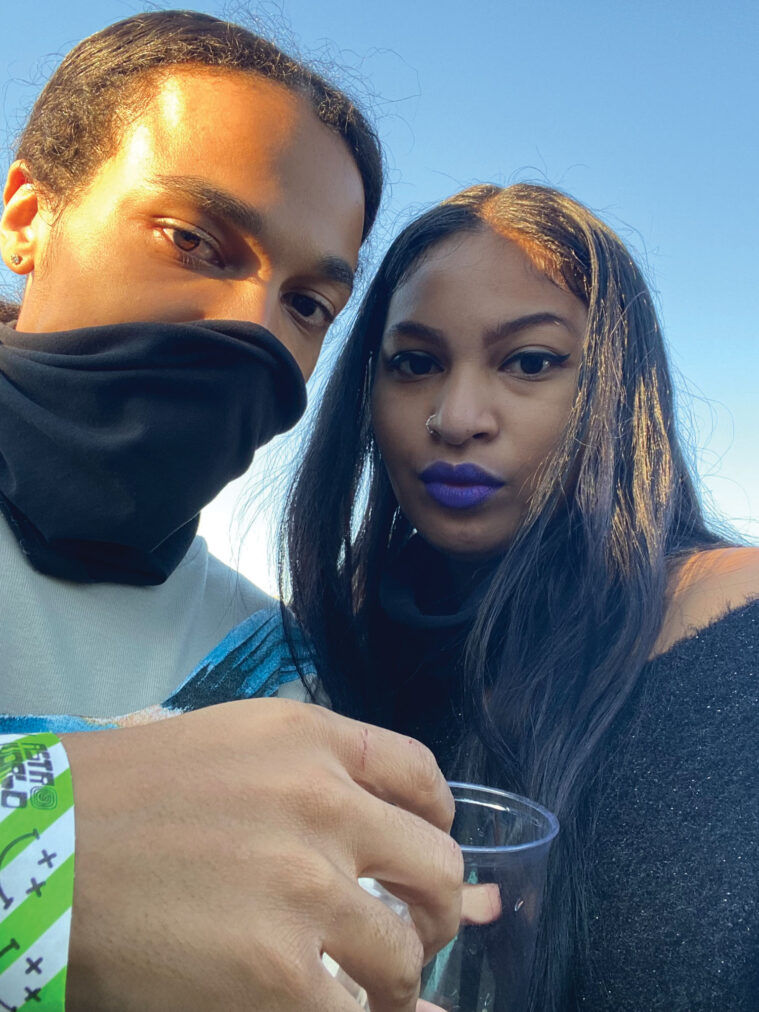 A patient of the Maryland Medical Cannabis Commission, Alexis has clung tightly to her concentrated vape pens since the event, which initially triggered old, undesirable feelings.
"I started having depression and anxiety around age 15," said Alexis, who works as an insurance agent. "I was hospitalized a few times. It took a long time of going to different doctors and trying different medications that didn't make me feel very good. I wasn't getting the help that I needed."
Alexis received her medical card two years ago. Dabbing has been a recipe for returning a spark to her life. She begins each morning with a dab before work, preferring a hybrid or indica, explaining that a sativa makes her feel "too anxious."
"With Cannabis, I have less anxiety and stress," Alexis said. "When I don't use anything, I'll be more anxious … more stressed throughout the day. Normal things like work, bills – they'll have me feeling like I can't do what I need to do."
She believes she's always had some sort of nervous energy and that Cannabis taps into that, making her more productive.
"I like to go hiking, snowboarding and biking," she said. "Cannabis can even motivate me to even get things done around the house. I like to smoke before doing household chores."
After getting herself out of a post-Astroworld "rut," Alexis proudly boasts that she hasn't had a panic attack this entire year. As her and Nick gear up for their big day in Miami, she's hopeful that remains the case.
"I am nervous," she admits. "We're conquering a huge fear. But I don't want that to stop me from living my life."
The pair has taken precautions, purchasing VIP exclusive passes.
"We won't be in the general public," she said. "So there won't be a whole bunch of people around us."
If all else fails, she says she'll have her man Nick by her side, and her medicine nearby.
"I'll have my pen," she smiled. "As soon as we got out of [Astroworld], I needed it. I was shaking. I needed to calm down before we even got back on the road."