Nekeidra Cromwell prefers to be called Keidy, which is fitting, because she appears to have nine lives.
Known in the Cannabis industry as "Keidy Weedy" – the 47-year-old has beaten two forms of cancer, survived a brain surgery, overcome opioid addiction and walked away as a pedestrian after being upended by an oncoming motor vehicle.
"God and Cannabis," responded Keidy when asked how she continues to orbit the sun. "For real, they saved my life. I look back behind me and it's like damn, I really survived all that? I fucking made it."
The Annapolis native has indeed made it, pulling the quill from a tragedy and rewriting a mid-life symphony. Keidy's revival tour has included pit stops with celebrities like Montel Williams and Redman, and tropical destinations such as Jamaica. All this has left her two children, Kenny and Neishja (pronounced Nee-sha), awestruck.
"My babies are old school, so this be tripping them out," said Keidy, noting their ages of 29 and 25, respectively. "I'm just glad to have their support. Because I'm trying to lead the way for them, knowing I am going to have to pass the torch."
Keidy recalls being diagnosed with a rare form of ovarian cancer in 2004. While chemotherapy was helpful, a full hysterectomy was required – removing her uterus to ensure the cancer wouldn't return. Unrelatedly, she was diagnosed with squamous cell carcinoma in 2018, which was surgically removed before it could spread.
"I didn't know Black people could get skin cancer," she told renowned talk show host and Baltimore native, Montel Williams, on his podcast 'Let's Be Blunt with Montel.'
Like Montel, Keidy is a big proponent of medical Cannabis. She underwent brain surgery in 2015 to treat Chiari Malformation – a structural defect where brain tissue extends into the spinal canal causing a variety of problems, including severe pain. She was prescribed four different opioids, and yet, would still pass out due to overwhelm.
"They had me on OxyCodone fives, Fentanyl patches, Xanax bars, OxyCodone 10s … at the same fucking time … for almost three years!!!" Keidy said, letting out an exasperated sigh.
She says she was perceived as a drug seeker before receiving a proper diagnosis – a process that took multiple years.
"They thought I just wanted pain medicine, but I needed answers. I wanted to know what was wrong with me," she said.
An injury to her shoulder required medical imaging that revealed the Chiari Malformation.
"The doctor says to me, 'You're not crazy,'" said Keidy. "I lost it for a second. I lost all my emotions."
It took nine months following surgery to wean off the opioids, during which time Cannabis served as a healthier alternative. In 2018, Keidy received a medical Cannabis card and furthered her understanding of the plant as she navigated Maryland's new system. That year, she came out of the "canna-closet" – and began to advocate for fellow sufferers.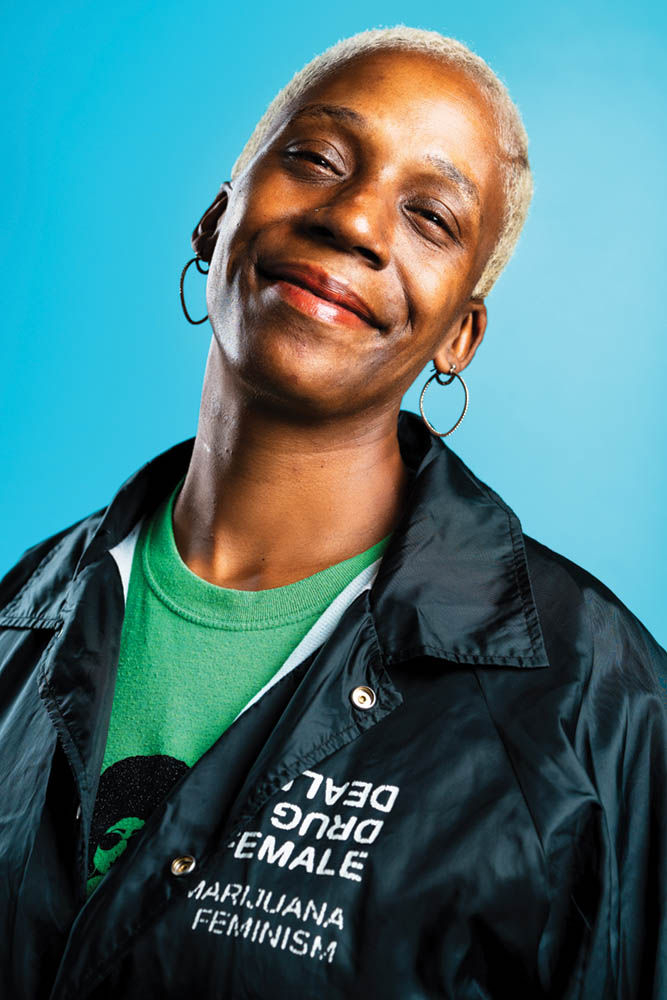 "I was in the hair industry for 25 years," she said, noting a career as a cosmetologist. "I always had to have Visine in my eyes and to be smelling like Miss Fay down the street. At the time, I felt I had to dumb down and deny what was helping me."
Furthering her education has helped Keidy feel more comfortable embarking on this path. She has taken Cannabis science courses through Anne Arundel Community College, as well as the University of Colorado Boulder.
Associating with celebrities in the Cannabis community has also endeared Keidy to the cause.
Following a 4/20 reunion concert with Method Man and Redman, Keidy was inspired by the rap pioneers to reach out to the National Cannabis Party (now known as the United Empowerment Party). Redman's sister enjoyed Keidy's courageous spirit and invited her to be a special guest at the National Cannabis Festival in Washington D.C.
"My life changed that day," said Keidy, who serves as the Director of Community Outreach for the UEP. "Since then, I've been across the country, going to different states, talking and learning more about this plant."
Keidy now sports her own Cannabis lifestyle brand – Keidy Weedy – that sells t-shirts, socks, fanny packs, sweatsuits, sweatshirts and more at KeidyWeedy.com. She is also a full-time certified recovery coach with a specialty in Cannabis science. She is currently working on a certification to become a Certified Recovery Specialist through the 3c Recovery Support Training Institute.
"I want to be a voice for the voiceless," she said. "Until we get Cannabis de-scheduled and make it fair for everybody, I am going to keep causing good trouble."
Every so often Keidy finds herself ruminating on the time lost mired in pain.
"I was stuck in a dark cave," Keidy said. "I was raising teenagers and I missed three to four years of that. You can't do nothing but sleep when you're in that much pain."
"I look back now though, and it's motivation," she added. "It's a fire under my ass. I might fall into this woe-is-me thing for a second and then I take myself out of it and remind myself what is in front of me. I keep moving knowing I'm this strong and I'll never be that weak again."