Ten years after receiving one of the first medical marijuana dispensary and grower licenses in New Jersey, a veteran of the military and law enforcement turned Cannabis pioneer is ready to speak about how he and his team took on the system and overcame the odds.
In the heart of downtown Montclair, Greenleaf Compassion Center buzzes as a hub of essential medical Cannabis retail activity, even during a pandemic. A line of patients, all masked and socially distancing, winds out the door and down Bloomfield Avenue as I sit down to talk to Julio Valentin about his long and winding road to become a successful Cannabis entrepreneur.
The lobby and waiting area of Greenleaf resemble a doctor's office more than a headshop or typical dispensary. Patients wait to talk with trained specialists who help them choose the right strains from more than a dozen options. One of the first six licensed nonprofits in 2010, Greenleaf was the first up and running in December 2012 – and the only one in the heart of a city (the others are in industrial parks).
I ask Julio about the two-year delay in opening up, "Governor Corzine signed the medical marijuana legislation on his way out the door. Then the Christie Administration tried to sabotage and bankrupt the industry by making us jump through ridiculous hoops. When we first received the application, it looked like a Bible! We had to pay rent for over two years with no buildout on the dispensary or the grow location. We were forced to set up as nonprofits, but with no access to banking or loans."
Julio's Journey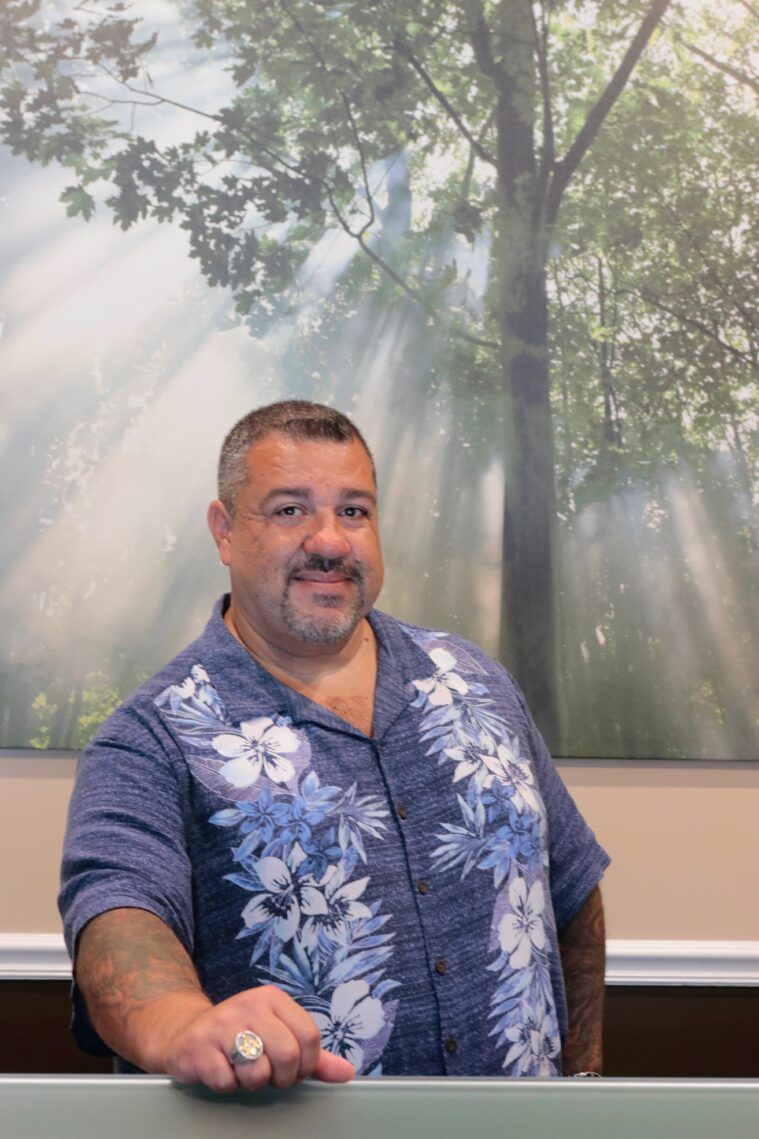 Julio tells me he was brought up "old school." He enlisted in the Army Reserve straight out of high school in 1987, joining the Newark Police Department in 1989. In 1997, he started the Eclectic Cafe in Montclair and retired from law enforcement three years later. Having the restaurant for 16 years gave him a unique foothold and he found Montclair to be safe, diverse and welcoming. When it came time to open Greenleaf Compassion Center, he knew it had to be in the heart of the town that had been so open and accepting. He also insisted on providing discounts to veterans, low-income residents and minors.
"Many of my former law enforcement officer colleagues are very supportive," says Julio when asked how those he used to work with perceive his new profession. "You'd be surprised how many of them understand that this is medicine. I've still never tried it. That might be hard to believe, but it's true. I've seen it benefit friends and family, and I could see firsthand that the medicinal uses are real." As the tears come, he continues, "My father, the most 'old-school' as you could meet, died just last February. I was able to help him and it took away a lot of his pain."
I wanted to know more about what he has learned in his decade as a pioneer, and if he has advice for others looking to get into the business. "We had to teach the State everything about Cannabis," Julio tells me. "We were the guinea pigs. You have to be very patient and continue to educate everyone around you as to the medical benefits and patients' needs. We had over 60 employees at one point. That's down to about 48 now due to the COVID pandemic, but it's still a lot to manage, so be aware of how much real work goes into running a Cannabis business."
Expanding Products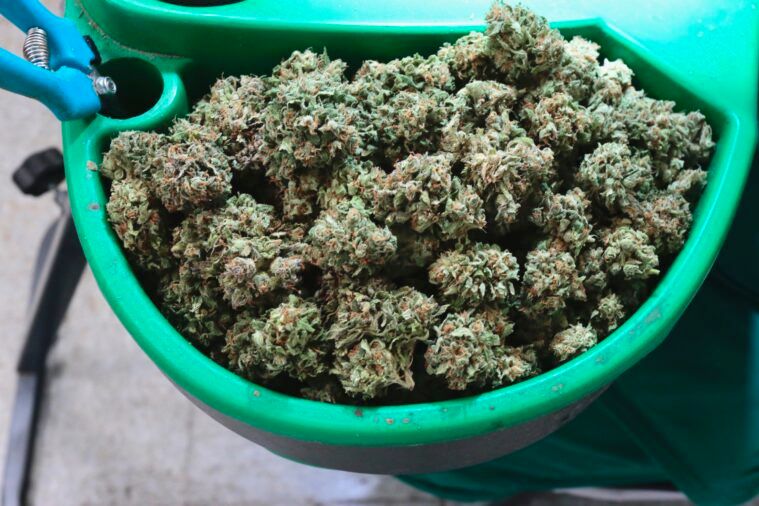 Julio is all too familiar with the challenges faced due to overregulation by the State of New Jersey. "At the beginning, we could only grow three strains and only enough flower for registered patients," he says. "At the time it was only around 2000 people. Others had to shut down at times, but we've never failed our patients. Also, patients have to register with a single dispensary, but can change it all the time. It's silly the way they set it up. They had no clue. When Gov. Murphy came in, he campaigned on making progress with medical marijuana, but he still wouldn't let us open more dispensaries to take care of more patients. We still can't make or sell any types of concentrates!"
Having heard rumors that Greenleaf was being sold to a large multi-state Cannabis dispensary corporation, I wondered why Julio was getting out of the business just as it seems to be gaining steam on the East Coast. He tells me that the rumors are true, although he can't discuss the particulars. "Danny, recreational adult use of Cannabis will likely pass this year in New Jersey, with implementation starting next year," he assures me. "We're a 'Mom-and-Pop' – it's just me and my partners – and these huge corporations are coming in whether people like it or not. We're not going to be capable of keeping up with tremendously increased demands. I can see the writing on the wall and that's why I'm selling."
Growing Greenleaf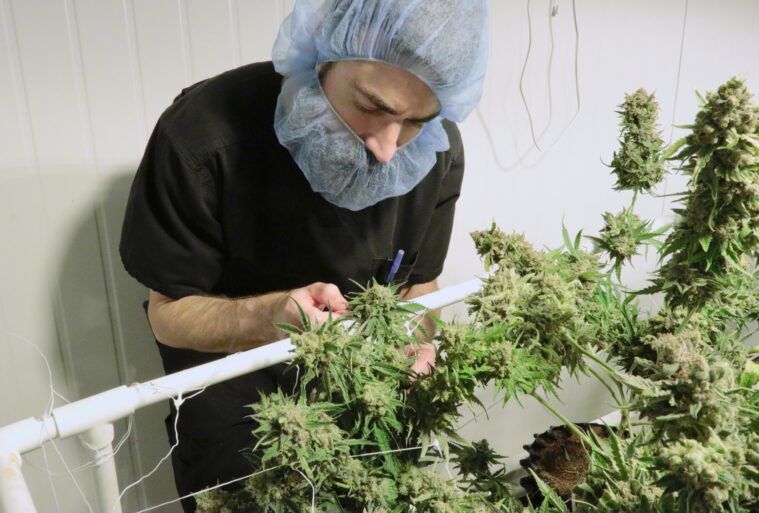 We take a 45-minute ride to the grow and meet up with Greenleaf's Head of Cultivation, Ricardo Luis, for a rare and exclusive tour of the facility. The 7,000 square feet of different grow spaces were all built out in just two months. They created a warehouse inside a warehouse, with all walls and ceilings built from four inch thick insulated panels and 16-gauge steel on both sides, as well as floor drains in each room.
There are eight flowering rooms, seven at around 500 square feet (16'x32') and one at 900 square feet. Another 900 square foot room serves as a mother plant area and a separate clone room features fluorescent lighting to keep down costs and heat. Ricardo explains that keeping things compartmentalized allows for perpetual harvesting and helps isolate any possible issues that can arise with mold or pests. New Jersey's Department of Health monitors have access to the cameras in every room, 24 hours a day.
Reverse osmosis (RO) well water goes through multiple sediment filters and UV until true purity is achieved. Plants are grown in coco coir in three gallon air pots that sit in plastic trays for drainage. They are fed twice a day and flushed once a week through two drip emitters per plant. The plants stay in their vegetative stage for three weeks under metal halide (MH) lighting, until they're ready to start the nine-week flowering process.
Flower rooms are lit with double-ended 1000-watt HPS lights and kept cool using a five-ton HVAC split with CO2 piped into rooms from a large tank outside the building. Two 180-190 pint dehumidifiers in each room, 12-inch exhaust with 12-inch HEPA filters and wall-mounted circulating fans keep air moving and the climate at ideal levels. Ricardo uses Autopilot units for temperature/humidity and CO2 level monitoring and control.
Asking Ricardo about Greenleaf's harvesting and processing protocol, he shares the intricacies of the process he has fine tuned. "When the flowers are ready to harvest, we hang whole plants in our climate controlled drying room for one to two weeks. Then they're broken down into branches for another one to two weeks, drying with temperature kept between 65-67 degrees and relative humidity at 50%. A free-flowing HEPA filter keeps things clean. After harvest, we decontaminate every inch of every room. Everything is removed and disinfected. Even the fans are taken apart. Everything."
In the processing room, flowers are hand-trimmed by a crew that works nonstop to ensure quality and freshness. Finished buds are weighed and packaged to prepare them for sale in the dispensary. The new owners plan to expand the cultivation operations considerably, so keep an eye out for big changes coming to the New Jersey Cannabis marketplace.