Six years ago, Justin "Justo" Brooks was facing a 10-year sentence in prison for a felony charge of conspiracy to commit a theft over $10,000 and under $100,000. Today, "Justo" is a rising star on the DMV comedy scene opening for national headliners such as Eddie Griffin and Chris Redd.
A Baltimore resident and Brooklyn native, Justin was arrested following a 2016 raid on his Silver Springs apartment – a day he recalls as no laughing matter.
"That was one of the scariest moments of my life," said the 33-year old, who welcomed a suspended sentence and probation. "They broke my door down, threw a smoke bomb in my face, slammed me to the ground and put a bunch of rifles in my face. That moment led me to re-examining my life and the decisions I had made that led to that point."
Justin previously attended Howard University with dreams of becoming a mechanical engineer, but fell short of the necessary credits after four years. He chose engineering "because they made a lot of money" and he excelled at math. But his financial aid ran dry and he could no longer afford to attend the prestigious HBCU.
At 22, he was a college dropout who still desired the monetary status of his former dream career. So he began selling drugs and finding "other little schemes" to line his pockets.
"I was bouncing around from different ventures – some legal, some illegal," he recalled. "I was really just trying to figure out what I was going to do with my life."
Justin's arrest, coupled with the death of a close friend, forced him to take a long look in the mirror.
"For a long time, I was chasing money," the Parkville High graduate said. "I was 29 and I figured it was time to start chasing something I wanted to do. I couldn't be 30 without knowing what my purpose in life was."
In 2019, Justin began performing stand-up comedy routines at open mic nights. As he recalls, he wasn't very good at the start.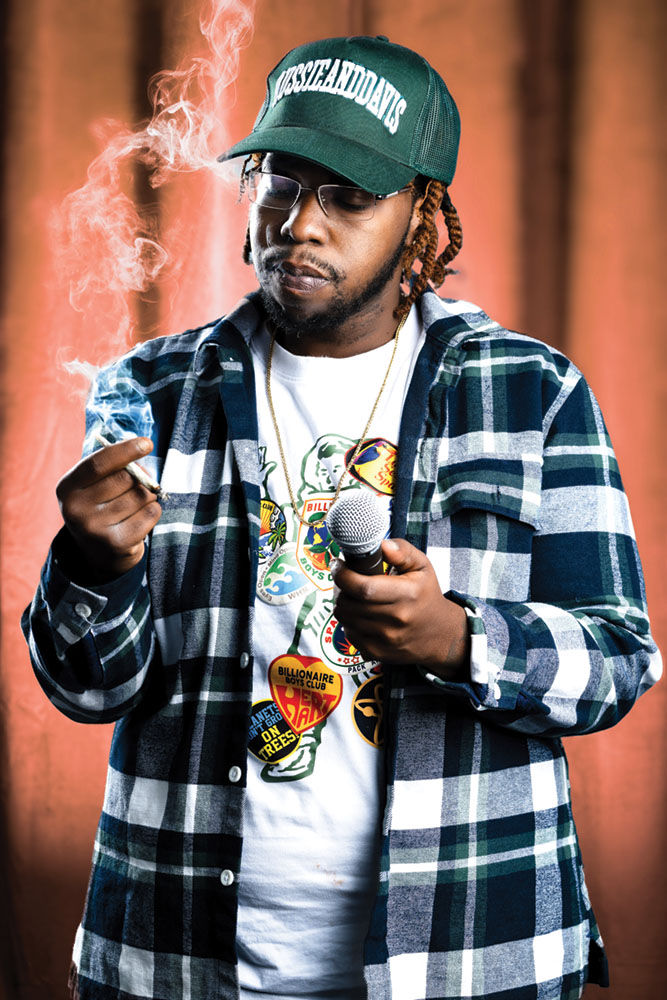 "I went to two open mics, but they didn't go the way I wanted to," he said. "So I just started going to watch – to see if I was missing something. I found that I needed to write about real things that happened in my life and what I thought was funny about that. Once I figured that out, I had a really good set – and from there, I just put my foot on the gas with it."
When the world came to a halt in 2020, Justin kept moving forward, winning the New Comedian of the Year Award at Maryland's top rated comedy club: Magooby's in Timonium. He began performing in clubs throughout the DMV, grinding seven days a week to live out his new dream.
"Comedy saved my life," said Justin, whose comedic influences growing up include Chris Rock, Dave Chappelle, Cedric the Entertainer, Bernie Mac and Roy Wood Jr. "The situations I put myself in before [making this a career] were very scary. So in order for me to do comedy the way I want, I have to speak about [those things]. There's always a message in what I'm saying [on stage]."
While he has found grace under the bright lights of stardom, medical Cannabis can often be found in the backroom serving up an assist.
"For me, it helps," said Justin, who sought out a medical card while on probation to treat anxiety. Justin also uses Cannabis to treat chronic back pain resulting from a high-speed car accident returning home from a New Year's Eve comedy performance in 2019.
"I don't need weed to be funny," he added, "but it helps me be more relaxed and not as anxious. When I can put aside my anxiety, that allows the funny to be in front."
He has become a regular at Magooby's, as well the Baltimore Comedy Factory. He is also one of the headliners at The Port – a new comedy club in the Fells Point neighborhood of Baltimore City.
In 2021, Justin won an open mic competition at the famous Laugh Factory. The following year, he opened for the aforementioned Griffin – the star of the 2002 hit movie "Undercover Brother."
"I featured for [Eddie] four shows and he got a standing ovation," Justin said. "After the last show, we were in the green room and he dapped me up and gave me a hug. He said, 'You got that shit that makes a motherfucker a superstar.' Hearing Eddie Griffin say that put chills up my spine."
Griffin, he recalls, told him that he had soul and he needed to protect it with his life. That soul, Justin is quick to acknowledge, was rescued by comedy and Cannabis. It's a pairing he begins the day with, smoking and writing jokes upon waking. And goes to sleep with … falling asleep to legendary stand-up performances of the past.
"I still remember my first time," said Justin, who smokes sativa-filled joints before a show, while choosing an indica-leaning nightcap to rein in the adrenaline afterwards.
"I was 15 years old and it was after school. I didn't feel anything at first. But then I started walking down these stairs and I noticed, 'I'm feeling real light.'"
"That's when I started feeling the effects, and I've been smoking ever since."