It's as if Bryan Cranston from "Breaking Bad" chose to serenade Dory from "Finding Nemo."
"Just keep cooking," Michael Simmons excitedly exclaimed. "Just keep cooking!"
A musician from Washington D.C., Michael was diagnosed in 2009 with congenital heart failure – a deadly disease that carries a 50% mortality rate over five years.
The discovery came as a shock to the then 23-year-old.
Michael had been pushing himself hard in the gym, but his good intentions exacerbated an unknown condition. He was hospitalized for two weeks, gaining 30 pounds of water weight as his heart function dropped below 25%.
"They were asking me if I had a history of cocaine use," said the artist known as Just Misfit District. "I couldn't believe it. They had me in the hospital for two weeks getting all types of testing. The way the doctors were talking, it was as if I wasn't going to make it to 30."
Now 36, Michael has since defied the odds – turning his pain into musical compositions and churning out 16 albums alongside co-creator Israel Anderson.
"Israel has been like a brother to me," said Michael, who is an only child. "Him, and my family, they held me up through it all. Honestly, it was straight misery before it got brighter in the least bit."
Michael believes he has been blessed with a second chance at life and he's intent on making the most of it.
"I use every storm and try to translate it sonically," said Michael, a 2004 graduate of Friendly High School in Fort Washington. "I still go through a process of highs and lows [with my health]. But I keep moving along and get back to the basics. That's making music. It doesn't matter how bad it gets. I just gotta keep cooking."
Along with cooking on digital soundboards, Michael has taken up a holistic lifestyle – career-wise and nutritionally. He has spent the past two years working for Holistic Industries in Capitol Heights, serving as a post-harvest associate for one year before becoming a brand ambassador on behalf of the medical Cannabis company.
His time as a grow associate, which could call for harvesting "900 eighths per shift," led to cultivating blueberries, cucumbers, pepper and squash in his spare time. Michael hopes to one day own a farm and live off the land, honing in on a lifestyle that has helped him trim down to 200 pounds (50 down from when he was first diagnosed).
"It's healthier for me to have as little stress on my heart as possible," he said.
Michael credits a chance encounter to traveling a path of his ancestors – a revelation that came to him prior to signing on with Holistic Industries.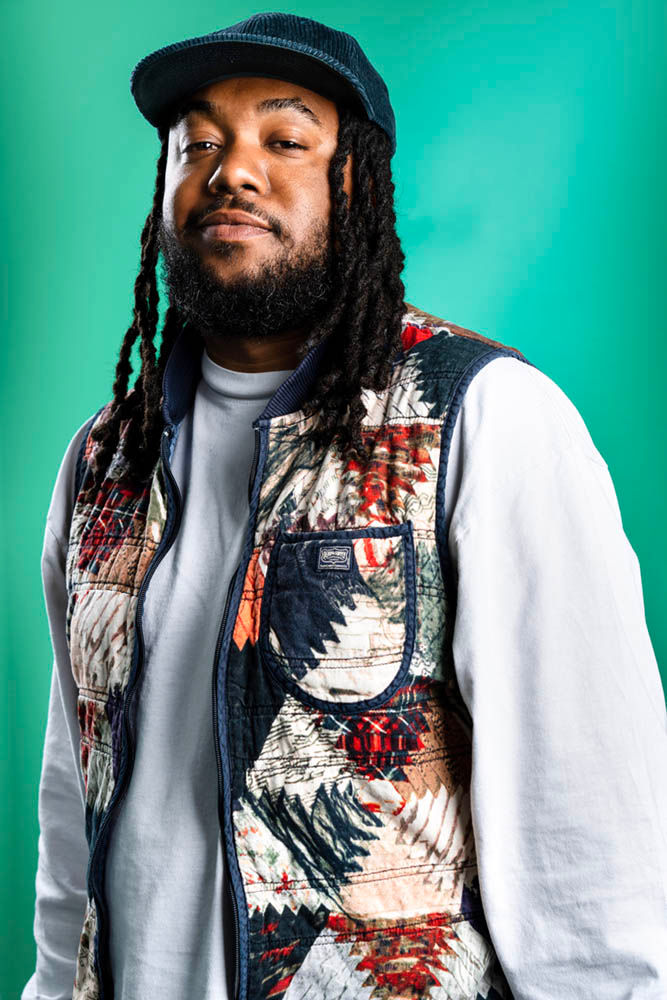 "I was riding on [US-222 N) and we passed by a farm in Reading, Pennsylavania," he said, recalling a story told by his mother, Sweet Myra Jane. "My mom points and says, 'I used to work there.' When she was a little girl, all my aunts and uncles would help the Amish people tend to their farm and their animals. I had no idea. I had been up and down North 222 hundreds of times visiting family and never knew. In an attempt to understand my mother more, I took on a passion of hers."
Cannabis also called to him.
'Dro Mike,' as he was referred to at Friendly High School, had taken a liking to the plant as a teenager. Despite his condition, he decided the benefits of medicating with Cannabis were worth the risk of continuing as a medical patient.
"I've been smoking and creating for a while," he said. "A lot of times, growing up, I didn't know how to articulate how I was feeling. So I would completely spaz out. Cannabis slows me down and allows me to focus on what I need to. It has opened all types of doors for me."
He sticks with hand-rolled hybrids and indicas, insisting on high-quality genetics.
"I've been smoking for 20 years now," he said. "I'm not trying to smoke no huff."
Between working in the Cannabis industry, performing live on a variety of platforms (Instagram, Twitch and YouTube) and recording new albums, the last two years have been hectic.
"I'm just thankful that my [condition] didn't show up in that whole process," he said, noting that he was clear of episodes involving chest pains or shortness of breath. "I'm in a good place, but I'm as hungry as I've ever been. I still feel like I'm only operating at a percentage of my capacity."
He believes balance is key. But in the midst of chaos, he finds Cannabis the perfect yin to his musical yang.
"A lot of people tell me to slow down, but I just can't seem to sit still," said Michael, who attended DubSpot – a New York-based, world-class electronic music production school. "I have a lot of friends who started on this path and they're not with us. I don't want to get to the other side and not have finished my journey."
Michael's dream is to have his talent and hustle pay the way for a family farm in Pennsylvania. There, he'll be able to continue creating while being at one with the land.
"Life has always been about balance," he said. "I love the studio, and I love just being up in the mountains where it's completely quiet. From the loudest of louds to the quietest of quiets, I can find peace."
Even if it takes another 10 years and another 15 albums, Michael has set his sights on reaching the dream.
"I am going to continue to create until I die," he said. "I don't like using words like that. But this is what it's about: music and farming. I'm trying to develop a family brand, produce and grow products, and really take advantage of my roots. That's what all this is about."