As the summer sun escaped a mid-July horizon, rockstar Brandi Carlile stepped in front of thousands of joyous fans, all clamoring for one more dose of dopamine courtesy of the Levitate Festival in Marshfield, Massachusetts.
Following the performances of Ziggy Marley and Rebelution, the Grammy-nominated singer waxed poetically of past festivals, expressing gratitude for serving as the headliner under these particular Sunday night lights. Brandi cherished the destination, but the journey, she insisted, made her current standing all the worthwhile.
That message hit home with many, including Boston's Steve Rondo. Two days prior, the 29-year-old had served as the bookend to Carlile's close, opening the 10th annual celebration at the Marshfield Fairgrounds Friday afternoon, 30 miles south of Boston.
"A lot of people took half days, so by the time we finished, there were a couple hundred people that had trickled in," said Steve, lead vocalist and guitarist for The Steve Rondo Band.
Just as Carlile celebrated her ascension to the top of the set list, Steve was celebrating an appearance at the biggest festival of his life. And as a self-proclaimed surf and snowboarding addict, he was over-the-moon happy to have shared a billing with some of the country's elite jam bands – courtesy of the surf-and-skate shop, Levitate.
"I think Levitate is one of the best communities that's formed over the last 20 years," said Steve, who graduated from Wachusett High School in Holden, Mass. "The festival has grown every year and what they represent for the surf culture – embracing music, pulling a beach town together, and giving back through grants and charities – it's really a beautiful thing to be a part of."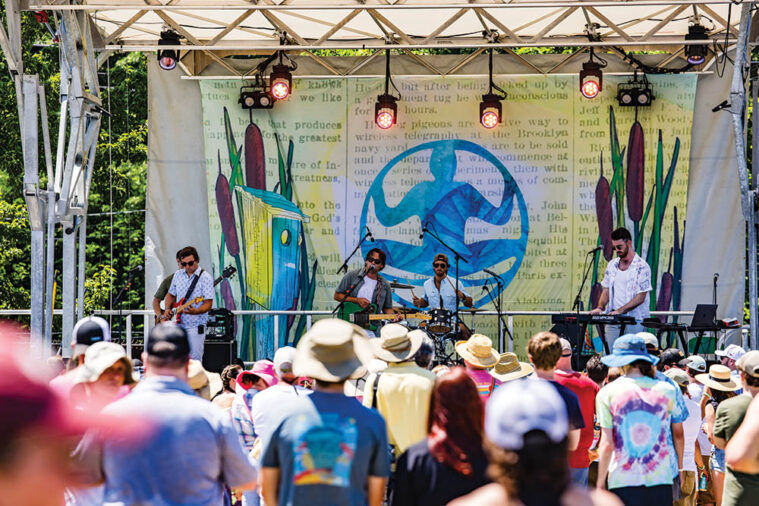 Steve and his fellow band members – Richie Aversa (lead guitarist), Eric Donovan (drums), Keelan Smithers (keys/vocalist) and Trevor Knowles (bass) – spent Saturday in a boat on the ocean celebrating their triumph, but returned Sunday to take in more of the festival.
"We got to talk to a ton of the bands and that was cool, because you see people the next step ahead of you, or five steps ahead of you. And that motivates you to keep working hard," he said.
Described as "stadium-ready Americana" by 92.5 FM The River, The Steve Rondo Band has been together for five years. Steve writes the song lyrics, consulting with Keelan before working with the band to create a sound around the story being told. His lyrics often take a deep dive into themes of struggle, authenticity and finding balance in life.
"As a young male, it's not really a common thing to open up and write about the things I write about," said Steve, referencing songs like Afternoon Rebellion, which was featured on Spotify's editorial playlist Fresh Finds Indie. "Songwriting gives you a good opportunity to try that while masking the lyrics behind the music so people don't have to look too hard if they don't want to."
Fear, he says, is a big theme in the music he writes about.
"Either on a macro scale of global warming, or a micro scale of what is going on with me personally, the fear of growing up or not living up to your full potential – it's that sort of thing," he said.
Steve has never received an official diagnosis, but he has experienced "tough times where those intense feelings of anxiety or stress come on" and manifest physically, mentally and emotionally in his body. Steve felt as though he was the "black sheep" growing up, born with different colored eyes and hair from his entire family. And he's been trying to prove he belongs ever since. In an attempt to fit in, he found it better to stand out – ultimately leading to being the frontman of a rock band.
"I think really leaning on things like music, or surfing and snowboarding, have been the best way to get me out of my own head," he said. "They're almost monotonous in their activity, but if you do enough of it, you'll be breathing heavily, your blood will be pumping and you'll be out of your own head."
Cannabis edibles have also provided a necessary levity when needed.
"When I started singing, I was 'out' on the idea of smoking [Cannabis]," he said. "With my style of singing, I project my voice very loud, adding a lot of rasp and growl to it. If I play three days in a row, my voice will be shot after that. If I were to smoke, it accelerates that process – making it harder to maintain that stamina over time."
Gummies, he says, are a nice way to relax.
"I don't think I live with [anxiety] on a daily basis, but there are stressful moments when you can feel it come on your body and it's hard to cope with," Steve said. "Talking to a friend or a professional is also a positive [outlet] if you can find someone to talk to."
When all else fails, putting a pen to paper and writing about the things that trouble him has helped him – as well as countless other fans – who tune in to iTunes or Spotify for a listen.
The Steve Rondo Band is in the midst of a summer tour, featuring stops in New York (July 30), Nantucket Island (Aug. 3-5), as well as Salisbury Beach Stage on the North Shore of Massachusetts for 92.5 FM The River's "Riverfest" on Saturday, Aug. 26. The band will then step into the studio this fall to record their first album. There's a momentum building behind the music and Steve believes they have what it takes to go all the way.
"I've heard Brandi [Carlile] talk about embracing the whole journey and I really hope that is happening for us," he said. "I'm not a big planner, but there are certain things I want to check off. Three or four years ago, Levitate was one of those things. Now I'm not in a rush, because sooner isn't always better. So I'll take it however and whenever it comes."