As the 2023 NFL season kicks off this September, Patricia Akins has vowed to take a renewed interest. "I love football," said the long-time resident of Massachusetts, who spent years helping pioneer the Old Rochester Youth Football program in Mattapoisett. "It's just such a violent game though. If I knew now what I knew then, I don't think I'd have had my kids out there playing."
A New England Patriots fan, Akins speaks longingly of seeing the "football genius" of Tom Brady on display each and every Sunday. As the Pats have struggled to maintain their dynastic greatness in the post-Brady era, Akins admits her interest has waned.
But this fall, she believes that will change – because Akins has begun selling her personally-crafted CBD brand, Namessentials Magikal Healing, to nearly a dozen NFL players.
"I'm very proud," she said. "I'd like [the players] to advertise, but they can't because of their contracts. That's OK. I'm happy it's evolved into this, even if it is in a backdoor way."
Pride in the Cannabis profession is something that has taken years for Patricia to develop – needing to deprogram from the stigma that has surrounded the plant during her 59 years of life.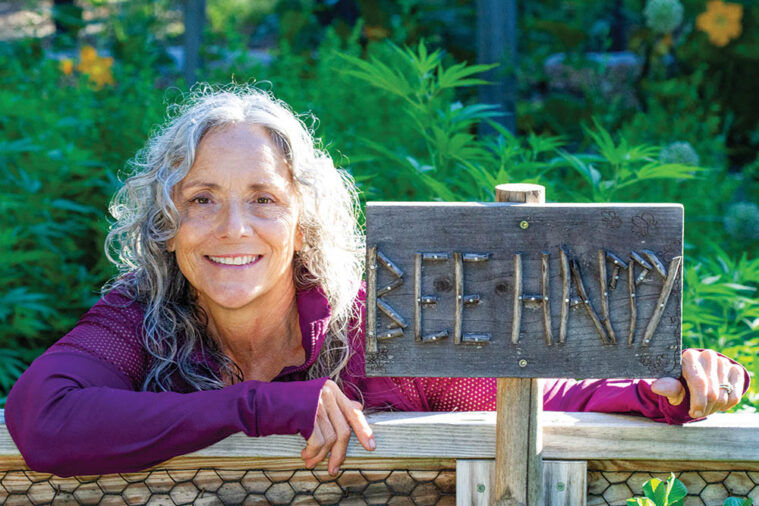 "I am a long-haired hippie yoga teacher," she said with a hearty laugh. "It just felt very stereotypical. So I used to hesitate before announcing I was a Cannabis salve maker. But now it's becoming a little more pharmaceutically-accepted, instead of just being 'pot.'"
Whereas cultivating her whole plant medicine takes only a season to harvest, unpacking the juxtaposition between a whimsical '70s childhood and the "JUST SAY NO!" anti-drug campaigns of the '80s and '90s has been a challenge.
"When I was a young person, I was probably a major pothead," she said. "But when I had kids, I decided to stop smoking marijuana."
A mother to three boys and a girl, Patricia's adherence towards a Cannabis-free lifestyle was tested by her son, Ethan, in 2011. Ethan began privately using Cannabis in high school to lessen the impact of his ADHD, which helped him maintain a high GPA while moonlighting as a multi-sport athlete. During his senior year, Ethan shared his secret with his mother – showcasing the benefits of Cannabis through a school project.
"I said, 'Sure, you just want to get stoned!'" laughed Patricia. "But no, he really went to a few different libraries and brought home a bunch of books proving there were medical benefits to Cannabis consumption."
Patricia, a licensed yoga therapist, had long believed her physical practice would not only identify, but correct the imbalances of her clients. Ethan's contention was that Cannabis followed that same path, working from the inside out. The plant, he proved, shared a unique bond with the human endocannabinoid system.
"How could I argue with that?" she asked.
A dozen years later, Ethan can be found in the fields helping his mother and father, Watie, grow hemp cultivars. There, they are joined by the rest of the Akins' family – sons William and Isaak and daughter Mya, who recently joined the team to assist with marketing.
"In a sense, it's a spiritual center," Patricia said of her Wareham-based farm. "I don't have a yoga studio, but I do host classes three times per week and most people who attend use my products."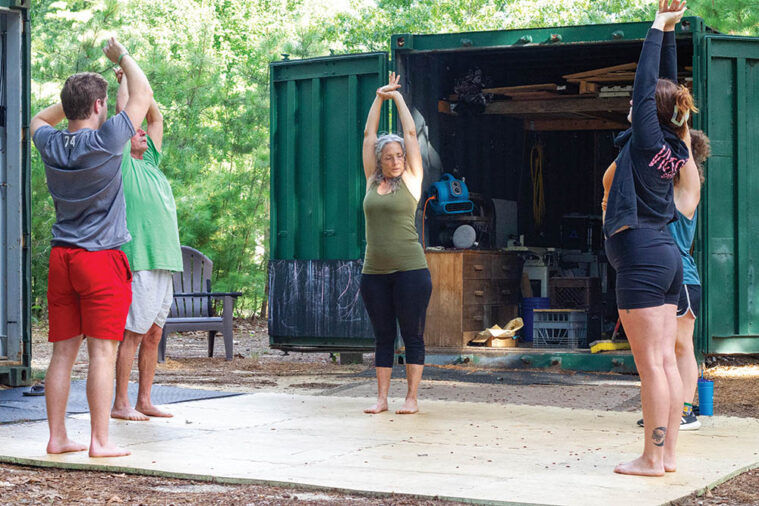 Patricia began her yoga tutelage working with a group of seniors at the local Council on Aging, before adding high school and college athletes with a modified training session she calls Sport Yoga. In Sport Yoga, she designed a methodology that combines traditional yoga poses with modern-day functional weight training. She has been practicing for nearly a quarter century and still loves getting on the mat with her students.
"Age is really a state of mind," said Patricia, whose clientele has ranged from 8 to 108 during her time teaching. "I remember when I first started [at Council on Aging] – it was right across the street from my kids' school, so I thought I'd do 30 hours of community service and it'd be boring. But as I began teaching these 80-year-old women, they were challenging me!"

When she's not on her yoga mat, Patricia prefers to stay active, riding her mountain bike or skiing in northern New England. But it was there on the slopes that Patricia encountered a life-changing injury – one that requires a daily application of her CBD salves.
"I broke my hip when I was 45," said Patricia, who has written three books, including 'Chair Stretch Yoga.' "It took 12 weeks before I could even put weight on it, and a full year to recover from. It's a lingering thing that I have to chronically take care of – do the right stretching, put some salve on it, or it will remind me of it quickly."
A licensed hemp farmer since 2017, Patricia oversees roughly 60 plants on two farms. This summer, she downsized to one farm in Wareham after 90 percent of her yield was stolen from the main field.
"We have enough to sustain right now," she said. "But if I do get picked up by multiple dispensaries, I'll have to re-assess. I'll either need to grow big or not. There's only one me and I do a lot."
She is currently writing her fourth book: "The Art of Cooking Cannabis" – which will take readers into ways of decarbing Cannabis and providing recipes, as well as the science behind the plant. Some of the concepts have been touched upon on her website, Namessential.com. Understanding how busy life has become, Patricia was very grateful for the addition of her family to the business.
"I would love to have [Namessentials Magikal Healingj be everywhere," she said. "It's a small family business and we're working for it to be in dispensaries [across the state]."
CBD, in particular, is something she'd like to see become more mainstream. The proof, she says, is in the pudding – as so many of her clients, young and old, continue to benefit.
"It should be made more available to the public," she said, noting minimal side effects. "If you take CBD and it doesn't work, it just doesn't work. But you can walk into any liquor store in the state just to take a shot [of alcohol] to help with anxiety and pain – and people do that every day. You should be able to do the same with CBD gummies and drinks."
Due to her licensure as a hemp grower and producer, Patricia cannot legally produce any food products due to FDA regulations. She hopes in time the laws will match the medical research that validates the phytocannabinoid.
"I'd like to be one of the pioneers to make CBD more available," she said. "Just without all the silly regulations."
Web & Social: namessential.com | @SportsYogaLady | @namessential