"This is where the story begins," said Omar Herrera, founder and sole proprietor of Beach Boyz Budz and the Rockaway Beach Ocean Grown Club. He had just picked me up at the Rockaway Beach Pier on Jamaica Bay in New York City. I had taken the 45-minute trip from Manhattan on a ferry filled with young beachgoers ready to hit the sand on one of the first nice days of summer.
Until the end of last year, many that got off would make a stop at Omar's converted school bus, brightly decorated in Rastafarian colors, to purchase Cannabis. "We were parked here by the ferry every day, nine to nine, that was the schedule," said Omar. "And the people just loved us. The ferry crowd would come out and the first thing they would do is stop at the truck and they would buy our art and we would share our Cannabis with them."
It was this loophole of selling art and gifting Cannabis that Omar hoped would keep him out of trouble. It didn't.
In December 2022, the police descended on Omar's truck and he was arrested. "It was like a fucking SWAT team, like 15 cars," he recalled. "They wanted to make an example out of me. Absolutely. They made my life a living hell but I'm still here."
The story received a tremendous amount of publicity, including from the New York Post, which gave coverage to the fact that Omar was facing felony possession and distribution charges. A few months later in April 2023, the charges were reduced to disorderly conduct – but as part of the deal, he had to give up his truck. Omar did not, however, give up his dream. It just had to be re-imagined.
"As soon as I was arrested, the following day I was back at it – I didn't stop. I couldn't afford to stop," said Omar. "The arrest really impacted my home a lot – you're all over the news, you're all over social media, people are talking about you – this is a small town, everybody knows me. And the people that didn't know me before, after the stories in the papers came out, they knew who I was. I didn't have to advertise that I was a source to get Cannabis, [the media] did it for me!"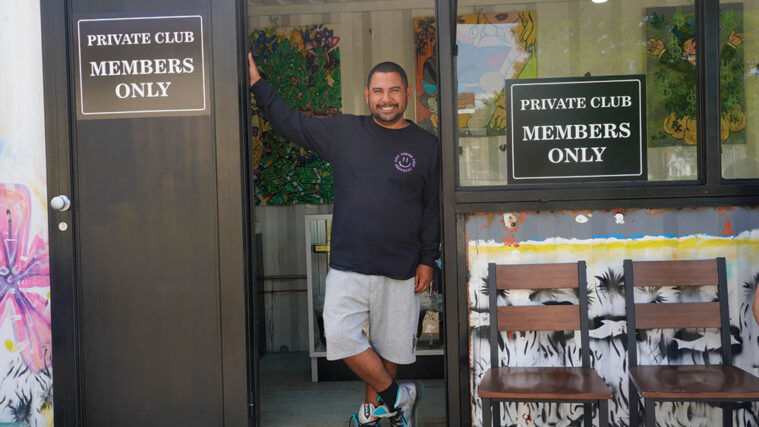 Luckily, Omar also knew of an empty shipping container sitting on a side street that was available to rent – the perfect place to set up shop again. It also didn't hurt that it was located right next to a popular local microbrewery. "The location reminds me a little bit of Williamsburg because you have the old factories and warehouses," he explained. "Over here it's a little bit more discreet. But we got to do things a little bit different this time."
This time around, instead of selling art and gifting Cannabis, Omar's latest venture – Rockaway Beach Ocean Grown Club – is based on a membership model. Walk past the picnic tables set up on the sidewalk, and one of the first things you see on a glass counter as you enter the refurbished container is their membership contract.
"As soon as they come in I make them sign up," said Omar. "I need to see their ID, 21 and over only." Twenty-five dollars a year grants you entry to the club and Omar said there are now over 100 members. The contract makes clear that the only thing for sale at the club is a product he is marketing called Grower's Grinds, a coffee grounds-based nutrient for Cannabis plants @growers_grinds.
"In practice, the club provides a safe and legal space for Cannabis enthusiasts to connect and engage with like-minded individuals fostering a supportive community," said Omar. "The neighbors are happy that something's going on with the shipping container, because it's been just sitting here empty for years. I'm still midway in construction but summer is here, not waiting for me, so I have to be up and going up – I have to be here every day now."
During my time with Omar sitting at a picnic bench in front of his club, I saw people drive by shouting cheerful greetings in our direction and one police car cruise by uneventfully – all the while members swung by to hang out.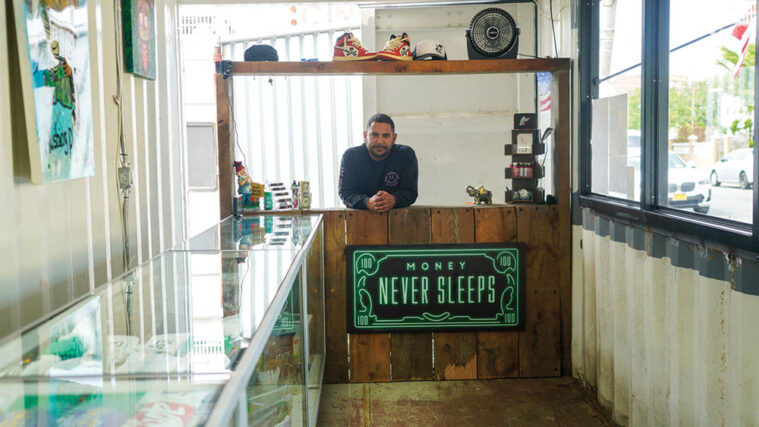 The Beach Boyz Budz brand name that launched Omar's magic school bus will be coming back "when the time is right," said Omar. "Now the timing is just easing back into what we left. People are happy that we're here, people that followed us for the bus. We have loyal members."
Omar is on the front lines of Cannabis legalization, pushing the boundaries of the movement like a man on a mission. In a befitting alignment of the stars, his birthday is on April 20. And having been born on 420 only furthers belief in his destiny.
"I'm going to continue to do my part in the Cannabis industry and to get licensed. That's my ultimate goal," said Omar. "It's not easy for us, and when I say 'US' – I mean minorities. It's just how it is, you know? And I'm not going to be pushed away. Politicians want to go up against me, no problem. I've been fighting all my life. This is nothing new. Now I'm more of an activist. I feel like that's what I need to do because there's other people just like me that need a voice. I want to get my story out."
And will he ever get another bus? "I would love to have another bus," said Omar, "but that bus is going to be a promotional tool. It's not going to be what it was, it's never going to be what it was and I'm OK with that. I accepted that. I'm in a new chapter."