The revitalization of New York State is underway and Cannabis is the key. Learn how urbanXtracts is forging a path towards a greener future in the Empire State.
Coming from Manhattan, urbanXtracts is just an hour or so up the Palisades Parkway along the mighty Hudson River. You know you're getting close when you see two copper-topped grain silos poking out above the trees. Less than four years ago, those silos and the surrounding buildings were in a state of disrepair, and the town of Warwick was looking for an industry to replace the recently decommissioned prison system, which had been its primary source of income and employment for nearly a century.
The first "urban extracts" to come to Warwick were underprivileged and troubled youth who came up from New York City in the 1930s to experience and learn from life working on a farm. It is the legacy of that initiative by Eleanor Roosevelt almost 100 years ago (including the grain silos!) that is now part of the founding story of urbanXtracts, a company that is among the first seed-to-market growers and processors of hemp in New York State.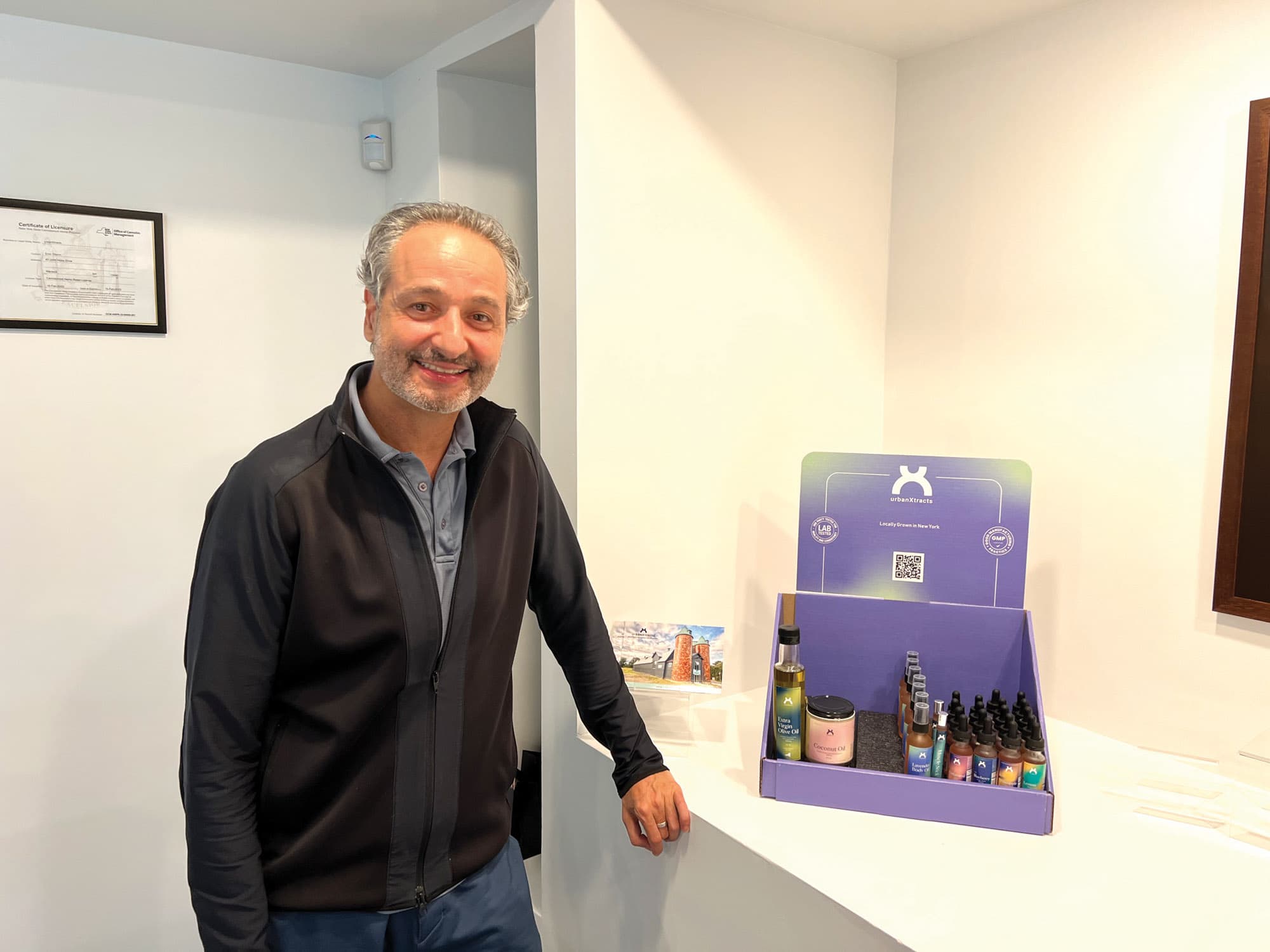 CEO and founder Eran Sherin said, "It was the town's initiative to revitalize and create new economic opportunities here and find the right industry that has a future to it, and hemp became that initiative." In 2018, Sherin's was among the first companies to put down roots here, and for good reason.
"If you want to get into farming, you want to have good soil," Sherin explained, "and some of the best soil in the world is right here in Orange County and it's black dirt." There are approximately 26,000 acres of this soil here in what is known as the Black Dirt Region, and it is so unique that it's actually illegal to remove and sell. And it is this soil that makes the hemp grown by farmers here so special.
Sherin said that for the last four years they've been building an ecosystem of a supply chain. "Grow, process, develop, market," said Sherin. "And in that ecosystem, we try to be a company that sits on the infrastructure level – so we don't grow ourselves, we empower farmers to grow by supplying them with genetics that are proven, and we can further downstream them into products and capitalize on that."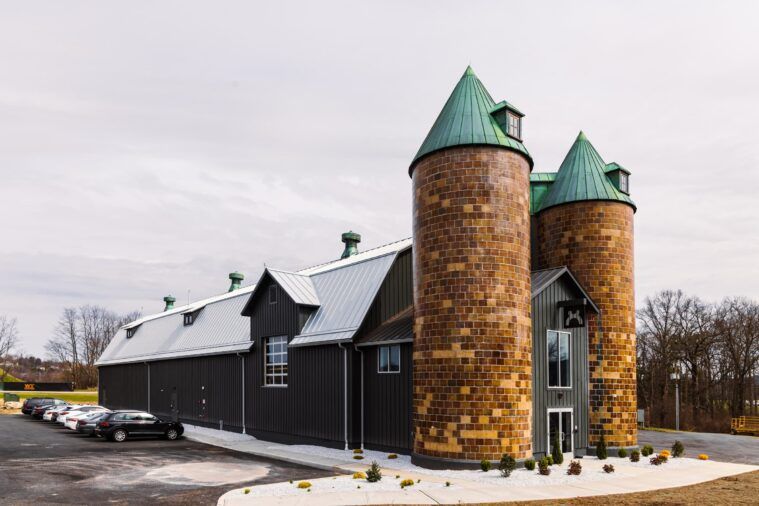 Among a number of framed OCM (Office of Cannabis Management) certificates on a wall near their sample store display is the first-ever license awarded by the State of New York for the production of food and beverage products with hemp extracts. "That is the uniqueness of the hemp program that we have," said Sherin. "The core aspect of the whole process from turning flower into end-products is the extraction process. We've always seen it as a craft and we've always wanted it to be a craft."
The master craftsman at the extraction helm is Jonathan DeMart, Director of Operations. DeMart started working with Cannabis in Colorado and realized he needed further education. "I got a degree in biotechnology, cell biology, I did some research in organic chemistry, and in the process I learned about laboratory facility design," said DeMart. "I saw that as being the main focus of how this was going to move on. There's going to be big grows getting built, there's going to be extraction labs getting built – how do I figure out how to do this safely and on a scale that would match something at a university level?" DeMart then returned to Denver. "I regrouped with a bunch of those same people and here we are 10 years later," said DeMart. "I can't believe it!"
For urbanXtracts, DeMart said, "We decided to go with ethanol extraction because of the necessary throughput. We've got 100 acres we did one year, and that's just so much biomass! We are also fully scaling up a water extraction process to go all the way through to live rosin. We're preparing to navigate for what will be the most stringent regulatory framework for processing and manufacturing in the whole country."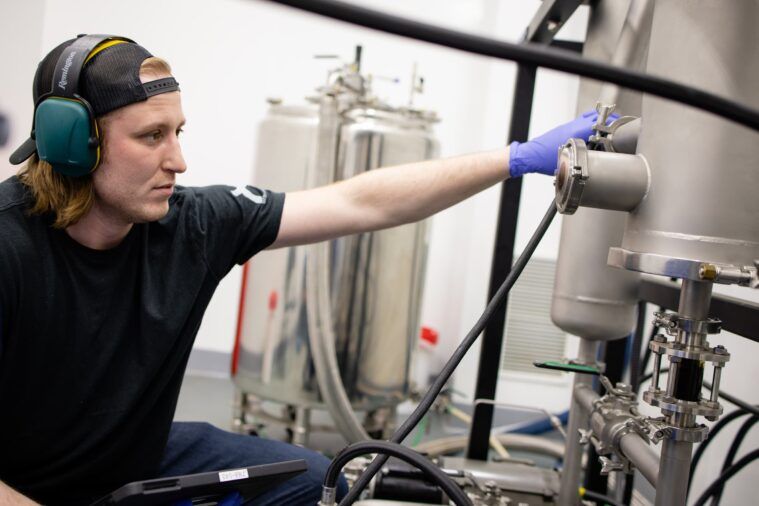 On a tour of their facilities we walked down a hallway with lab rooms on either side. "Each lab room has a different objective," said Sherin. "Like this one's our Kosher room, where we make all of our Kosher products." Steve Bate, Vice President of Business Development and a member of the International Jewish Cannabis Association, noted, "That's the highest certification you can get." It also means inspections by a rabbi several times a year. Other lab rooms support both entrepreneurs and large companies in the development of new products like a transdermal CBD product for animals and new types of gummy edibles.
For now, farmers working with urbanXtracts grow two strains of genetics – Tangerine and New York Royale – that are compliant with New York's hemp program. But the elephant in the room is the looming Cannabis certifications.
"We're ready to move forward as things change," said DeMart.
"One of the things that's critical for this industry to be successful is education," said Sherin. To that end they have been building relationships with SUNY (State University of New York) Orange and developing internship and educational programs around cultivation, extraction and retail.
"My point to the people at the university," said Bates, "is look, you're talking about fifty thousand jobs in just three years in the Hudson Valley, and we are creating the curriculum right here."
"I see those silos as the keystone now when this becomes the Silicon Valley of Cannabis," said Bates, whose words were supported by the sounds of Cannabis businesses under construction on different lots nearby. Thinking back to a time when he met with the heads of the communities in the region, Bates recalled, "They said Steve, there's not anybody in the community that's not for what you're doing."
**urbanXtracts sells a variety of CBD products online including Premium Tinctures & Topicals; Cooking Oils; Bath Essentials; and, coming soon, Gummies. Order at urbanXtracts.com**