"We don't do it for the clout, we do it for the culture!"
It's the Happy Munkey battle cry, a celebratory cheer and mission statement for a vision that has taken co-founders Ramon Reyes and Vladimir Bautista into the limelight as Cannabis entrepreneurs. 
Happy Munkey calls itself a Cannabis lifestyle company and they recently scored their biggest achievement yet: hosting two Cannabis-friendly evenings in Manhattan for a major multimedia experience called Immersive Van Gogh. The events, held in August, were widely publicized, covered by the mainstream media, attended by over 900 people paying from $125 to $200 per ticket, and thanks to New York State's Cannabis laws – considered the most progressive in the country right now – pretty much legal!
"Immersive Van Gogh was the most mainstream event we've ever done," said Ramon, who is also Happy Munkey's Chief Strategy Officer. "The underground art scene has always embraced Cannabis, it's always gone together, but for the mainstream high end art world to embrace it publicly, that's big!" Vlad, who serves as CEO, said, "It changed the perspective totally, and what happens in New York is not just going to change the city and state, but it's going to change the country and the world!"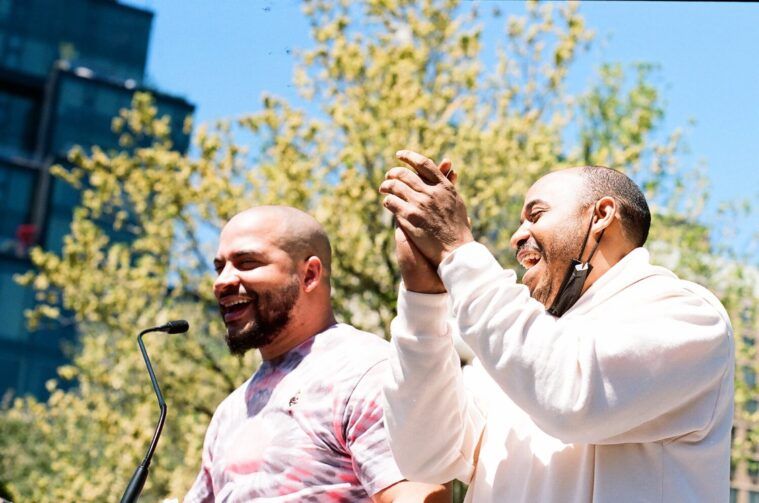 Ramon and Vlad, both first-generation Americans whose families came from the Dominican Republic, met at George Washington High School in Washington Heights. Ramon took me to his childhood home in the heart of The Heights, where the genesis of their company began. "This is my first little Happy Munkey experience right here," said Ramon, sitting across from me at his mother's dining room table. "My parents would leave for the DR and I would hang out with my friends right here and we would smoke weed."
But it was a trip to the 'coffeeshops' of Amsterdam that gave Ramon a road map for a new business back in the city. "I was like, oh yeah, we need that shit back home!" Ramon remarked. In 2017, Ramon created the Happy Munkey brand name. "I guess Happy Munkey's been like my spirit animal," he said. "I've always been into monkeys. I just said I'm going to make up an Instagram name and it's going to be about weed and the culture, and it turned into me wanting to have an event, because I had already been bothering Vladimir for a year."
On September 15, 2017, Ramon and Vlad hosted their first Happy Munkey event. "It was the first of its kind," said Ramon. "I modeled it as an Amsterdam café, New York nightlife, VIP style underground speakeasy." Held at a recording studio/event space in Hell's Kitchen, that first event was an enormous success. "I was expecting maybe 100 people, not more," said Ramon. "But a lot of people came unexpectedly, anywhere from 200-400 people came that day … people were curious! This is New York, nobody's ever seen a dispensary here! Me being able to bring that spark here of the Amsterdam café, that was the thing for me, everything else was bonus."
And it was only the beginning!
"We started (hosting events) once a month, it went great," said Vlad. "Then once a week, then seven days a week. And then we trademarked and patented the brand and went into podcasts, magazines, merchandise, and apparel. It became a movement! Before us, I don't think New York had representation or a voice for the world to see how the culture and the industry is different here … people from other places could tap into us and get an idea of how the Cannabis culture works here."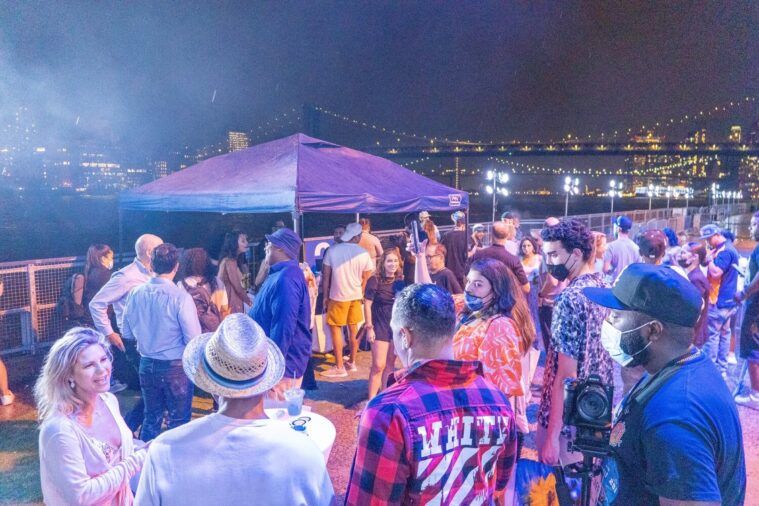 Vlad also explained the meaning behind their slogan: We don't do it for the clout, we do it for the culture. "Nowadays people do things for clout, for attention – that was never our intention. Our intention is for the culture, to be the voice and the heart for the culture here in New York, and be a voice for them."
When Cannabis was legalized in New York earlier this year, Happy Munkey emerged from the shadows to host a 4/20 party right across from the New York Stock Exchange at Bobby Van's Steakhouse. "When you think about it," said Vlad, "doing a Cannabis event across the street from the stock exchange where they used to sell slaves, and to have politicians, doctors, lawyers, every walk of life, athletes, actors, smoking publicly – you can see the liberation and the freedom that people feel coming out of the Cannabis closet. People always assumed before now that Cannabis was for urban people and hippies, and now you see people smoking publicly. It changed the narrative and perspective and the stigma to see that this is a part of mainstream society right now, not like a taboo thing."
Both Vlad and Ramon have over two decades "in the game" and those years have not come without a price. "It was tough," said Vlad. "They (police) used Cannabis to target and persecute neighborhoods like this, we thought it was normal growing up when we were consuming Cannabis, for everyone to get arrested at least one, two, three times a year." Ramon told me he had been arrested 10 or 12 times on one block alone for consuming Cannabis, and that doesn't count the five years probation and busts for one and two pounds of weed. "Breaking down the doors is always a good thing," he said. "It's always hard to be the first people to do anything. Equity hits home for real!"
On March 31, 2021, former Governor Andrew Cuomo signed the Marihuana Regulation & Taxation Act (MRTA) legalizing adult-use Cannabis in New York State and, according to the newly formed Office of Cannabis Management, "A major focus of the MRTA is social and economic equity. The MRTA incentivizes participation in the new industry for individuals disproportionately impacted by Cannabis prohibition."
Going forward in the legal market will present new challenges for Happy Munkey. "Now we have to move forward and focus more on the legal market that's being rolled out here in New York," said Vlad. "We want to make sure we play a major role in it and make sure we have a seat at the table. Not just for ourselves but for the culture, for the people of color and marginalized people like us that don't come with the billion dollar market cap. We have to make sure we have entry points for other people from the legacy markets, small businesses – people that don't have the advantages."
Vlad and Ramon are now awaiting the formation of New York's Cannabis Control Board, which will establish the rules and regulations surrounding Cannabis legalization and the granting of licenses – including the Adult-Use On-Site Consumption License – a logical choice for Happy Munkey. "Nobody knows what licenses are going to come out first, so that's still kind of up in the air … I wouldn't want to predict anything as far as that goes," said Ramon.
One thing that has remained consistent throughout Vlad and Ramon's journey is their love of Cannabis. Vlad was named after Vladimir Lenin, a political revolutionary, by his father who escaped persecution in the DR in the 1960s. "But I'm a Cannabis revolutionary," said Vlad. "I think it saved my life. If it wasn't for the plant and me being able to use it to maintain myself the last 22 years, who knows where I would be. I might not have had the opportunity to make a positive impact on society, to be something proud for my neighborhood, for my people, for my parents. I believe that when it's fully accessible to the world, it's going to make the world a whole better place in every aspect."
"I think the whole idea of the plant is what drives Happy Munkey," said Ramon. "Happy Munkey is the plant, I feel like we coincide together because it's the great equalizer. No matter what walk of life, race, age, gender, your preference of sex, it does not matter – if you love Cannabis, you love Happy Munkey!"