The First Coffee and Cannabis Shop on the East Coast
Higher Grounds opened in 2017 as a coffee shop and CBD product apothecary, offering locally-produced CBD goods and locally-roasted coffees. Three years later, Owner Mark Barnett received their Maine Medical Caregivers license and added medical Cannabis to the coffee shop, opening their new medical dispensary on April 20, 2021.
Higher Grounds is located on 45 Wharf Street, a cobblestone road that doesn't allow any vehicles in the Old Port and Art District area of Portland. A beautiful mural on the wall includes the logo of the business within the image by a local artist, and the smell of freshly-ground coffee beans and tea fills the air.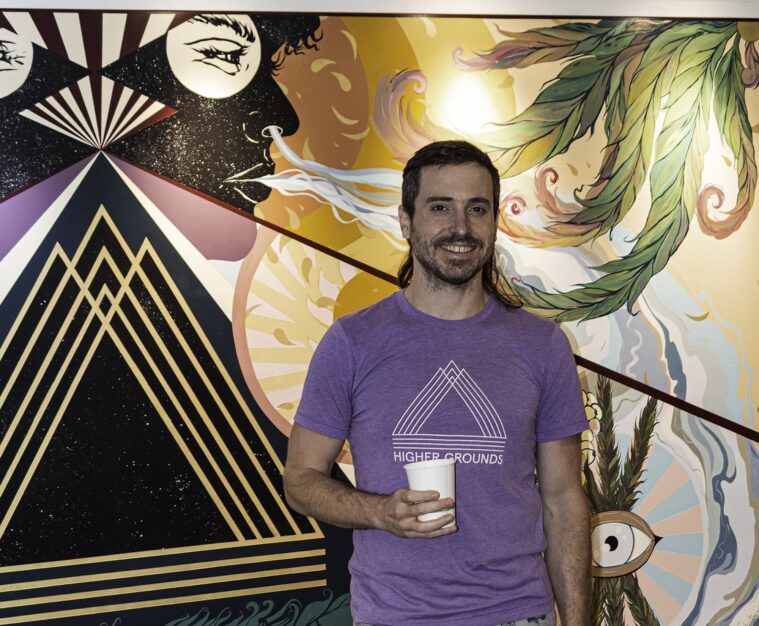 At the front counter, Barista "K" welcomed me with a warm smile – inquiring if I might like a beverage, or whether I was more interested in their medical dispensary area. With the September issue of Northeast Leaf still fresh on my mind, I asked what she might recommend for some "Tannins and Terpenes."
Barista "K" smiled as though she believed this was an easy question. "You might try some Yunnan black tea or turmeric chia, or maybe a cup of americano or cappuccino, or maybe an iced latte?" she proposed, gesturing to the beverage menu above the counter.
"As for the terpenes," she continued, "we have infused CBD products up front, and a wide range of locally-grown and produced Cannabis products in the back dispensary area – if you have a medical card." Pointing towards a refrigerator, she explained their selection of CBD-infused drinks and chocolate bars. "There are CBD oils, salves and other locally-produced CBD products … and nice choices of bagged coffees and teas beneath the counter."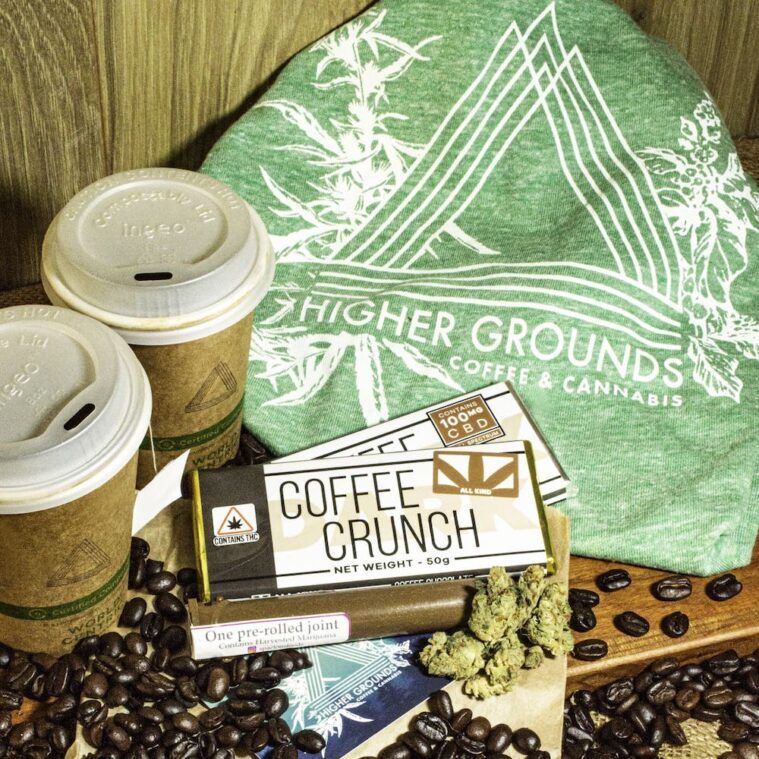 When it comes to the medical Cannabis products sold at Higher Grounds, they are top-notch examples of the small batch, craft expertise employed by the local farmers. It's these types of operations that bring jobs to the community, and prove that craft Cannabis has a market in Maine. This shop's commitment to keeping things local is furthered by Barnett serving as the executive chair of the Maine Craft Cannabis Association (MCCA), and his passionate advocacy for small businesses in general. The MCCA has even joined forces with other organizations – Legalize Maine, Compassionate Caregivers of Maine and Allied Small Maine Cannabis Businesses – to form a coalition working with counties and municipalities to promote common sense regulations for craft Cannabis in the state.