Hashatron has changed the Cannabis scene in Connecticut by designing and manufacturing their own custom-built extraction equipment, tailored just for dispensaries and processors who are making solventless concentrates across the country. We visited their impressive shop and got to tour one of their state-of-the-art solventless extraction processing units, and caught up with their Technical Advisor Sean Crawly, Director of Sales and Fabrication Brian Pracon and Owner John Digertt.
How long did the design process take before you released Hashatron to the market?
It took over two years to fully develop the Rolling Skid. We prototyped in Rhode Island for proof of concept. We started at the bottom of the barrel. John saw the prototype and instantly could see where I was falling short with things. I needed things to be custom for this specific process. So John, Brian, and I started to spend some time together to discuss exactly what was needed and what would work. Obviously, there is always trial and error, but for the most part, John and Brian could make my ideas real and even better than I could see them as an idea.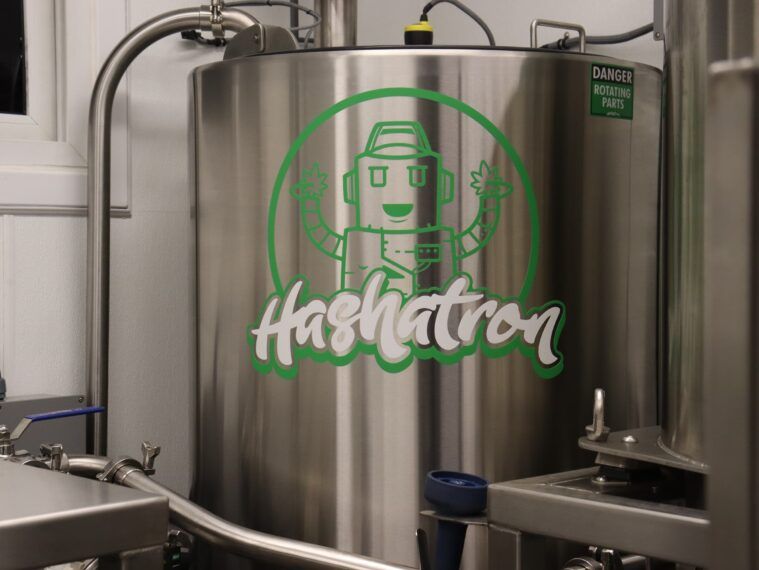 Can you give us some information on how this unit works and if there are different variations or sizes?
The unit washes biomass of up to 10,000 wet grams of loose unbagged material. It also contains a self-contained wash station directly underneath the vessel, which allows the user to never really need to pick up any water – the most labor-intensive part of the hash-making process besides paddling. Also, another intense process is cleaning up. If you really look hard at the components of the Hashatron, they're all designed to be cleaned to the sanitary specifications of a commercial kitchen.
How important do you feel this type of product could be for the future of recreational Cannabis dispensaries?
This piece of equipment is going to be utilized in areas where solvent extraction methods are not zoned for. Such as facilities that have strict fire building codes. The wave of solventless is just starting to hit the East Coast. So the demand for this machine is still really on the West Coast and Canada, and possibly South America. We've produced a number of smaller craft series washers for people on the East Coast and the word is spreading like wildfire. We look to solve any of your custom needs. For example, the Slater Center needed plant carts for moving the plants down tight alleyways. So, John and Brian built custom ones that hold way more plants and are much more commercial. The ability for the Hashatron crew to customize anything within the industry makes this contact priceless.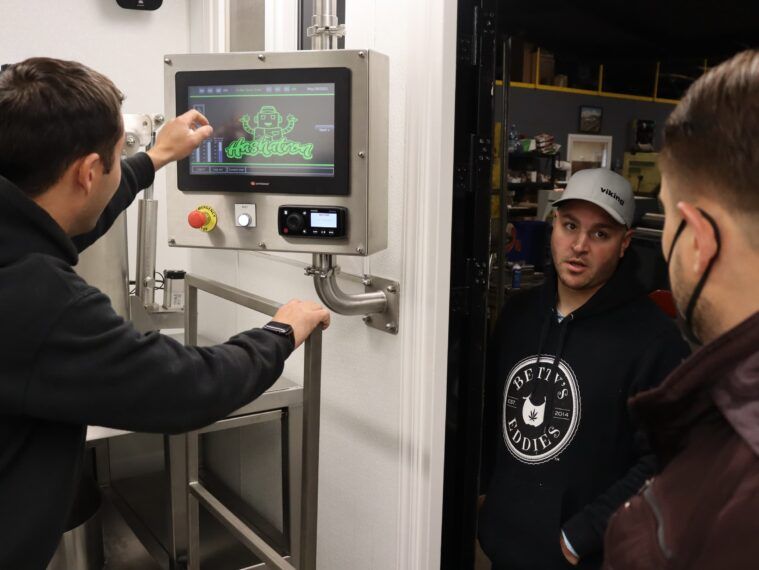 What you're doing is cutting edge for Connecticut. What's your view on their current Cannabis regulations and prediction for the future?
It is going to go federally legal within the next few years. So, at that point, it becomes a tech race in the industry. We believe that the Hashatron is ahead of the curve, but the industry is certainly seeing the demand for this style wash. As more companies start to build out bigger washing vessels for more production, they all seem to have one thing in common: They're only addressing one of the issues of manual labor. That has to do with flipping the material in the washer. What about physically moving all that water around? And then let's talk about the heavy saturated material inside the vessel that you then have to remove. Now you can see that other companies are addressing the paddling labor, but not the actual labor of moving that material and water around. Needless to say, we believe that we've addressed a lot of physical requirements of hash making. A person that can't lift 25-30 pounds over their head can still make high-quality solventless hash with this piece of equipment.