Before Lou Pino became a modern-day Johnny Appleseed for the Cannabis community, he was an Army Reconnaissance Cavalry Scout. "I trained recruits for recon, how to walk in the field, avoiding traps, and not skylining," said Pino.
Skylining, he explained, is "walking where your silhouette is on top of a hill. You can pick somebody out very easily, you know, dangerous actions!" You might say Lou is skylining now, as the momentum of legalization around the country is bringing Cannabis entrepreneurs out of the shadows. Lou's daytime job is Cultivation Director growing hemp for Wepa Farms in Connecticut, but he is most well-known for being Founder and Owner of Gene Traders – running discretely-held pop-up events where you can buy the latest Cannabis seeds and clones from some of the top breeders in the country.
His first event five years ago featured 18 vendors and 120 attendees. This year, at the end of May, Lou hosted an event in New York City with only three weeks of planning and estimated that 700-800 people passed through! He only had 16 vendors due to space restrictions, but as he said, "I sold out of sponsorships in two hours. I sold out of VIP passes in two days. There were like 30 vendors on the waiting list!"
Lou was born in Puerto Rico and from the age of seven, lived in Brooklyn, New Jersey, Texas and Connecticut, before joining the Army – where he served for seven years and left as a Specialist with a knowledge of soldiering, computer mainframes and security networks. But a connection to Cannabis, which started at 15 with two puffs and a tumble off of a boulder, became a vein that is guiding his life.
Cannabis relieved the symptoms from his experiences in the Army and Lou became a card-carrying medical marijuana patient in Connecticut, where he had worked as a promotions director for four different radio stations – running events both big and small. The smallest was a corporate event with 10 people; the largest was the Puerto Rican Day Parade in Bridgeport, with 107,000 people.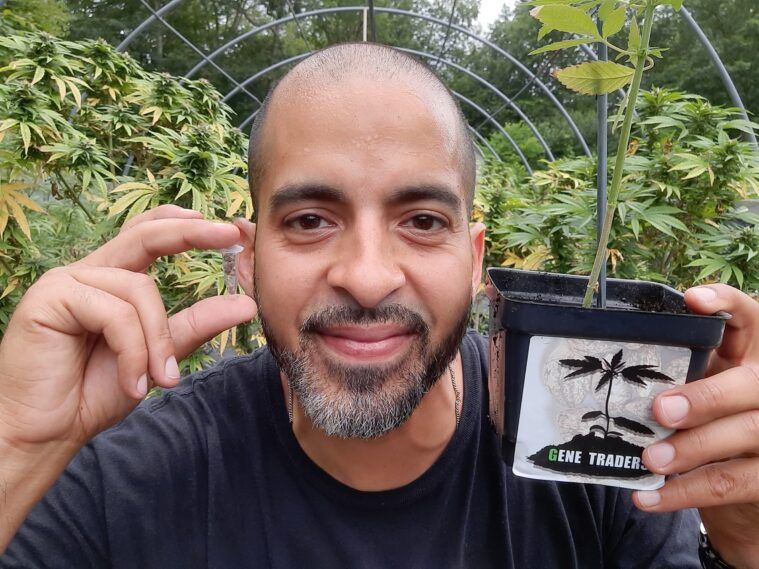 Connecticut had medical marijuana reciprocity with Rhode Island and on one of his visits there to get his medicine, he met up with a man called The Farmacist at a recording studio. The Farmacist needed help running a weekend festival called Cannabis Allstars. "It was the first real Cannabis competition in the Northeast and even on the East Coast," said Lou, who became the event producer of Cannabis Allstars for the next four years.
At that time Lou described the process of procuring Cannabis seeds to grow medicine as one of long travel, expense and risk. "I knew other medical patients that needed different types and were buying different strains," said Lou. "So I asked a guy I knew at an underground seedbank, 'Have you ever thought about putting a seed event together?' and he said, 'No.' He liked to keep a low profile like a lot on the cultivation and breeding side of the industry. They're very shy people."
Lou thought about it for a few days and said, "You know what, I'm going to put on an event and see what happens. It turned out to be a huge success and people were like, 'Oh man, I can't believe I was able to do this!' They were just so excited that they were able to talk to somebody that they were getting a clone from and get advice."
Then came the pandemic. "It was scary – we didn't know what we were dealing with," said Lou. "I have a cousin that works as a lieutenant in the FDNY and he told me, 'We're picking up bodies all over the place.' And we started looking at dealing with events and how to do this safely."
Then Lou started hearing from past event sponsors and attendees. "They were saying that a lot of people are hitting them up about genetics so they can cultivate at home. So they don't have to go out anywhere. So they wouldn't have to worry about having their medicine for their kids dealing with epilepsy. Or their own medicine, dealing with anxiety, PTSD or pain management."
"We realized that being event planners, we know how to follow procedure," said Lou. "And we're going to continue to follow CDC guidelines and continue to make sure that everyone's safe." Gene Traders held four events last year and this year they expanded into Michigan and Virginia, and are looking at Oklahoma and somewhere out west as well.
"Moving forward we want to continue with our trade shows," said Lou, "but we're also going to end up providing not just seeds of different breeders, but also clones, and we're calling it GT Selects (Gene Traders Selects)." GT Selects, Lou said, "is going to set up hubs in different parts of the country, where you'll be able to walk in and pick out a variety of genetics either in seed or in clone form." The reason people have gone and will continue to go to the events is "to see what's new, what's coming out and meet the guy that bred your favorite strain."
Lou says demand will continue to grow for genetics and events like Gene Traders "because some dispensary offerings suck and people can grow much better products on their own. We're always on the side of home growers and caregivers. No matter what, we want to make sure that everyone from the closet grower to the big warehouse grower all get access to great genetics and advice."