Gian and Bryanna Ranucci are the Rhode Island-born CBD entrepreneurs behind Blackstone Herbs & Coffee Bar. With several coffee shop-style businesses reminiscent of the finest cafes in Amsterdam, this husband and wife team is unstoppable.  
How long has Blackstone Herbs & Coffee Bar been established for and what do you offer?
Our Cumberland location has been open for over a year, and our Coventry location has been open for just about four months. We currently offer all farm-to-table CBD products – everything from gummies, tinctures, salves, beauty products, flower – we grow and much more. The unique thing about Blackstone is that we offer CBD in any drink on our menu, in 10mg increments for $1 apiece. At the shop you can find everything from specialty espressos, organic loose leaf teas, traditional iced coffee with rotating flavors, to lemonade and specialty matcha.
We also just received our liquor license in 2022 at our Coventry location, so we will be opening on nights and weekends expanding to a full liquor menu, as well as specialty espresso martinis and housemade cocktails and mocktails. Also, we have tons of food options ranging from donuts to sandwiches and everything in between. We strive on keeping our menus up to date and are always changing and adapting to weather, trends and holiday feels! Also, at both Blackstone locations you can find a wide variety of local entrepreneurs' products that are handcrafted in Rhode Island or Massachusetts. We love supporting local entrepreneurs in the area and are always looking for more options and products to carry in both locations.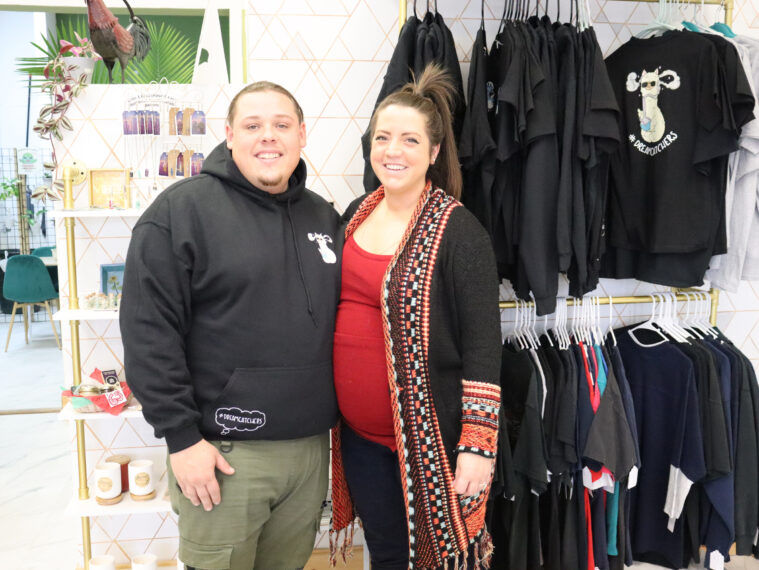 What's your background and how did you begin your career in the hemp and CBD industry?
My wife and I have always had a strong passion for the Cannabis industry. We moved to Colorado in the 'green rush' of 2013, where we began our journey working in dispensaries and industrial grow rooms – learning all the crafts from seed to sale. We then moved to California seeking more knowledge on the growing aspect and outdoor Cannabis farming. Shortly after that, we moved back to Rhode Island in 2019 and bought our farm in Dudley, Mass. We named it Dream Catcher Farm! From there it has been pedal to the metal, with our first outdoor crop in 2019 being a great learning experience growing hemp under a MDAR license. Regulations were not easy on us and it was very hard with neighbors and the community having so many bad thoughts against hemp and Cannabis. But we know the healing power of the Cannabis plant, so nothing was going to stop us!
How has Cannabis been a fixture in your life?
We've always believed in the healing power of Cannabis. My wife fractured her jaw when she was younger and once she found Cannabis, she finally found relief from the pain. I use CBD for anxiety and sleep, and many of our friends and family and colleagues use CBD for almost every ailment you can think of. We love sharing that knowledge with others and seeing it help and change their lives. Also, we've always loved the community and how it brings people together. Some of our best and oldest friends we've met through the Cannabis industry.
Are current state regulations making sense for hemp related businesses in Rhode Island?
It definitely depends town to town for the rules and what's accepted by the town administrators. Rhode Island has been more friendly to us than Massachusetts. They have lots of regulations with MDAR and edible products being prohibited, as well as the sale of raw hemp flower – which put a halt on us opening a CBD-infused coffeeshop in our home state. Which is definitely sad but we're a part of Massachusetts HEMP coalition and we are still trying to change the laws and get things to be pro farmer and pro small business.
Normalizing hemp and CBD is one of your goals, how does Blackstone educate the community on your products?
We're huge on educating people on how hemp can help their daily lives. We make sure our staff is trained to help with any questions and we're always encouraging people to try samples. Once you try our products you'll be back! And that's our main motto: "try it before you buy it" or "from our soil to your oil" – and that's a huge deal for us. We do not want people wondering what's in the CBD oil or where it's coming from. We encourage you to know where it's coming from – that's why we use very minimal ingredients in all of our products and everything that we make is from the hemp we grow organically on our farm.
Can you give insight on your future projects for the new year? What are your most popular menu items right now?
Our most popular items are our 2,000mg salve and tincture. The salve has a lot of naturally healing essential oils in the recipe like comfrey oil, lavender, shea butter, tea tree, and much more – so once you combine that with CBD it really is magic! And our tincture has simple ingredients, making it a very versatile product. You can just take it, add it to any beverage or even cook with it! And we promote that at both Blackstone's, offering it in any drink. As for future projects, we're always expanding our product line and looking to open more locations! With our love for food and quality cuisine, don't be surprised if you see us open a restaurant in the near future!
---
Address:
Blackstone/Coventry – 710 Centre of New England Blvd. Coventry, RI 02816
Blackstone/Cumberland – 3 Dexter St. Cumberland, RI 02864
blackstoneherbsandcoffeebar.com | @blackstoneherbsandcoffeebar