"Your vibe attracts your tribe!" It's the tagline for TribeTokes – a New York-based company with small beginnings, but fast becoming one of the most interesting and visible Cannabis brands in the Northeast. Co-founded by Degelis Tufts Pilla and Kymberly 'KymB' Byrnes, the company started out in 2017 marketing a single battery pen paired with a modest selection of CBD carts sourced from California. Today TribeTokes – with over 150 SKUs including a skin care line – exceeds $2 million in annual sales, has launched in the adult-use market of Massachusetts, is launching in New York State this August, and will be coming to New Jersey this fall!
It's an exciting time for TribeTokes and for KymB, whose title of Chief Marketing Officer is just one of the many hats she wears when speaking about her lifelong journey as a member of the Cannabis Tribe.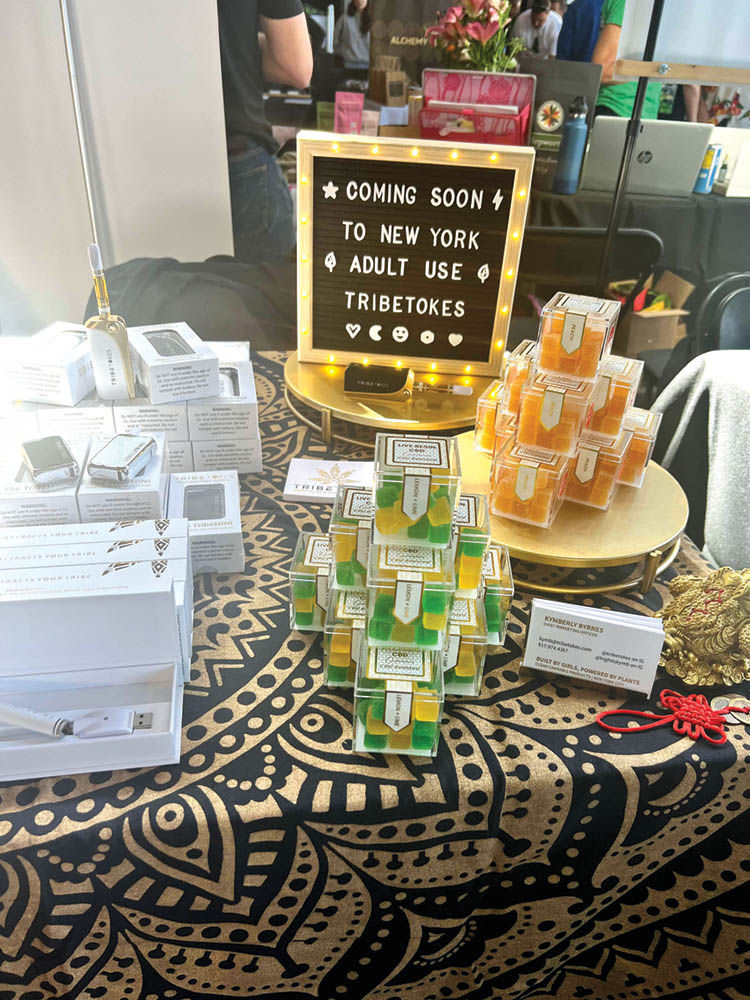 "I am a patient first and foremost," said KymB. "And I am a Cannabis activist and an advocate for being able to grow your own plant medicine." She is currently on the boards of the New York City Cannabis Parade & Rally and the New York State Home Grow Association, on the advisory board of the CWCBExpo (Cannabis World Congress & Business Exposition) and an ambassador for Women Grow. Those of you in New York City may remember her time as a vice president and community liaison with Cannagather – a monthly meet-up of the canna-curious – where she enthusiastically delivered the latest news with her "Cannabis With KymB" segment at each packed session! She rounds her work out with a ganja grand slam of sorts: running a Cannabis-friendly, four-bedroom Airbnb about 15 minutes from the National Baseball Hall of Fame in Cooperstown.
The spark of her love affair with the plant began at the age of 15. "I smoked my first bowl … and I was kind of like, not sure how I felt about it – but I knew that people wanted it, so I started selling it!" said KymB. "But 17 was the age when I really started to just get into it."
KymB defined herself during those years as a teenage runaway. "I moved around a lot, so my home was wherever I felt like running away to. I look back now and I'm like, Cannabis was my cure-all for everything."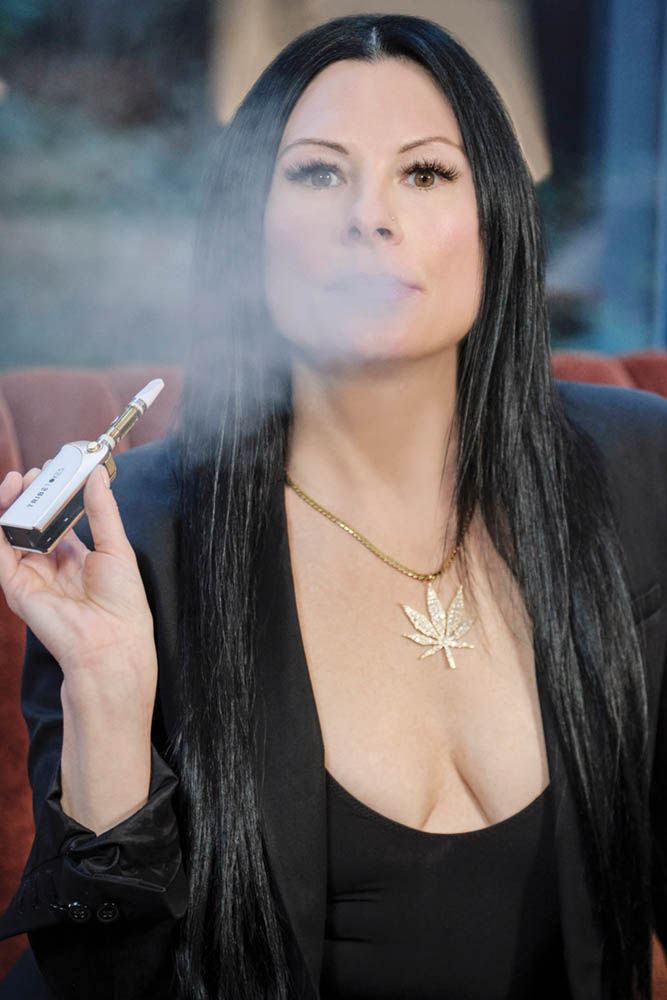 In her early 20s, KymB moved with her future ex-husband to Florida from Staten Island after 9/11 – where they ran into a problem. "We couldn't find good weed," she said, "so we decided to start growing some plants in our house." The internet was not what it is today, and she described the learning curve for their closet grow – including going to bookstores incognito (sunglasses, baseball caps) to buy books on growing by Ed Rosenthal. They got their genetics by making international calls to seed banks in Amsterdam, charging their orders to American Express.
While in Florida, KymB also ran several pilates studios and gyms. "I would get invited to our wealthy clients' houses and parties and I would always bring joints and everyone said that the weed was so good!" she reminisced. So good, in fact, that they bought a house and expanded the scale of their home grow. But plans changed when her father in New York became seriously ill. "I sold my business to go live Upstate and take care of my dad as a caregiver."
KymB and her husband moved into a house she owned prior to their marriage. "We turned the whole three-car garage into an indoor grow, and that's when things started to get exciting!" she shared enthusiastically, describing a period of time growing New York Sour Diesel and Sour Diesel for $600 an ounce. "That was it. That was all people wanted back then. We were selling it to our friends in the city because again, everybody wanted it at that point."
As her father's health declined, KymB saw how overmedicated he was by the doctors. "They just kept throwing stuff down his throat," she explained. "And so I started making brownies. At first I was like, 'I'm going to give my dad brownies because the opioids are constipating him and he's really uncomfortable.' But then I realized the brownies were helping me too! I could have taken my dad's opioids, I could have started drinking alcohol – but instead I found my way through Cannabis, which I'm so fucking grateful for!" KymB also happens to be a daily microdoser of psilocybin and a staunch advocate for the medicinal use of psychedelics.
But it was in 2013 – in the span of two weeks – that her father died and her husband left her. "It was really like the beginning," said KymB. "And it was an ending and beginning all in one. It was like the rebirth of Kymberly Byrnes!"
KymB moved back to New York City and took a job as Director of Pilates at an Equinox gym where, waiting in line for a smoothie one day, she met an older gentleman who would take her life in a new direction. "He turned around and said to me, 'I'm going to put some Cannabis in my smoothie' – and he took out this little tiny bottle and I was like, 'Whoa! Tell me about this!' It was CBD, and he was from California."
From there, KymB began "spreading the good word of CBD." As she put it, "I couldn't even talk enough about it. My customers and my pilates clients were sick and tired of hearing about this Cannabis that doesn't get you high. And I knew that this is what I was going to do with the rest of my life."
That older gentleman in the Equinox smoothie line also told her about a Cannabis group called Women Grow that met regularly at the law offices of Duane Morris, which specializes in Cannabis-related law. "I went in and I started hysterically crying," said KymB, "because I couldn't believe there were so many women of every race, creed and denomination – it was incredible for me to see!"
It was at a Women Grow event that she connected with TribeTokes co-founder Degelis Tufts Pilla. "She [Degelis] had an idea for a vaping company and started TribeTokes," KymB explained. "I saw her walk in with a cool outfit and I walked right up to her … the synergy was just so amazing that TribeTokes was really born! Degelis invited me to come on as a co-founder and we started from the bottom."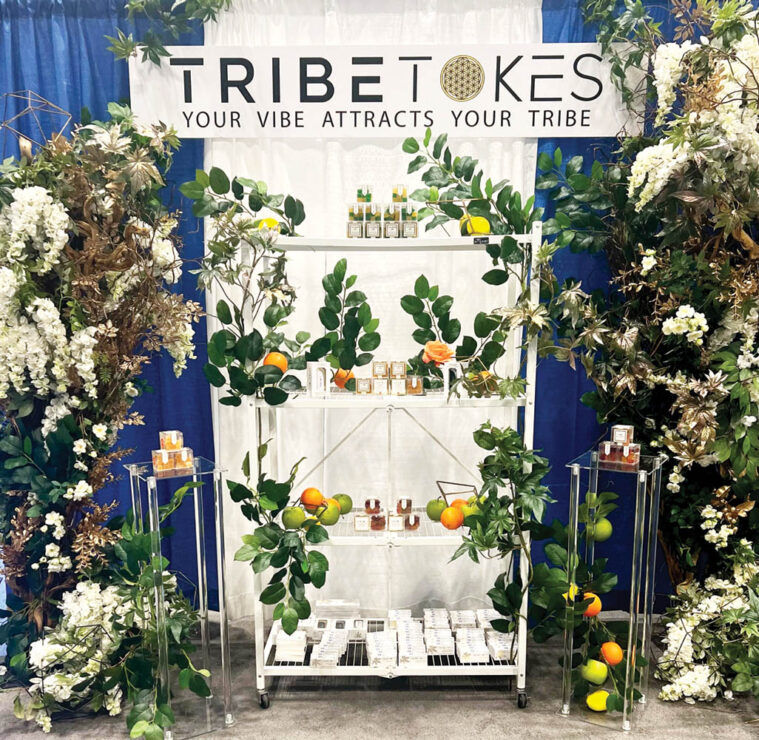 With their TribeTokes brand, KymB and Degelis have made licensing deals with strategic partners to make their adult-use THC products – including vape carts, gummies and pain cream. "And we are going to launch some interesting flower products," said KymB, who would not yet reveal any details. "We're in the process of trademarking some things, I'm not at liberty to announce that yet – but I can just say we're not doing it the same. We're doing things differently. We've taken a different approach to what products on the market look like. Our company manifesto is: "Never sell anything you wouldn't give your own mother!"
I asked KymB about the meaning of tribe. "I think it's a community of like-minded individuals with the leader, the chief, being the plant," she said. "We're all here honoring the plant together, which gives us a common bond, a common denominator – and there is no demographic for people who use Cannabis … I see these wonderful connections and this wonderful healing."
When it comes to the many moving parts in her life, KymB has a masterful way of making the juggling act seem effortless. "I don't even focus on the balance. It's just my true authentic self," she shared. "I live extremely organically and authentically and it just happens. … I think it's from being a 25-year pilates instructor – where I'm just used to educating people in health and wellness. It's just a natural progression for me – this is my lifestyle … and how I encompass Cannabis as my own personal lifestyle. I can't help but create this infectious aura that comes around me … it just feels like what I'm supposed to do. I think it's my calling."