Soapstone pipes have been found in American Indian cultural history for over 7,000 years – playing a major role in their religious and spiritual practices all over North America. But when it comes to the modern day translation of the artform, look no further than the owner and artist behind Paleolithic Pipes, Terry Harlow.
He sat filing on one of the rough-cut pipes as we talked, every so often pointing to the stone in his hand. He shapes it based on how it holds in his hand and fingers, telling me a pipe needs to be comfortable to hold. The only time he uses electric tools is to cut the stone with a bandsaw, sculpting the rough pipe shape out of larger stones – using several drill bits to enlarge the bowl hole, and then a Dremel with a longer drill bit for the long mouthpiece hole. He explains that he knows the filing is done by the feel and sound the file makes on the stone.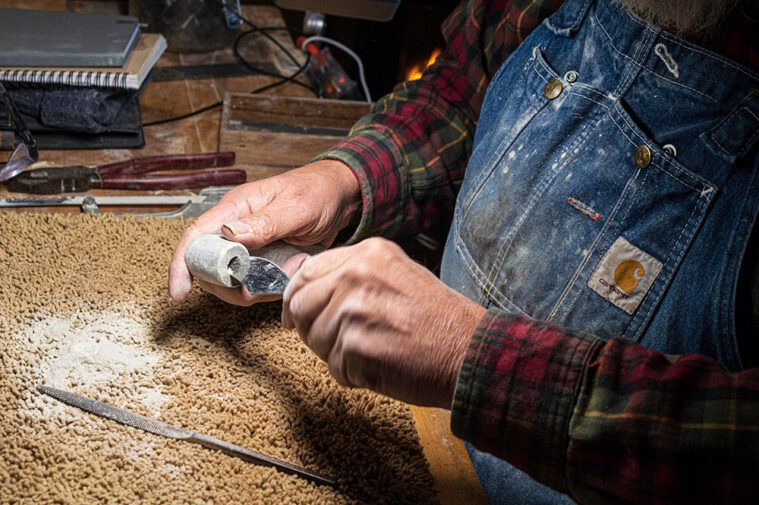 "I think some young people don't appreciate history. But they have time to learn," Terry says with a knowing sparkle in his eye. "Now smoking, pipes and pipe makers were an occasional occupation, meaning they made them for occasions – it wasn't a daily device, it was something that brought people together and it was spiritual. The pipe is representative of a portal. And Indian and natural people have always been fascinated with portals to what some would call the underworld or spiritual world. It was a gift that was an instrument of peace, it was used as a symbol of an understanding of different peoples that smoked the pipe, all on the same level, that formed a circle that was representative of the bowl of the pipe – a circle. They would all be in the same place for that moment and moments like that were passed on, spoken about and revered."
He smiled at me and asked, "Would you like to smoke a bowl?" He then came to the table holding an assortment of different sized and colored soapstone pipes, looking me over, then picking one. He went back to his desk and packed it with some flower he ground as we talked. He then filled his own pipe, and we sat back smoking and talking, as old cool dudes do with long pauses to give thought.
Terry is a master artist himself. He attended a University in Denmark in the 1960s, hooked up with a local museum doing photography for them, did some freelance magazine photography, learned book binding and marbleizing paper and became a teacher of both. He traveled across the U.S. in a school bus teaching how-to classes in marbleizing while selling his pieces during the 1970s.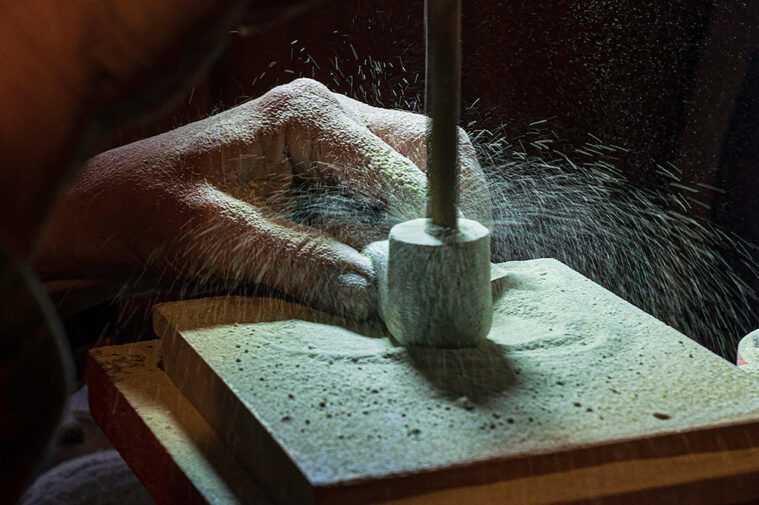 After having a baby, he sold his marbleizing and binding business to a former student, who ended up doing the marbleizing design artwork on Kleenex Boxes. Terry then pursued a career in the computer industry, allowing him to spend more time with his family.
Fifteen years ago, he retired and went to study stone carving under Canadian master soapstone sculpture artist Sandy Kline for three years. Sandy has over 55 years of carving soapstone experience, lives in Ontario, Canada and his wife is First Nations – selling much of his work through the local Native American tribal stores. His soapstone carvings were also part of the award ceremonies during the 1988 Calgary Olympics.
Once the pipe has been filed and sanded by hand, he heats it in an oven at 350 degrees Fahrenheit for 15-30 minutes, then applies wax to polish it with a towel – turning the once white dusty stone to its own beautiful color, revealing its grain or visual texture. He also explains this happens to be the process to keep the pipes clean. Terry shows me the pipe he had been smoking with, remarking, "This has been my daily smoker for 20 years." And yes, it looked like it was brand new!
Terry built his own market selling the soapstone carved pipes in the New England area just like many other pipe-making artists, selling them one at a time by going out and setting up a table. Now there's enough demand that he no longer has to go to as many shows. He has a long list of collectors and his pipes are highly sought after by master hash makers and smokers.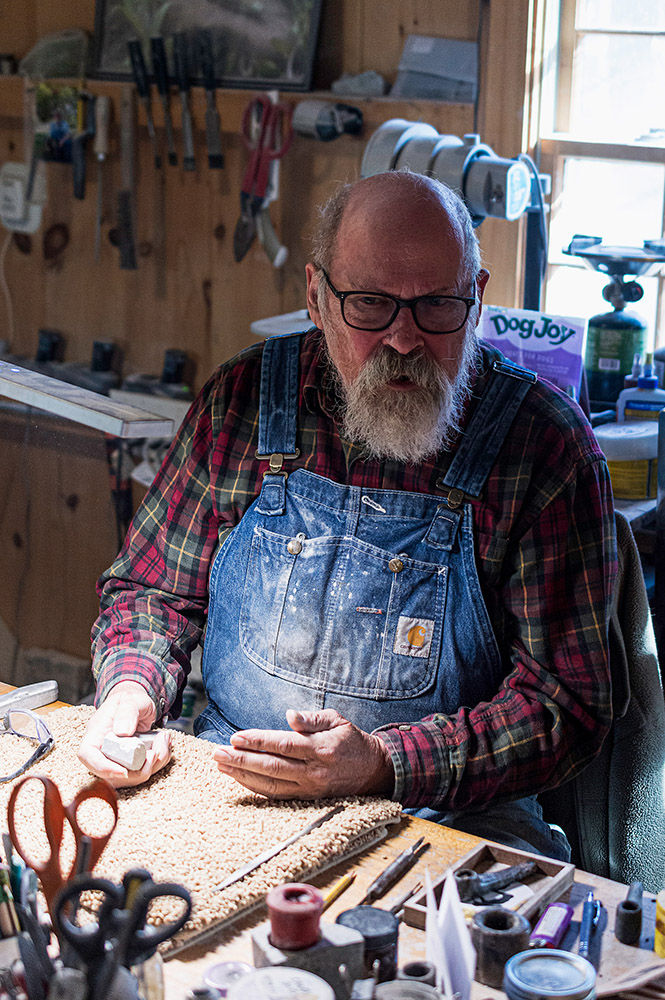 "The predominant pipe in the industry is glass, and the volume of the draw on a glass pipe is three or four times the volume of a bowl, so you get a lot of swirling and mixing of flavors," says Terry. "If you're paying top dollar, you want to taste a pure hit of your flower or hash. With my stone pipes, the draw is less than 30 percent of the volume of the bowl, so you taste everything. If you're smoking mids, stick with glass – but professional extract artists use my pipes!"