As a professional recording artist and DJ, Brec Seiniger has been mixing for nearly a decade. But his latest collaboration might be his wildest yet.
The producer/songwriter from Gaithersburg, Maryland boldly created what could be the newest "Pepsi Challenge." Sharing a video for his followers on Instagram (@brecreation), Brec was seen pouring a maple syrup-flavored can of Pepsi cola onto a plate of IHOP pancakes. He proceeded to happily devour a healthy-sized bite, soliciting a variety of responses from social media – some bemused, others bewildered.
Smiling, the blue-haired 26-year-old explained, "My goal is to make sure I'm having fun in whatever I'm doing."
Brecreation, his artist name, combines his name (Brec) with the term recreation [pronounced Breck-Reation]. Brec cultivated the stage name with the intention of keeping his universe orbiting a world of enjoyment. No matter the destination of his career, he says, Brecreation serves as a simple reminder that enjoyment is to be at the forefront of any project he chooses to work on.
"The end goal for me is to be a full-time musician," said Brec, a graduate of Towson University. "I enjoy the musical process and I make music that I love."
Studying business entrepreneurship, Brec "reinvented" himself at Towson, turning the dream of becoming a hip-hop artist into a reality. He went from freestyling over pre-recorded instrumentals in high school, to writing his own lyrics and creating his own beats – a two-year process that led to a "tighter" product, eventually landing a debut album that set the campus abuzz.
"It's been a journey," he said. "In high school, I was creating – but I wasn't showing people my work. I'd get nervous. I just wasn't ready for it. At Towson, I started actively seeking [an audience]. I'd post fliers around campus and within the first year, I had artists and producers coming through my dorm room to collaborate."
Towson University also provided a culture that allowed his love for Cannabis to grow exponentially – feeling a sense of freedom medicating in the confines of Baltimore County that he hadn't had at home.
"Cannabis has kept me grounded since day one," said Brec, recalling a run-in with the law at 17 that led to a juvenile arrest for possession of a small amount of Cannabis.
It has since been expunged from his record.
"Montgomery County has a very strict police force," he said. "And back in the day the stigma was a bit different."
Brec was forced to take six weeks of drug prevention classes, which included mandatory drug tests.
"The classes said nothing negative about Cannabis," he recalled. "They'd go into scientific evidence for alcohol and other substances, but Cannabis was just glossed over. When my six weeks was up, I went right back to smoking."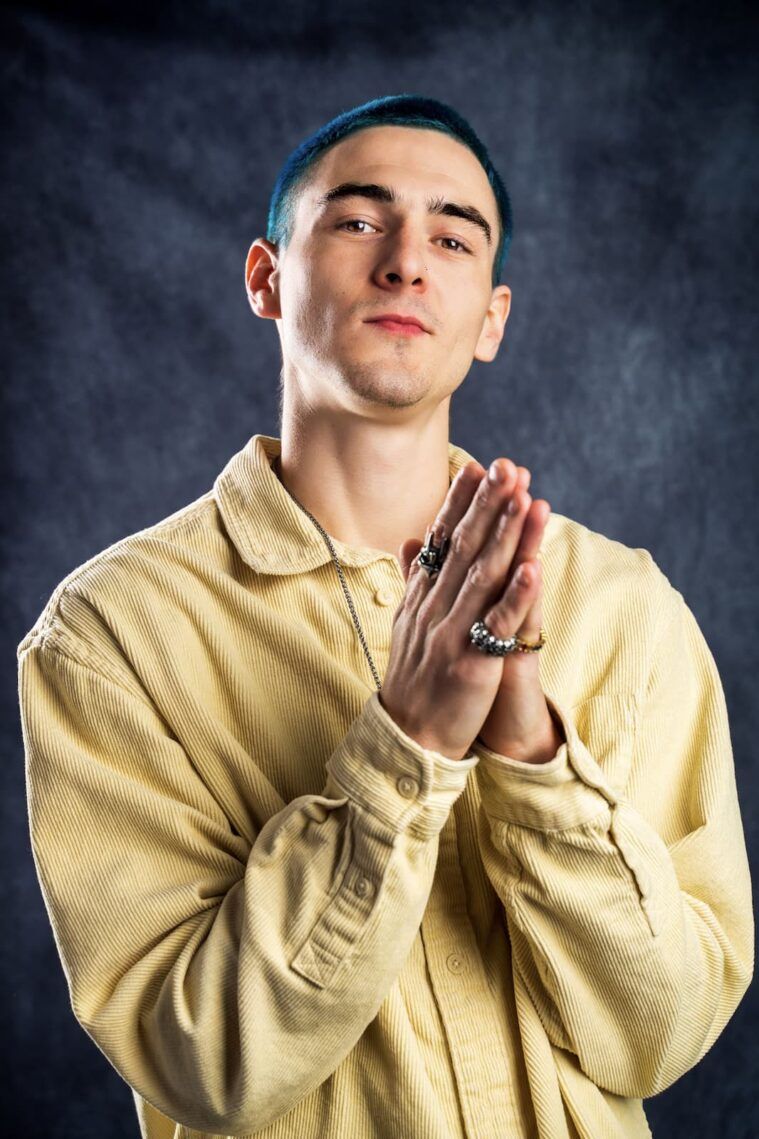 Since becoming a medical patient, Brec praises Cannabis for helping discover "deeper layers of artistry," as well as serving to pull him out of a bad day, week or spell.
"It's such a big part of my routine and my life," he said, crediting his brother and manager, Nathan, with the introduction to the plant. "Cannabis keeps me grounded emotionally, and allows me to better deal with things internally and externally."
The plant has also served as the inspiration for his new brainchild: Mount Envy, a 50-acre property on the outskirts of Frederick. The land features a custom-built cabin with state-of-the-art recording equipment. In its first operational year, Brec has collaborated with various musical artists, hosted podcasts, recorded music videos, and even held a comedy show for local comedians at the location.
"It's a wild spot," he said. "This is an opportunity to really do something special in the DMV. We built up the studio here, got the house looking good and hit the ground running. We've had a lot of artists coming through. I'm really just trying to get as much content as possible."
Touring nationally for the Catonsville-based dance company, Monsters Dance, Brec spent a lot of time in Los Angeles following the reduction of pandemic-mandated travel restrictions. After being out in L.A. for a four-month stint, he found himself grinding too hard to pay for a city rental that provided too little in return.
"I love California and its weather … plus Cannabis is huge out there," he said. "But there's a lot of people paying so much for such little space, and I was one of them. Most of them don't get to see this kind of lifestyle. So when they get here, it's very rejuvenating. They get very inspired."
While Mount Envy holds a special spot in his heart, Brec maintains the retreat comes secondary to his music.
"It's a lot to juggle," he said. "I am trying to be Brecreation, but at the same time, Mount Envy is a vehicle that allows me to connect with a lot of cool people. So I feel super fortunate and blessed."
Brec is quick to add his parents to his list of blessings, referring to them as "saints" for understanding his uniqueness, and ultimately not condemning his use of Cannabis – though it took some time to receive their acceptance of his medicine.
"They are extremely kind, generous and have really strong morals," he said. "They didn't care if I stole a penny or a thousand dollars, stealing was stealing. So I was raised with strong values. They gave me the foundation to be a good person and go from there."
He believes the work ethic he carries from their upbringing is the ticket to his success – past, present and future.
"I'm always pushing, trying to put myself in a position to continue succeeding and growing my momentum," he said.
"Ultimately, I just want to leave an impact with my music," he added. "But there's still a lot of work left to do. I've gotta keep my head down and keep grinding."